The Eighth Wonder of the World
Nick Harrison
Brunel Museum
–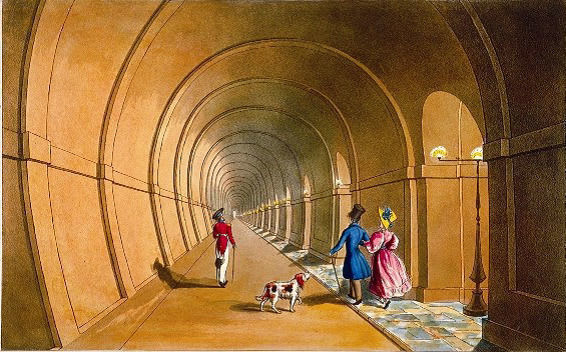 In 1823, French-born engineer Marc Brunel proposed a Thames crossing between Wapping and Rotherhithe. A bridge would impede river traffic and have to be so high the approach would be too steep for horses to pull carts up. It had to be a tunnel and Brunel had devised a tunnelling shield to make construction possible.
Work started two years later in 1825 with his son Isambard Kingdom Brunel managing the operation. It was the first tunnel in the world beneath a navigable river built with great difficulty and danger: with the risk of collapse, noxious air and flooding.
In 1827, a breach in the tunnel let in the Thames from above, the first of several floods that claimed lives. The hole was plugged from above but the project had run out of money. Isambard set up a grand fund-raising banquet to be held in the tunnel itself and that is when Nick Harrison's play is set, before guests arrive.
Isambard is anxiously waiting when his father arrives and The Eighth Wonder of the World (which the tunnel was dubbed on completion) presents the confrontation between Marc Brunel, whose reputation and livelihood depend on the success of the venture, and the son who has his own ideas and wants independence from his ailing, authoritarian father.
It is a confrontation that becomes violent, though, when young Isambard shows his father a design for a suspension bridge (he would build it later in Bristol), he seems to gain grudging approval. Will they make their peace and present a joint front to their grand guests?
Of course it is intriguing to see two such important figures brought to life, men whose technology changed travel in their time. Peter Harding as the irascible Marc, his bullying bluster sometimes fading away as he exhausts his ailing energy, must have been a difficult and demanding parent. It is easy to see why Ben Eagle's equally belligerent Isambard would want to break free of him.
But this production has another layer of interest for it could hardly be more site-specific. It is presented at the bottom of the shaft the Brunels sank at the Rotherhithe end of the tunnel (well nearly, actually on the concrete raft built over the tracks of the railway lines that now run through the tunnel).
Clambering down over a flood wall, ducking through a short, low passageway and going down a steep scaffold stairway, the audience goes down into to the depths past walls that still show signs of where a marble stair once led downwards to a candle-lit setting where the performance takes place in-the-round.
As its publicity says, the setting gives this intimate piece "a resonance all its own." True, as they intend, metaphorically but practically also. These are two powerful performances played by actors with big physical presences, but the shaft's acoustic seems better matched to the musical elements of Terry Eastham's production than dialogue, at least from where I was sitting.
Whenever an actor turned away from me, clarity was compromised. I missed a great deal of the detail. When the elder Brunel becomes loud and forceful, echo blurs understanding; when a voice drops to quiet comment it gets blurred. The actors' commitment still comes through but it makes the actual argument difficult to follow when chunks of it are missing.
From other audience reaction, this is not an overall situation but, if this is to become a regular performance space, as intended, it is an issue that needs attention in placing both audience and action.
Reviewer: Howard Loxton