The Elephant Song
Nicolas Billon
OnBook Theatre in association with Park Theatre
Park Theatre (Park 90)
–

Listing details and ticket info...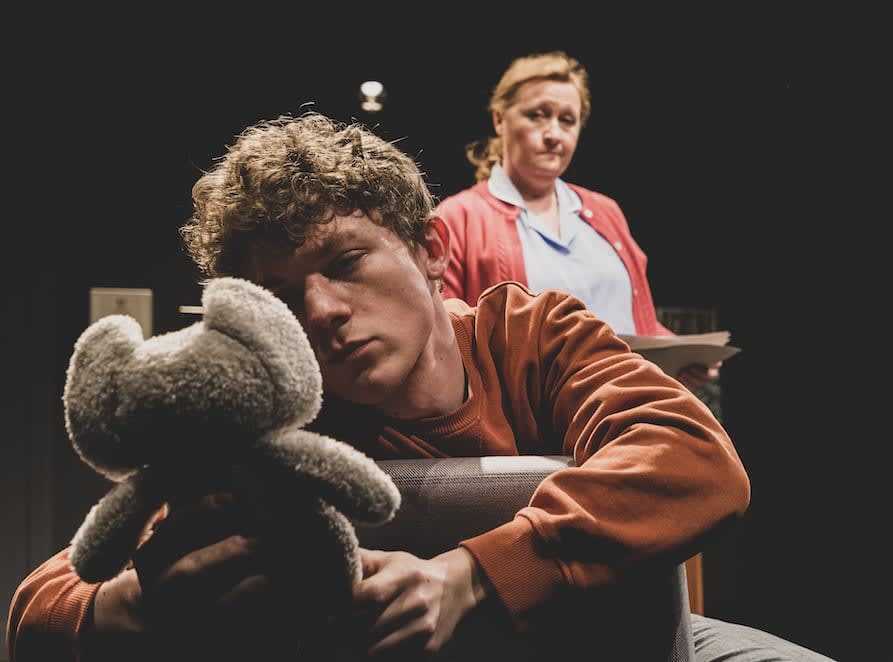 Nicolas Billon's play, first staged in Stratford, Ontario back in 2004, has waited a long time for this UK première. It is an intriguing seventy-minute, single-scene drama set in a consulting room of a psychiatric hospital at Christmastime, in which the hospital's director confronts one of its long-stay patients in a battle of wills.
Dr Lawrence, one of the psychiatrists on the staff, has mysteriously gone missing. His young patient Michael Aleen is the last person known to have seen him and director Dr Greenberg's thinks he can throw some light on the reason for Dr Lawrence's disappearance and where he may have gone.
Certainly Michael seems to know something, but, if he does, getting him to share it is not going to be easy for he has his own agenda. As senior nurse Miss Peterson warn Greenberg, Michael can be devious, start playing mind-games.
"I'm the patient," Michael tells Greenberg, "you are the impatient." He seems more interested in telling his own story or will retreat into silence, cuddling his elephant soft toy. When he does provide information, is he telling the truth about his own relationship with Lawrence, and how does he know about incriminating photos in a locked drawer?
The elephant has its own back-story. The only time Michael ever saw his father was on safari when his father shot an elephant; for the boy, elephants became an obsession, he is full of information about them. His mother, an opera singer, gave him the stuffed toy, but she was devoted to her career, not to Michael.
As Greenberg, Jon Osbaldeston certainly captures the psychiatrist's strained patience, his frustration giving way to gullibility. Louise Faulkner's Miss Peterson is full of awareness; alert and close by, she knows Michael much better than he does, shows an element of empathy. Greenberg should pay more attention to what she says.
You can never be sure when Michael Aleen is telling the truth, and Gwithian Evans's playing embodies his deviousness; demanding and even flirtatious, this Michael is a performer, manipulative but with charisma.
Director Jason Moore helps keep the audience guessing, moving the action rapidly forward; ploys such as a ticking metronome add to the tension and there is no time to notice little inconsistencies—such as Greenberg not knowing what would surely have been on Michael's file, which could have made a difference to the unexpected ending.
Reviewer: Howard Loxton