The Elves and the Shoemakers
Mike Kenny
Theatre Hullabaloo and the Berry Theatre
Assembly Rooms, Durham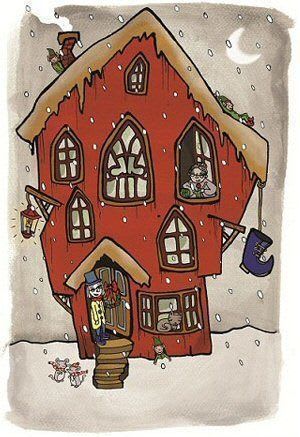 The Elves and the Shoemakers is touring nationally until 24th December but I saw it as part of the TakeOff Festival of children's theatre in Durham as a member of what must have been the most unusual audience to which it will play, a mixture of delegates from theatres and children's theatre companies and a small group of very young children (it is aimed at age 3 to 7 year olds) who sat in the first three rows.
When reviewing children's shows I keep one eye on the stage and one on the children, for they are the best judges of the success or otherwise of a production aimed at them. Adults (critics included) can pontificate about children's shows to their hearts' content (and often do!) but it is the children who are the final arbiters. Restlessness and a constant stream of trips to the toilet area sure sign of failure to engage with a very young audience.
These children were transfixed throughout, ergo a success.
But a critic must earn his ticket so what of my reaction?
Mike Kenny has slightly simplified the original story, ending it before the departure of the elves after being given clothes as a reward for their help, so the climax is a joyous celebration of an unexpectedly happy Christmas Day with presents all-round, just right for this age group in the run up to Christmas.
There's original music (Ivan Stott), played and sung by the cast, dance (including a tantalisingly brief bit of tap) and physical theatre, puppets (John Barber) and a storybook set (Bek Palmer). A nice mixture of ingredients, then, which held the children's attention. And they accepted without question the elves' transition from being puppets held and operated by two actors to being played by the actors themselves (and back again!).
There's enough repetition to please its target audience and sufficient more adult (no, not in that sense!) humour to bring a smile to their parents' and teachers' faces.
The cast of four—Adrian Palmer as the shoemaker, Rose van Hooff as his wife and Tigger Blaize and Gilbert Taylor as the elves—under the direction of Sarah Brigham pace the piece well, giving it the energy needed to keep the young audience's attention. A very enjoyable 50 minutes' worth of children's theatre.
Reviewer: Peter Lathan