The Empty Nesters' Club
John Godber
The John Godber Company and Theatre Royal Wakefield
Cast, Doncaster
–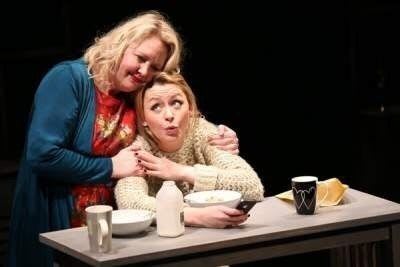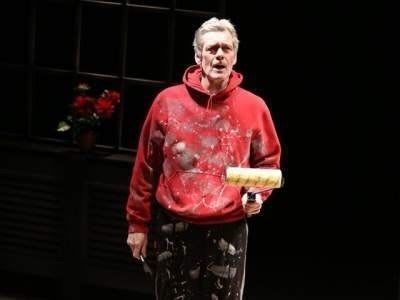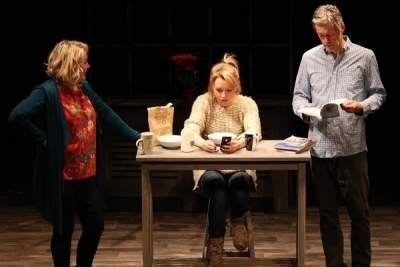 In a career spanning over four decades, John Godber has become one of the UK's most popular dramatists—only Shakespeare and Alan Ayckbourn are performed more often. His latest play, The Empty Nesters' Club, marks his 60th work for the stage.
Throughout his career, Godber has mined his own life for dramatic material. His experience of teaching drama in a Wakefield comprehensive school led him to write Teechers (1987), and the medical comedy This Might Hurt (2016) is largely based on his own dealings with the NHS. In The Empty Nesters' Club, Godber draws upon his own experience of having his daughter leave home to attend university.
Vicky (Jane Hogarth) and Phil (Robert Angell) are an affable middle-aged couple with a precocious, free-thinking daughter, Mollie (Josie Morley), who doesn't know what to do next after college. Over the course of two hours, she is fast-tracked to Oxbridge, turns down a place, decides to study in London, drops out, returns home, and then decides to travel around Vietnam.
While Mollie is a recurring presence throughout the play, Godber is mainly interested in how Vicky and Phil cope with their empty nest. Although Mollie's departure offers her parents new freedoms, they struggle to adapt to their new situation and cracks begin to appear in their marriage. Eventually, Vicky's feelings of sadness and emptiness inspire her to leave her teaching job and establish a society for other parents who are also struggling to cope without their children, The Empty Nesters' Club.
There is much to enjoy about Godber's latest play. The three actors give strong performances and make a convincing family unit. Jane Hogarth is a warm, engaging presence and wins the audience over from the very beginning. Robert Angell is amusingly deadpan as the gruff Yorkshire dad, scoring many of the evening's biggest laughs, and Josie Morley manages to make the potentially annoying daughter both likeable and sympathetic.
As you'd expect from a John Godber play, there are numerous amusing one-liners, and the production is sprightly paced and uncluttered.
While I can appreciate Godber's craftsmanship as a playwright, The Empty Nesters' Club is too safe and vanilla for my taste. The characters are so loving and supportive of one another that there really isn't much drama to be had. Vicky and Phil's marital problems in the second half felt contrived because I couldn't seriously imagine the characters splitting up. I also found a lot of the play's observations about the state of UK universities overly didactic.
I have no doubt that The Empty Nesters' Club will strike a chord with audiences who have had similar experiences—during the interval, I overheard audience members sharing stories about their own children going off to university. It's also clear that many of my fellow audience members found the show side-splittingly funny. My feelings, however, were more mixed.
Reviewer: James Ballands