The Encounter
Simon McBurney, inspired by Petru Popescu's book, Amazon Beaming
Complicite
Bristol Old Vic
–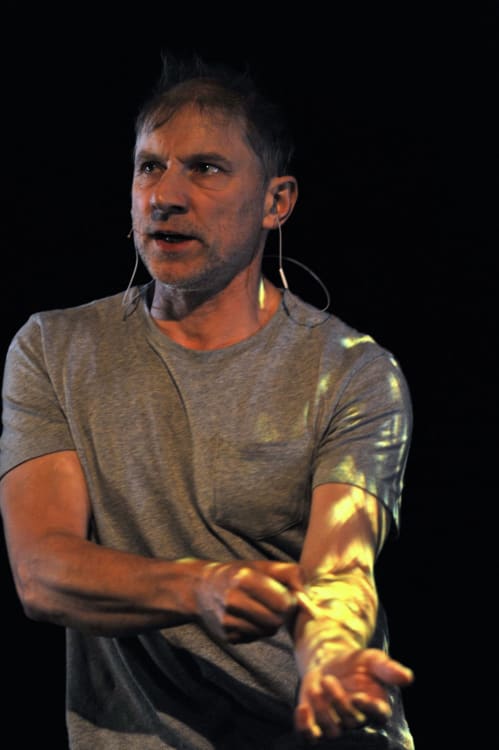 The incomparable genius of Simon McBurney's The Encounter changes everything: no one tells a story like he tells a story.
With none of the familiar canvas audiences have come to expect of theatre, McBurney creates an immersive experience of storytelling like no other. This is an aural assault with gale-force impact, bolstered by arguably the finest sound team in theatre, headed by Gareth Fry.
The result is the most extraordinarily empathetic connection between audience and performer, audience and protagonist. This man and his story get inside your head, quite literally.
It's an hypnotic, intimate experience, like listening to Book at Bedtime narrated by an old flame. All at once, you're as at ease as if you were curled up by the fire with a great novel and yet you're also left with a disquieting vulnerability.
That vulnerability comes, in part, from the disorientation of the sound design, which uses some serious tech to create effects reminiscent of YouTube's plethora of ASMR videos. In part, it comes from the production's balletic treatment of time as a non-linear concept, layering up different realities that are ours for the taking if only we are open to them.
It comes too, from the mirror it holds to the incomplete connections we forge with those who matter to us most, and from the unsettling glimpse it gives of a richer alternative. It challenges pretty much everything we think we know.
But even that doesn't entirely account for it. The focus of McBurney's story is Loren McIntyre's remarkable journey to the source of the Amazon, as told in Petru Popescu's book Amazon Beaming. McBurney's retelling of McIntyre's encounter with the remote Mayoruna people leaves a lingering sense that those of us living in what we arrogantly describe as the 'developed' world have got everything very, very wrong.
"It's less important that you know about these things," McIntyre reflects after his life-altering encounter with the tribal chief he called 'Barnacle'. "What's important is what you do with them."
The Encounter is a life lesson, a eulogy for the great wisdoms humanity has long since forgotten in our interminable quest for knowledge. Fitting, then, that McBurney ends the night with a heart-felt thank you to the Mayoruna, "who look after the forest for us all".
It's also proof, should any have been required, that Complicite remains entirely without parallel in British theatre.
Reviewer: Allison Vale