The End of History
Marcelo Dos Santos
High Hearted Theatre in association with Soho Theatre
St Giles-in-the-Fields Church
–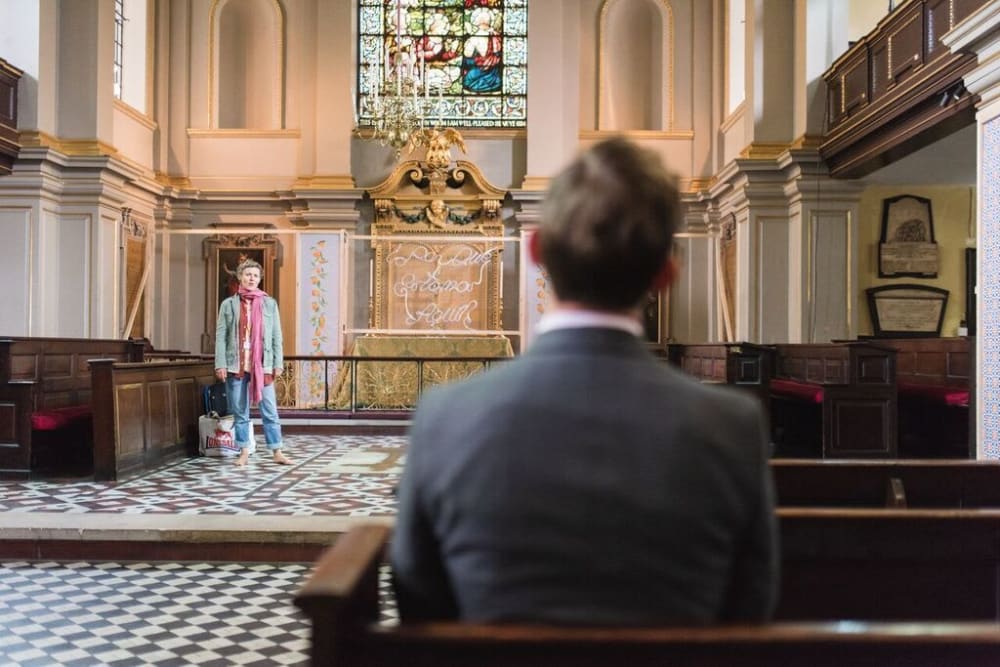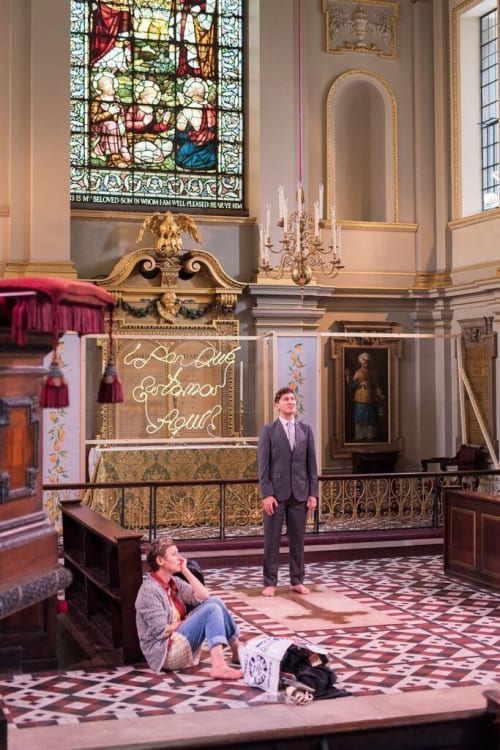 The End of History is a phrase used since the sixteenth century, and most familiarly by Francis Fukuyama, to suggest a time that marks a final stage in human sociocultural evolution. I assume Marcelo Dos Santos meant it ironically in using it as the title for this play, written at the invitation of Rev Alan Carr, rector of St Giles, to reflect both the past and the present of the parish at a time of great change.
St Giles is an area with a long history. There has been a church here, outside the city, since at least 1191 as part of a hospital for lepers, with the dissolution of the monasteries, it became the parish church as St Giles-in-the-Fields, was the burial place for plague victims, a place where the condemned were given a beer on the way to their hanging at Tyburn. After the present church was built in 1730 (the first in the Palladian style in England), the area became an infamous rookery, a slum notorious for crime, prostitution and poverty where by 1750 a quarter of the premises were gin shops.
The Dickensian squalor was swept away by the building of New Oxford Street but the next century saw the vitality of adjoining Tin Pan Alley as the late 17th century street became a hub for musicians. Some of it will be redeveloped like the other properties that now surround St Giles, high-rise offices, expensive apartments and a new transport interchange, a rampant gentrification.
This site-specific play reflects all that, not so much in the way that it shares part of that history as in its two contrasting characters. It is a play in which they speak interlocking monologues in which ideas sometimes turn into songs. They give a glimpse of their own lives and of other people's and then encounter each other and interact.
The essence of theatre is action and interaction, not necessarily physical, but showing rather than telling. Storytelling has its own attractions, it isn't quite the same thing but Dos Santos's make these narrative monologues seem interactive and storytelling feel like drama.
Wendy is a woman who saw some success as an artist but, when found she was selling less, started doing social work with alcoholics and the homeless, encouraging others' creativity as part of their therapy. She was good at it and found herself "better valued as a facilitator of bad art than as a maker of good art". Now she seems to be losing that job and her life has disintegrated. Why is she going around with a packed case and a carrier full of her ex-boyfriend's belongings?
Paul (though that's not the name he uses on Grindr) is an estate agent, a marketing man into property development with a keen eye for an opportunity. Some mornings he's hazy from the drink and the drugs of the night before but he is presentably smooth and can be charming. He got something going with a good-looking barista but Gilberto has gone back to Spain and no longer seems interested. Paul calls Spain and he's agitated about another call that it turns out isn't about business.
Their paths have crossed earlier, though Paul won't remember it, and now they are both in St Giles and when Paul's phone fails him he asks help from Wendy.
Sarah Malin and Chris Polick both give soul-baring performances as they share all with the audience, catching the cadence of Dos Sandos's writing, comfortable in the space beneath St Giles's high vaults, clearly spoken as well as emotionally moving, creating characters who hold the attention as they gradually reveal themselves.
The End of History takes St Giles's story from lepers to AIDs, from Gin Alley and the rookeries to today's rough sleepers beneath the shining towers of Renzo Piano's next-door development. Though the houses that were once homes for poorer people have been largely replaced by "development", the churchyard and garden is still a place where office workers and shop assistants taking a lunch break, the homeless and those remaining residents still encounter each other.
The church is still a place to find respite, even if like Paul you are not a believer, from what he and Wendy are finding the worst day of their lives.
Reviewer: Howard Loxton