The End of History
Iain Hollingshead (book/lyrics)
Third Way Productions
Tristan Bates Theatre
–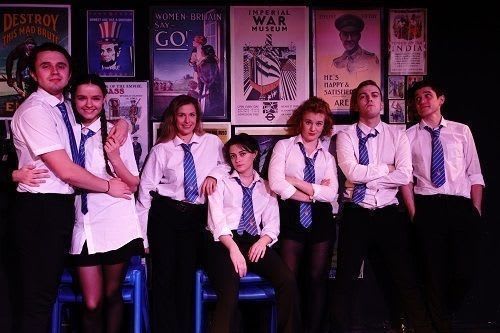 Anyone who's spent time behind a teacher's desk will find Iain Hollingshead's new musical The End of History an unnerving blend of nostalgia and realism.
Hollingshead takes us back to the classroom for a "short history of the twentieth century". We join seven adolescents as they get to grips with the GCSE History syllabus and with their own burgeoning sexuality: the walls juxtapose propaganda posters with graffitied avowals of teenage adoration ("Women of Britain Say Go!" meets "Andy + Beth 4 Eva"), and the students' enquiries into the past raise questions about their own futures.
We begin at the 'end'. As this Year 11 cohort collect their GCSE results, their faces are a catalogue of shock and despair, surprise and disillusionment, their moment of reckoning immortalised by a photographer from the local newspaper. We "have to understand their history", their Teacher (Anya Williams) tells us; so she takes us back to the start of their two-year progress through the "big events" of the previous century, and through the tears, tantrums, trials and triumphs of their own transition from adolescent to adulthood.
"Defining moments" of the twentieth century prompt ensembles in which the students swap their school ties for neckwear denoting nationalist allegiances and sing and dance their way through Timothy Muller's stylish sequence of musical pastiches. The Treaty of Versailles sees the class don boaters and bow-ties for a jazzy romp celebrating the "New World Order: a world without borders". We go to Weimar to celebrate "Peace for Our Time"—a paradoxically ear-splitting conclusion to act I. The Cuban Missile Crisis sparks some Latino salsa and some natty elisions of "U S of A" and "USSR", while a thumping rock number celebrates the fall of the Berlin Wall: "Tear Down This Wall".
Director Jessica Dawes Harrison choreographs the musical ensembles slickly. The delivery is sassy and the diction clear. The six-piece band plays vibrantly (though they are a little too loud in the solo numbers). But, these "revue" numbers don't form a lucid history lesson. The events are clear; the ideas, though plentiful, less so. Moreover, the musical medley interrupts rather than complements the narrative of adolescent life and love that runs in parallel—perestroika and rap parties don't make good bedfellows—further diluting the already thin characterisation.
In fact, the lesson begins before we enter the Tristan Bates Theatre. The programme book is a mock-up History examination paper—source-analysis cartoons, "extended writing" tasks—which suggests that Hollingshead is aiming to critique both educational pedagogy and Francis Fukuyama's 1992 thesis announcing the triumph of liberal democracy.
Indeed, the political cartoons projected during the musical ensembles do suggest that Hollingshead is pointing to the prevailing relevance of George Santayana's oft-quoted maxim, "those who cannot remember the past are condemned to repeat it". But, these images linger no more lastingly than the teenagers' selfies. The verbal lampooning is sharp but it's not clear if it's politics or puberty that is the target.
There's little time for any genuine engagement with historical ideologies or debates. Daniel Orpwood (Gary / Germany) posits questions in his act II number "When Will I be Free?" that infer an incipient connection between the personal and the historical, but this line of argument soon runs aground. Subsequently, loner Rachel's statement of self-determining radicalism, "I'll be Me", (Sylvie Briggs) sits uncomfortably within the prevailing flippancy.
Hollingshead's depiction of teenage lore, loves and losses reaches its "high point" in the platitudes and faux pas of the duet for Joshua Lewindon (Andy / USA) and Eleanor Shaw (Beth / Great Britain) which lampoons the excruciating cliff-falls of adolescent romance. But, elsewhere the play runs through a roll-call of classroom clichés—the kids' ties are askew, the teacher gives out text-books while simultaneously confiscating mobile phones. The parents' evening parade—a mother convinced her offspring is a genius, a father averring indifference to academic achievement, and a parent ready to blame the teacher for her child's idleness and "under-achievement"—is painfully credible.
There's a Dead Poet's Society slant which presents our Teacher as an aspiring Robin Williams—though I doubt that anyone has ever been inspired by a teacher who needs to check her facts in a GCSE textbook, has to apologise for her own lateness, or who's surprised that the teenagers she left alone, "read to page 58", haven't followed her instruction.
When her charges demand, "tell us how to get a good grade!", her riposte—"think!"—should make them do just that but they are unlikely to be assisted by her own marking methods: "tick, tick, tick" in between glugs of white wine. Williams has her "revelatory" number in act II, but I wasn't sure whether her Lloyd Webber-style belter was meant to be parody or pathos: the vocal hyperbole overpowered the wry honesty of the lyrics.
At the close, Williams's Teacher tells us that history is not ending but rather is just beginning for these students, but the pseudo-empathy is undermined by her quip that the kid who left school with two GCSEs and no friends now owns half of Knightsbridge. Both text and musical score attest to the creators' deft ventriloquism, but this show has too many learning objectives and not enough assessment criteria.
After two hours in the theatre, I was still left wondering what lesson Hollingshead was attempting to teach us.
Reviewer: Claire Seymour