The Enormous Turnip
Marc Parrett and Niki McCretton
Stuff and Nonsense Theatre Company
The Corn Exchange Newbury
–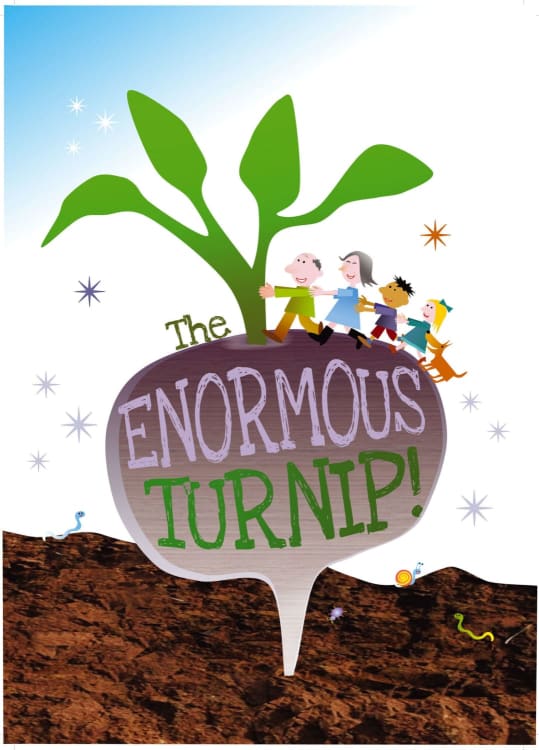 Half term always produces a plethora of children's shows and Stuff and Nonsense Theatre Company has produced a delightful and enchanting show for "seedlings aged two to 102" with The Enormous Turnip.
Mr and Mrs Chickweed live in a garden shed in order to look after their prize-winning vegetables. Raymond Chickweed dreams of spending his retirement travelling the world, but his houseproud wife Dottie, always reminding Raymond to "wipe his feet", would prefer to stay at home in the security and safety of her allotment and tend to her veggies, causing some friction and arguments.
Dottie persuades her husband that they should make one last effort and plant and nurture a turnip seed.
Marc Parrett and Niki McCretton are consummate storytellers who quickly build up a warm and engaging rapport with the audience. There are music and songs together with some lovely puppets including Scruffy the dog and a loveable pussy cat, all created by Parrett.
Their lives follow a predictable routine all surrounding the little shed, cleverly designed by Edwina Bridgeman. There is soup for supper—vegetable of course—and the ritual teeth cleaning and donning nightgowns before bed as the moon rises, then the Chickweeds settle down to sleep.
But Mrs Chickweed secretively leaves the shed to sit amongst her beloved vegetables and sings to them as various puppet creatures appear, including a worm and a charming mouse as well as singing cauliflowers, much to the delight of the youngsters in the audience.
The first act closes with the turnip starting to grow and a young girl sitting behind me shouted, "don't finish, don't finish" as the curtain came across—praise indeed.
After the interval, to the gasps of the youngsters, we discover the turnip has grown tremendously and is ready for picking. The Chickweeds can't pull it up and need the help of the audience, who enthusiastically volunteer to come on stage and help, together with the dog, the cat and mouse.
Eventually the whole audience joins hands and helps pull the rope to finally uproot the turnip to huge cheers and much excitement.
The turnip is indeed enormous as it bounces from the stage into the auditorium, but Raymond has a magical idea and converts it into a turnip caravan towed by a bicycle; their touring adventure begins.
This is an endearing production, simply told with just the right amount of audience participation. By the smiles and cheers from the kids, parents and grandparents surrounding me, it was a resounding success, and I must admit I loved it as well.
You can catch it at Watermans in Brentford from the 8th to the 23rd December.
Reviewer: Robin Strapp