The Entertainer
John Osborne
Anthology Theatre, Simon Friend Entertainment and Curve
The Lyric, Theatre Royal Plymouth
–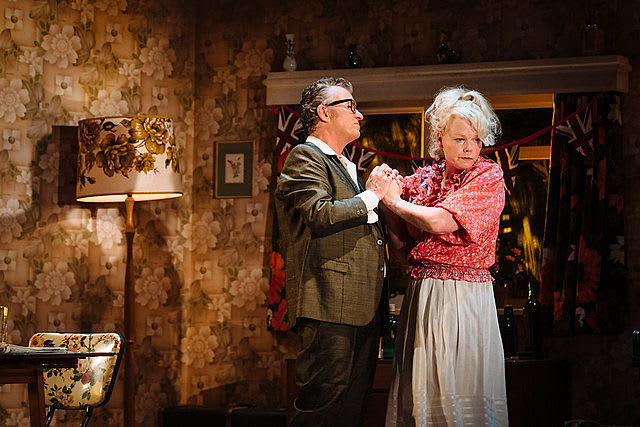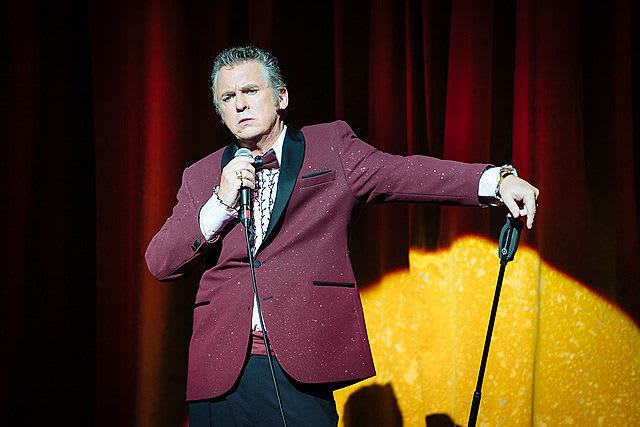 An inspired casting puts Shane Richie (perhaps best known as Alfie Moon in EastEnders) in the spotlight as the last of a dying breed of entertainers.
Resplendent in sequinned jacket and with slicked back DA, Archie Rice is struggling to find an audience as his brand of misogynist, racist and smutty humour is fast falling out of favour while his dysfunctional family is less than impressed by his domestic persona. With all his world a stage, Rice embraces his failings, his womanising, tax evasion and his love of Double Diamond, casting aside unpleasantries or reality checks with another music hall song or slug of neat gin.
John Osborne's angry middle-aged man is a complexity written specifically for Laurence Olivier and played since by worthies such as Kenneth Branagh—and Richie ably fills those shiny shoes portraying a sad, desperate sleaze-ball not quite devoid of hope but desperately unlikeable even if there is a teeny spark of charisma.
Osborne's three-act play, written as Britain reeled with the futility of the Suez hostilities, vaudeville and music halls were dealt a body blow by TV and immigration was unpopular, is successfully brought forward several decades by director Sean O'Connor. Instead we have 1980s UK with the redtops' blaring headlines as the Falklands conflict unfolds, alternative comedy and general sensibilities ousting the dying breed of racist and sexist comedy but with a rump of Alf Garnett-esque discontent with the foreign family next door.
Billy (a redoubtable Pip Donaghy) has had his day and what a day that was—the height of live entertainment and adoring end-of-the-pier audiences—but he is now content to watch the telly and have a Sunday night singsong down at the club. As he tells his disenfranchised grandson Frank (Christopher Bonwell): "you don't know what it's really like. You haven't lived, most of you. You've never known what it was like, you're all miserable really."
Almost angry young woman, idealist daughter Jean (Diana Vickers) has escaped once but returns to the claustrophobic homestead to lick her wounds after a row with her fiancé, half-heartedly giving voice to political unrest, demonstrations and change but muted by a half-brother captured by the junta and far too much gin. Meanwhile her put-upon lush of a stepmother Phoebe (nicely paced by Olivier award-winner Sara Crowe) spirals into despair, slurring her pleas for respect and spouting—ever so quietly—unpalatable family truths as her fingertip hold on normality gives way.
The familiar dreary sitting room of a maisonette in a shabby seaside town, crammed with piano, faded Union Flag bunting and fussy wallpaper, too few seats and the ubiquitous green-skinned woman on the wall, is beautifully observed and contrasts with the portrait of life abroad where salvation beckons—if Archie can only contemplate a future without Double Diamond.
Refreshingly solid after a summer season of vapid musicals, well-written and with a well-chosen cohesive cast. Good stuff.
Reviewer: Karen Bussell