The Eradication of Schizophrenia in Western Lapland

Ridiculusmus
Battersea Arts Centre
–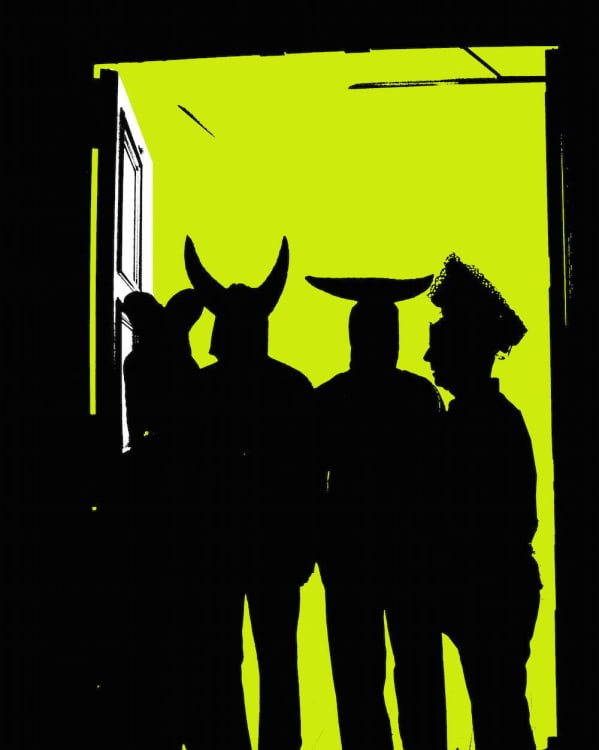 The Eradication of Schizophrenia in Western Lapland: a production with a muscular title and content to match.
The latest offering from theatre/comedy collective Ridiculusmus, the production is inspired by a treatment method for psychosis that has virtually eradicated schizophrenia from Western Lapland. The clue really is in the name.
Embarking on a national tour after a successful run at Edinburgh Fringe, Ridiculusmus has embraced a unique opportunity to approach a difficult subject matter from an intelligent angle—though it is an angle that requires concentration.
A coloured ticket dictates audience entrance. Once inside, the performance space is sliced in half, a heavy black curtain dividing the stalls and a series of flats dividing the stage.
Two different narratives begin in tandem, one each for the divided audience. Both are audible but only one visible—and the effect is rather disorientating. Disembodied sentence fragments spill over the divide, words that at times feel relevant and at others obscure.
Actors pass through an arch in the flat regularly, interrupting the action next door. Narratives (although they are perhaps too loosely formed to be described as such) are mingled and pulled apart. It is quick and chaotic and you would be forgiven for feeling a little lost—and very confused.
There are flashes of ordinary life that serve to unnerve: a mother and son discuss their approaching evening meal, there is mention of a divorce and a brief but coherent lesson depicting psychosis.
The interval allows the audience to breach the divide, swapping vantage points in an eager attempt to sample the greener grass beyond the flat—but clarity is not to be found, the replayed action just as perplexing irrespective of vantage point.
A host of derogatory comments? Actually, quite the opposite. Ridiculusmus does not intend to show you schizophrenia—they want you to feel it. This is a production that attempts to create an effect.
It is not difficult to unpick the genius and ambition of the complicated setup, and Ridiculusmus thoroughly deserves the recognition it has found, but it is nonetheless a difficult experience.
It is a daunting task for an audience to embrace the incomprehensible, and a brave company that encourages them to do so.
Reviewer: Alecia Marshall