The Exonerated
Jessica Blank and Erik Jensen
Amicus
Temple Hall, London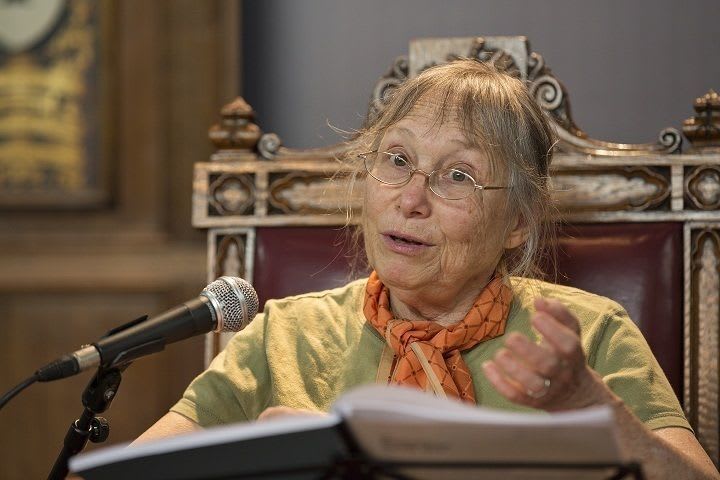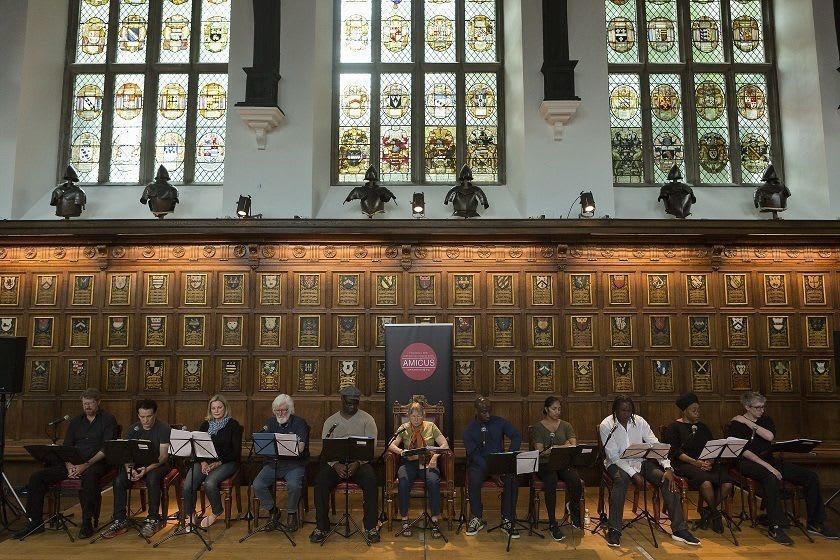 It would be shocking enough if a justice system convicted and executed people as a result of incompetence and chance, but the US Justice System as depicted in the six cases documented by Jessica Blank and Erik Jensen's play The Exonerated also reveals police corruption, prosecutorial misconduct, brutality, racism and a cynical disregard for the people caught up in its operation.
The docudrama of six people convicted, sentenced to death for murder and later exonerated, is constructed from court transcripts, interviews and letters. It is mostly told in their own words but occasionally extracts from the court sessions are reproduced.
The eleven performers are a mix of professional actors, two lawyers and two exonerees. They sit at microphones in the magnificent Elizabethan hall of the Middle Temple, in a performance specially mounted as a charity fund raiser for Amicus the UK based organisation that campaigns for justice on death row in the USA.
Jamie Parker is particularly impressive as Kerry Max Cook, who as a teenager was convicted of murdering a woman based on a single fingerprint he had left at the scene months before. Despite evidence, including a witness statement pointing to the woman's boyfriend, the police and prosecution were determined to convict Kerry.
The court-appointed defence failed to point out the conflicting evidence and the prosecution described Kerry as a warped, sick, homosexual pervert.
After spending twenty-two years on death row, and being raped in prison, he was cleared when an independent investigator found DNA evidence that confirmed the crime had been committed by the boyfriend.
It is not unusual in these cases to find the police lied to ensure a conviction. When Gary Gauger (Peter Pringle) discovered the murdered bodies of his mother and father, he was interrogated for a lengthy period by police who then produced his supposed confession, which was of their making. Years later, as he waited to be executed, the two real killers revealed what they had done.
The confession to robbery homicide that black teenager David Keaton (Leslie Thomas QC) gave to police after brutal interrogation and beating should have been recognised by the court as false, given that he recanted his forced statement and wasn't even at the scene, which was witnessed by others. However the case was treated as open and shut with witnesses being asked if the killer was a "regular nigger".
Delbert Tibbs (Chris Jarman) is the poet of the group, reflecting on the society, his own experiences of racism and the impact that prison makes on inmates.
The only thing he had in common with the man who raped a white woman and killed her companion was the colour of his skin. Although he didn't match her original description, he was identified from a Polaroid picture she is shown by police and convicted by an all-white jury.
The most moving story came from Sonia Jacobs who played herself. She detailed how along with her partner and children she had taken a lift with the man Rhodes who shot and killed two police officers. Although they were arrested together, only Rhodes tested positive for gun residue.
After a brutal interrogation, Rhodes was forced to make a plea bargain which implicated Sonia and her husband. Despite recanting several times and the police lying in court about key evidence, the couple were sentenced to death. By the time they were proved innocent, Sonia had spent sixteen years inside and her husband was executed.
These are not the only people in the United States who have been convicted, sentenced to death and later found to be innocent. You would think that a single injustice would be sufficient to pause the process of judicial killing, but there are still thousands sitting on death row waiting to be executed and a country that claims that killing people is wrong continues to execute its citizens.
Reviewer: Keith Mckenna