The Exorcist
John Pielmeier, adapted from the novel by William Peter Blatty
The Classic Screen to Stage Theatre Company
Opera House, Manchester
–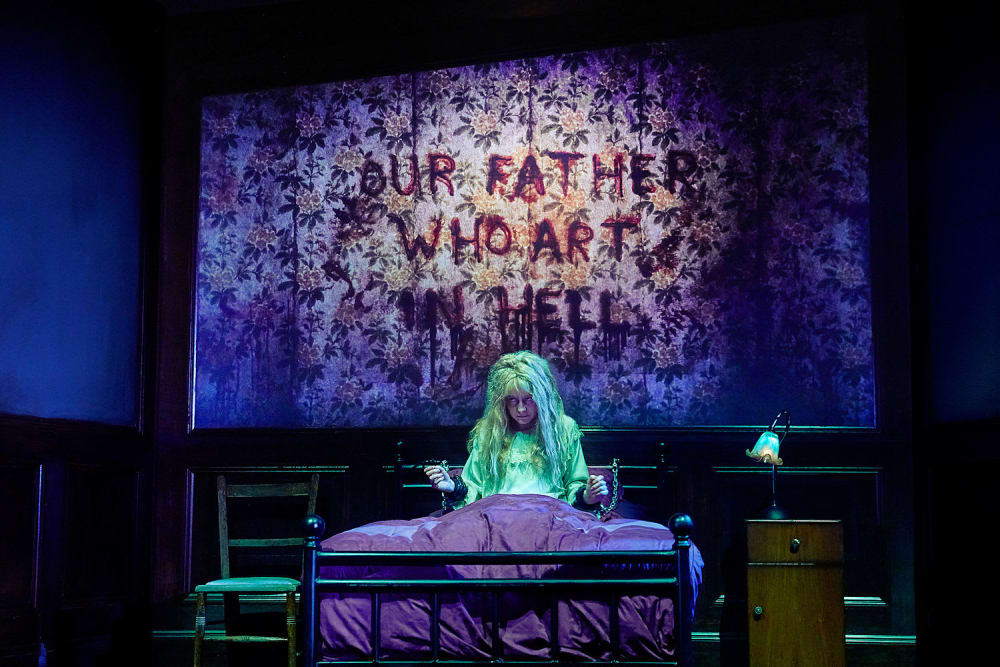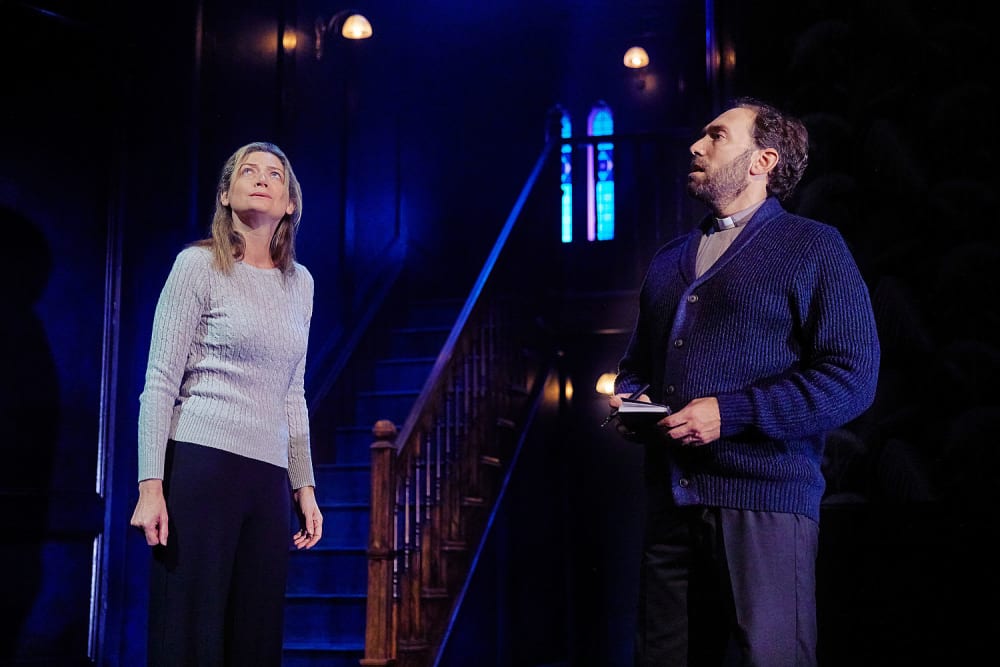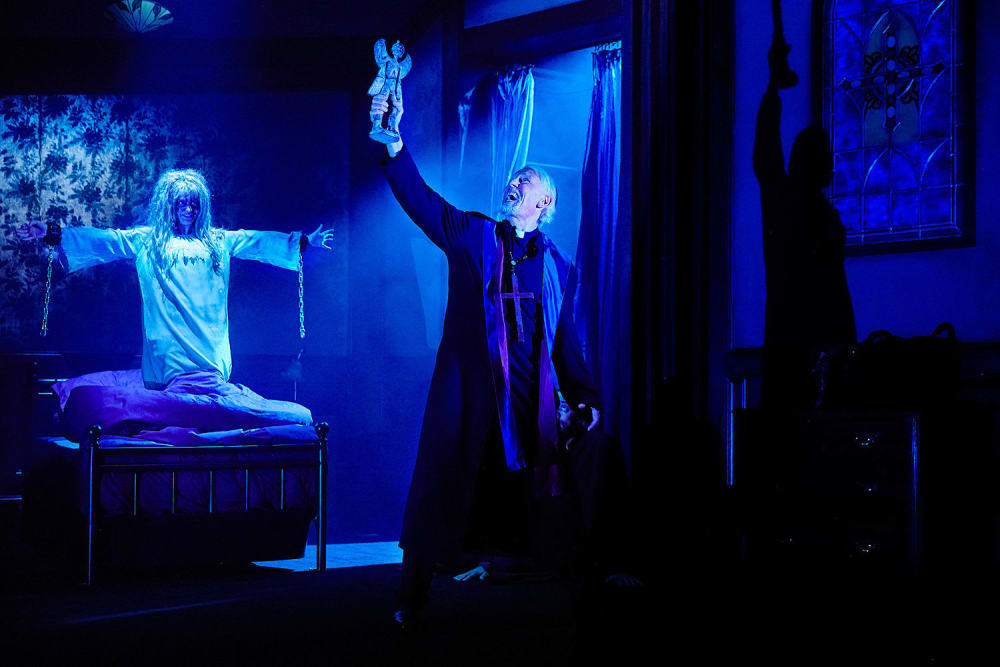 After being left queuing in the street until ten minutes before the advertised curtain-up, the audience was immediately put into the right frame of mind by a loud bang and sudden blackout that even took out the emergency lights, before being blinded by strobes accompanied by more loud, disturbing noises. It certainly grabs the attention—perhaps the horror equivalent of a warm-up comic for a comedy—and I suspect it may have caused a few people to drop their plastic glasses of expensive alcohol.
But this isn't just an evening of making audiences jump with sudden shocks like the least imaginative horror films; director Sean Mathias creates real tension in some scenes, helped in no small part by Adam Cork's music and sound design and Philip Gladwell's lighting design, although it isn't always sustained.
Writer John Pielmeier is quoted in the programme as saying (despite the name of the theatre company), "I adapted the novel, not the film." He has kept the action entirely within the creaky old house that has just become the residence of film actress Chris MacNeil and her 12-year-old daughter Regan. We enter the story as Chris is making a film with mischievous but avuncular film director Burke Dennis; it is Easter and Regan's birthday, so we get the imagery of blood, death, evil, Catholic iconography and the coming of age of a young girl all layered on top of one another.
Regan investigates the noises coming from the loft and is spoken to first through a ouija board and then with a disembodied voice that, though uncredited, sounds very much like the kindly wizard Gandalf. This turns out to be, he claims, the Devil himself, who possesses the child, making her do and say some pretty foul things, some of a shockingly violent and sexual nature, sometimes in Latin.
Kindly Father Damien Karras, who has just lost his beloved mother and is having doubts about his vocation, is also a psychiatrist and tries to cure the disturbed child—but is she suffering from a psychiatric disorder or is she genuinely possessed by the Devil? By halfway through act II, Father Damien gives in to the mother's pleas to bring in an exorcist, Father Merrin, with whom the Devil seems to be relishing the idea of a fight.
While the tension builds palpably at times (I felt quite drained by the end), there are some parts that are rushed or unclear, or just too small. Anna Fleischle's set design is very effective at creating the creepiness of the house and especially of Regan's bedroom, where most of the story plays out. However there is a staging area over the top of this where there is a funeral at the start which is barely visible—or audible; the sound mix sometimes favours the eery music over the dialogue—and also Regan's first encounter with the ouija board, which no one in the audience could see.
There are some good effects from illusion designer Ben Hart to recreate the significant moments from the film and book—such as Regan turning her head all the way around, and then doing the same, fatally, to someone else's head—which look amazing but seem small and distant on the Opera House stage and are over almost before they've been noticed, as though the production is embarrassed to make a big thing of such tricks. The projectile vomiting is done in such a throwaway manner it hardly seems worth bothering to set up the effect. The rushed ending, after a two-hour, intense build-up, is more of a sudden fade out than a climactic moment, despite there being two bodies on stage.
But when it does work, it grabs you and shakes you up and is performed by a strong cast. Sophie Ward is the frustrated, loving mother who fights for her daughter but doesn't know where to turn. Ben Caplan's doubting Father Damian, on the cusp between science and faith, is keen to help while fighting some demons of his own. Tristram Wymark is cheeky but lovable and very funny as Burke Dennis. Then of course, when he eventually appears, Paul Nicholas comes across as the wise old priest that you would want to bring in if ever you had to do battle with the Devil in your home.
At the centre of it all is Susannah Edgley, totally convincing as a sweet twelve-year-old girl in looks and actions (for some reason, the production photos only feature her understudy, who doesn't look as convincing) and perfectly lip-syncing with Ian McKellen's recorded voice of Satan. It's an impressive performance. The small cast is completed by Joseph Wilkins, Patrick Toomey and Stephen Billington as various doctors and priests.
As a whole, it's an uneven production but one which is sometimes effective at producing the shocks and scares that are what this genre is all about. While it might work better in a more intimate venue, if you're looking for something to make you jumpy on the lead-up to Halloween, this is definitely worth a go.
Reviewer: David Chadderton