The Exorcist
John Pielmeier, adapted from the novel by William Peter Blatty
Bill Kenwright
Phoenix Theatre
–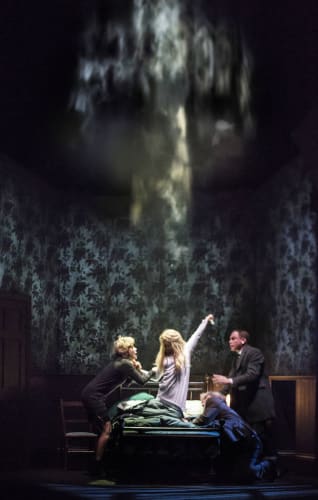 Who doesn't love a good horror story – and this one is supposed to be based on real life! Although it is best know from William Friedkin's 1973 film version, John Pielmeier has gone back to the original novel as the source for his play.
It is alleged that in Maryland in the late 1940s, a 14-year-old boy was the victim of demonic possession and went through several exorcisms but was it really the work of the Devil, mental illness of some kind or pure fabrication? There is no question about it in this play and in the novel. It is a story of supernatural evil against which the Church fights with its rituals with the extra twist of being called in by someone who is an atheist.
The widely-know story presents a twelve-year-old girl called Regan in Georgetown with her actress mother who is finishing a movie. After finding a ouija board in the attic, she makes contact with someone who calls himself a captain, then a whole lot of strange things start to happen from shaking furniture to messages in blood. Regan's behaviour becomes strange, foul-mouthed and aggressive. When the director of her mother's movie watches over her in her mother's absence, he loses his life.
Her mother seeks help from a psychiatrist, a priest with his own faith problems and then they call in an exorcism expert and the battle with evil is on.
Sean Mathias's direction keeps the atmosphere dark and mysterious as phenomena get more awful though interrupted with loud noises and flashes of bright light, but the atmosphere of menace doesn't penetrate far into the auditorium. Not for a moment was I really frightened—and surely that's what a horror show audience comes for?
There is little depth of story either to enable the actors to flesh out the characters. Jenny Seagrove as Chris establishes a relaxed relationship with her daughter and her kindly director (Tristram Wymark) but when the demonic invasion begins has little chance to show more than increasing anxiety. Peter Bowles as exorcist Father Merrin gets little back-story to build on but his vocal strength gives him authority.
It is difficult in theatre to find the equivalent of the cinema close-up, able to show reactions of terror and make us imagine what the character is seeing, but in this story the demon becomes incarnate in Regan. As she discovers the ouija board in the attic, we can respond to the strange noises she hears and imagine the voice she is talking to, starting a frisson of fright that the play tries to build on with Regan going wild in her bedroom, then manacled to her bedhead.
There are moments, as when she plunges a cross between her legs like a bloody dildo or when her face suddenly changes under Philip Gladwell's lighting, that recharge the tension but there aren't many of these shock moments and, in spite of an evil shadow haunting the room and blood-written messages, the terror factor isn't strong enough for so large a theatre.
What does work though is the voice of evil, just the voice (of Ian McKellan), to which this Regan perfectly lip-syncs. Maybe without the complex visuals, it alone might have done the trick, or a much more intimate venue where the audience would be more easily caught in the aura.
I may just be difficult to frighten, this might be horror enough for some, perhaps those not such regular theatregoers who may bring different expectations. Certainly some seem to love it but my marrow was not chilled.
Reviewer: Howard Loxton