The Exploded Circus

Mimbre
Great Hall, Lancaster University
–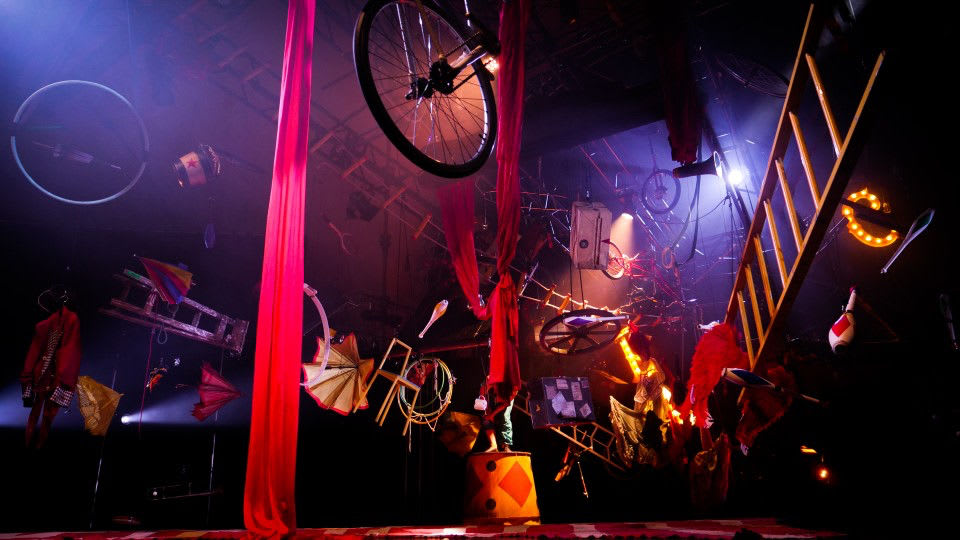 Nowadays the circus doesn't just come to town, it goes to university...
In this case, a seat of learning transformed into the setting for a contemporary take on a centuries-old style of variety entertainment. For 70 minutes it becomes a totally captivating experience, a reminder of childhood delight and a tribute to why the enduring artform this year celebrates its 250th anniversary in this country.
The Exploded Circus begins in the 'freeze-frame' surrounds of a Big Top that has suffered a big bang. Remnants from the circus ring—rope ladders, chairs, hoops—hang suspended in mid-air. When six female performers emerge, from amongst the dimly-lit shadows, they ever so slowly set about re-creating their old environment.
Silks are unfurled from the ceiling, hoops and trapeze bars re-rigged. But the circus artistes here are not quite what we may remember. Clown and ringmaster are rolled into one (and around on the floor!) while 'both' are equally capable of juggling, balancing or somersaulting. Another colleague arrives complete with fag and hip-flask.
The action is slow and deliberate, and largely performed mute, but the tricks and turns are precise and articulate. Clearly-defined characters emerge. While one of them takes centre stage, others are creating the setting for the next routine. It's all played out around an original music score that references everything from fairgrounds to Satie.
The laws of both physics and physical strength are re-written before your eyes as ropes, pulleys and counterbalance play their part in a consummate performance.
The climax sees all six build a cycle-driven flying machine that lifts them towards the sky. Imaginations, young and old, will not quickly forget the sight.
Lancaster Arts brought Mimbre—a female-led circus troupe—to town for three performances here, and it's to be hoped they coax them back soon.
Failing that, it would be theatrical magic to see them in the setting of Blackpool Tower Circus, the spectacle's spiritual home.
Reviewer: David Upton