The Faggots and their Friends Between Revolutions
Ted Huffman and Philip Venables, based on the novel by Larry Mitchell and Ned Asta
Factory International for Manchester International Festival
HOME Manchester
–

Listing details and ticket info...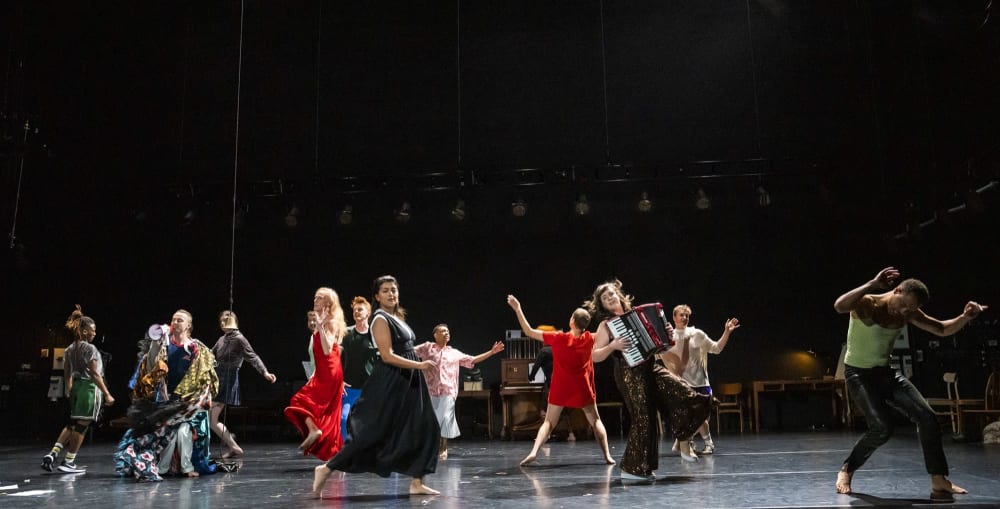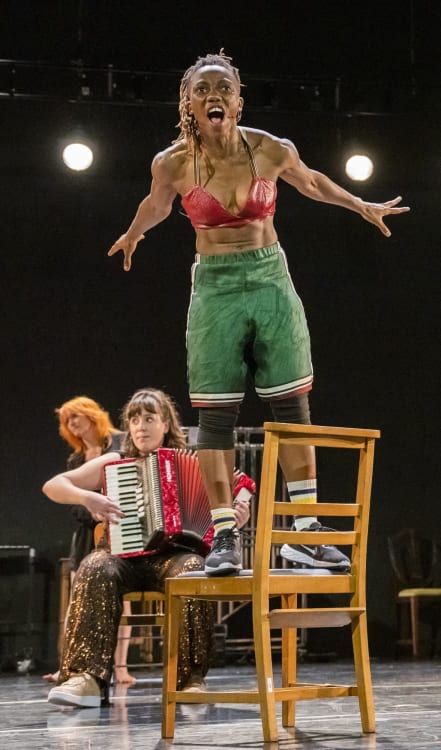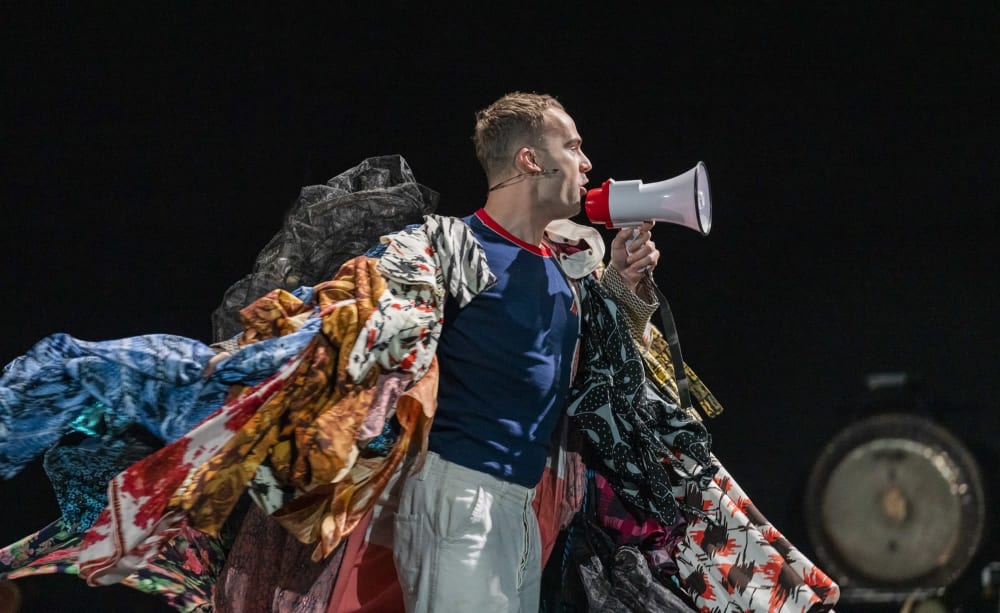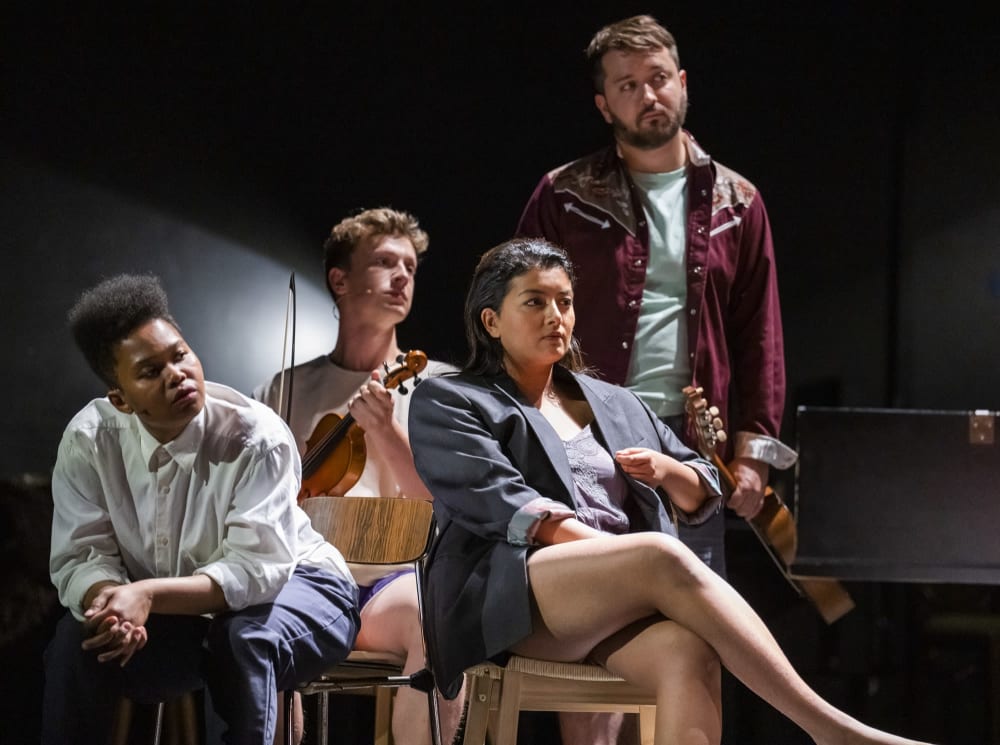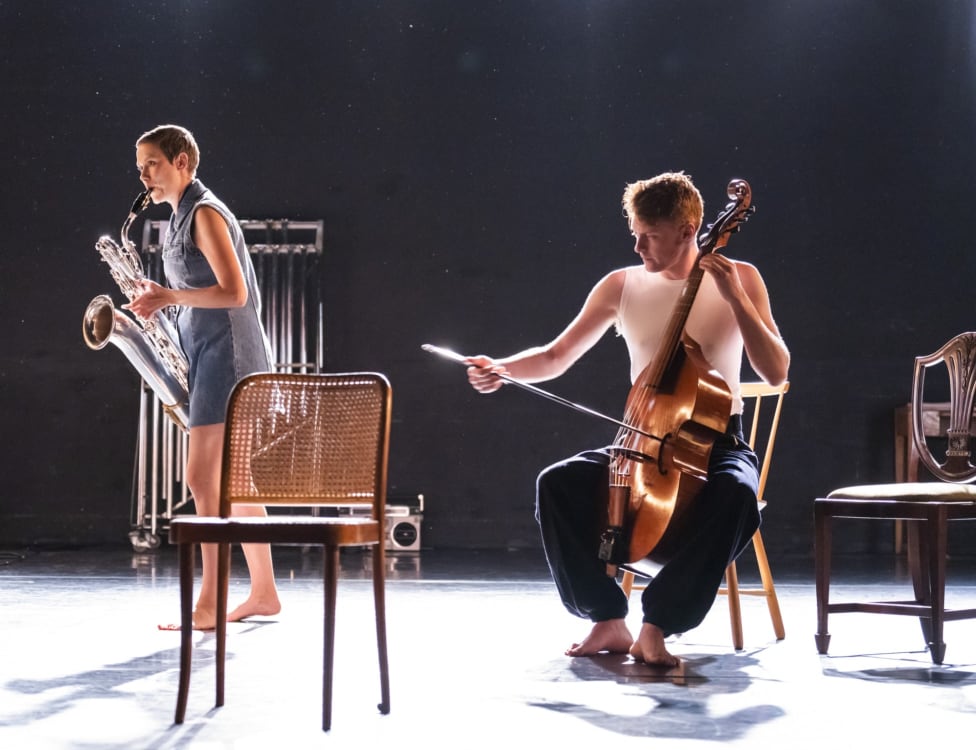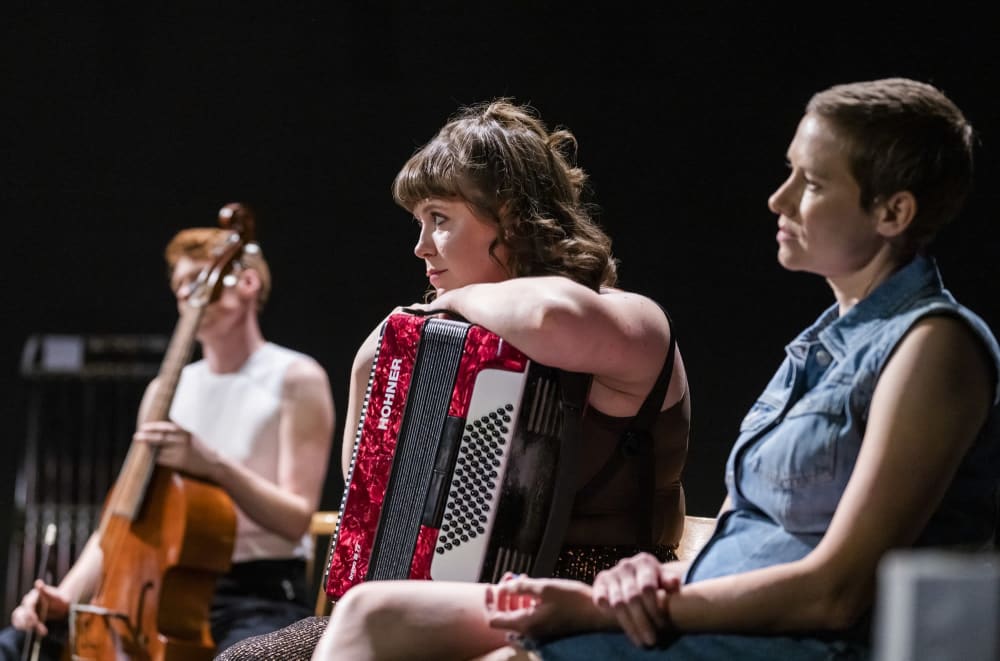 Larry Mitchell's 1977 self-published illustrated novel, apparently a "cult classic", has been recreated on a totally bare-to-the-walls stage in HOME's Theatre 1 with a cast of 15 actors, singers, musicians and dancers.
The content warnings for this show are much longer than has become the norm to justify the use of a derogatory word in the title, suggesting a nervousness on the part of the producers, plus the note that, "since the book was published in 1977, conversations about gender diversity within the queer community have also evolved, and this is reflected in both the language the show uses and the casting," implies there is some toning down of the original to suit modern sensibilities, as well as perhaps widening the scope of its targets.
While the original novel consists a series of short episodes and other bits and pieces, an attempt has been made to weave a continuous narrative, starting with the origin story of the Faggots, who split away from the Men (the patriarchal society) who did terrible things like making laws, creating inventions, distributing pieces of paper, destroying the natural world, enslaving women with marriage contracts and persecuting them, the Faggots. The Men set up a corrupt city called Ramrod privileging only those who looked like them, but the Faggots and their friends attack it from within, and even the Earth turns on the Men with storms and floods. It finally looks to a future, in the next revolution, when the Faggots and their friends can live as they wish and be free.
In 1977, when this book was written, all sorts of revolutions seemed to be in the air: sexual, political, societal. Mitchell's book came from his experiences of communal living in the 1970s and it expresses his views on sexual freedom and anti-assimilation—it is the latter more than the former that comes through in the show. We are told that making the Faggots not illegal was the Men's greatest trick, because then they started to behave like the Men, driving cars, getting up at a certain time, enslaving themselves with marriage contracts (Mitchell referred to gay men who were integrated in the Men's society as "queer men" rather than "faggots"). It seems nostalgic for a time when they were forced to live outside the law and therefore outside regular society.
There are some remarkable performance elements to this show. Philip Venables's music, under Yshani Perinpanayagam's musical direction, is sometimes beautiful, sometimes disruptive or disturbing, often unexpected or unusual and works well. The cast sing and play on an interesting array of instruments, including two upright pianos, a lute and a harpsichord, at one point nine violins all being played at once, even some recorded dance music—which is more '90s rave than '70s disco—as well as some beautiful operatic vocals. Yandass's acrobatic movement is impressive and fascinating to watch, and Kit Green holds the plot together as the main storyteller.
But this does all feel like decoration on top of people reading us a story. MIF Artistic Director John McGrath refers in his programme notes to getting across a serious message through "joyous anarchy", which I was hoping for, but, while there are some comic touches and tongue-in-cheek delivery at times, it largely comes across as rather slow, serious and po-faced.
There is one moment when Kit Green comes forward and talks to the audience, breaking the seriousness with some improvised banter when it briefly comes alive, then they get the audience to join in with a song.
But then the whole show is too long and there was plenty of shuffling in seats and toilet trips around me long before the end: MIF's web site states an hour and a half, the signs at the theatre said an hour and forty, but it was actually ten minutes longer than that on press night. I think it could have been much more effective and entertaining as a joyously anarchic hour.
Reviewer: David Chadderton