The Fairy Queen
Henry Purcell after Shakespeare
Longborough Festival Opera
Longborough Festival Opera
–

Listing details and ticket info...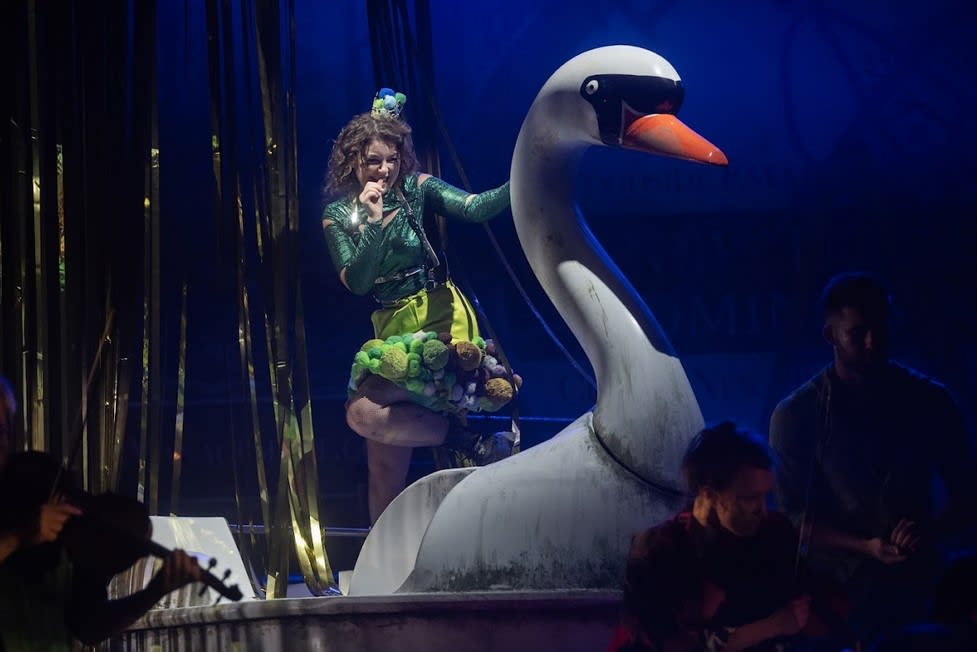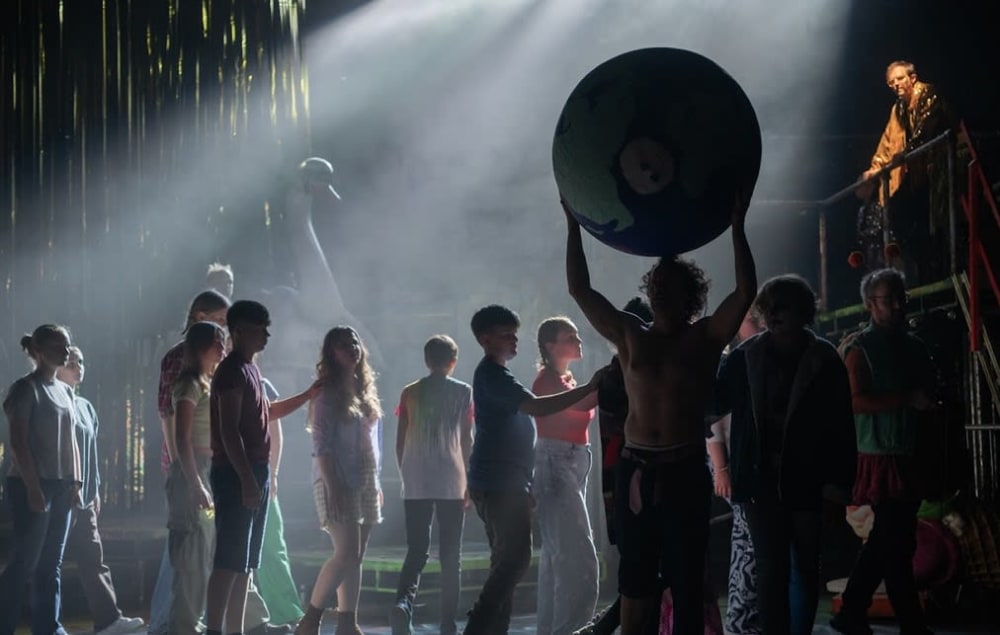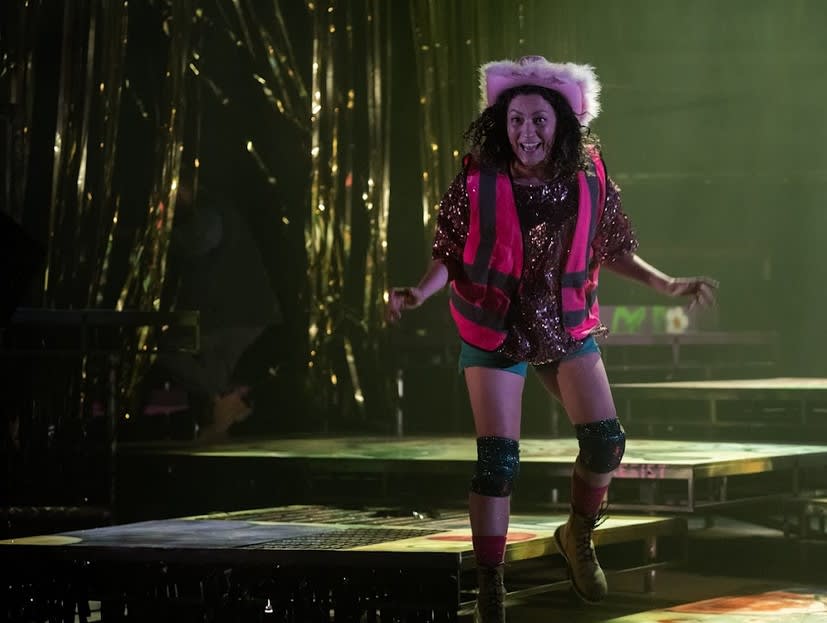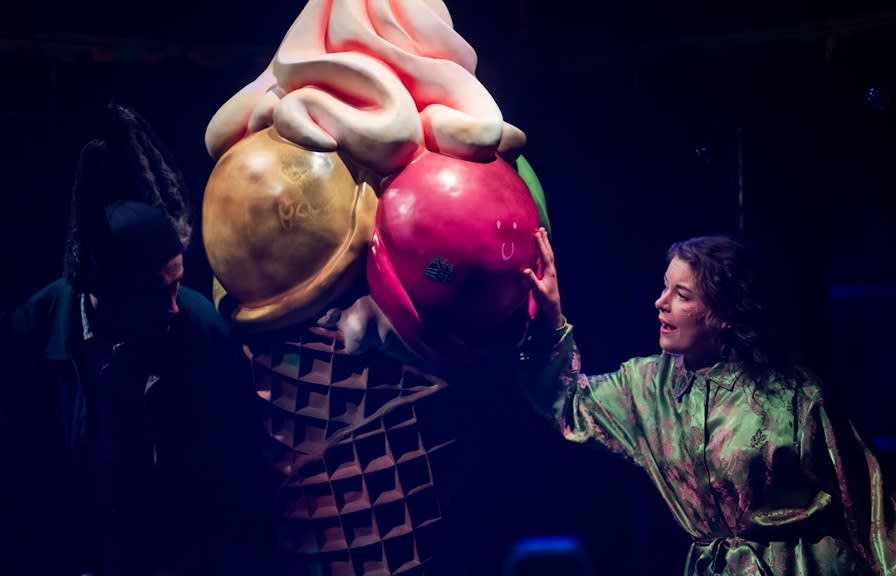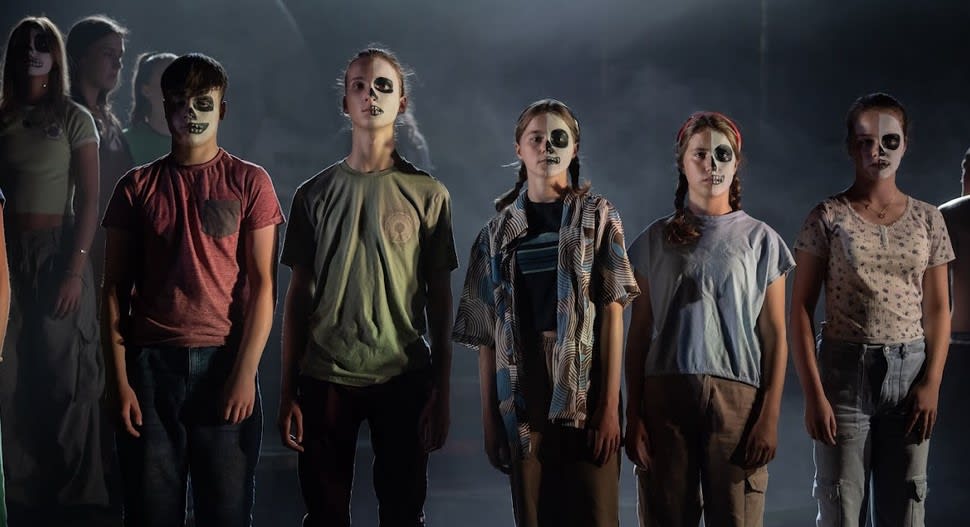 Part opera, part romance, part comedy, part masque, The Fairy Queen has many parents, and now, in this captivating reworking, it has a few more.
The piece, written in 1692, is essentially A Midsummer Night's Dream with musical interludes. For Longborough, composers Naomi Burrell and Harry Sever have smoothly ingratiated folk music into Henry Purcell's baroque score, and director Polly Graham—cutting the piece from four hours to three—integrates stage, pit and auditorium rather as Shakespeare would have presented his play a century earlier.
At first, a huge, glittering strip curtain blocks the stage, separating the spheres of action. The heads of two dozen cherubic fairies suddenly appear from behind, and when earthly mortals go through it from the front, it is as if they have passed through a magic mirror.
But it takes the first entry of musicians on stage to bring the magic alive and effect the transition from the mundane into a fantasy world, as if the lead violinist herself is conjuring up fairyland. It's one of the most effective moments of the evening as Titania's court is revealed. The curtain falls and we are in a parallel universe of the imagination.
I was not entirely convinced by Graham's rather clunky environmentalism, however, already prefaced by a Save-the-World mock demonstration before the show starts. OK—the nine-man morris is filled with mud, as Shakespeare has it, but Titania's realm is more wasteland than wonderland, a derelict amusement park due for redevelopment, in which the queen of the fairies rides in a shabby fairground swan. Later, Hermia's paean to nature, "Thus the ever grateful spring", turns into a lament, sung to an inflatable earth on a life-support system.
As Hermia, Eleanor Broomfield is one of the stars of a show that is a great credit to Longborough's admirable Emerging Artists programme. Rachel Speirs is characterful and vocally agile as Titania and Hippolyta, Annie Reilly has a lovely resonance as Helena and Suzie Perkis is a spritely Puck in manner and tone. Angharad Rowlands has a rich sound as Quince and Alys Mererid Roberts as a sweet-toned Flute complete a strong female cast.
Bass-baritone Peter Edge as Lysander shines in his aria "Hush, no more", and both he and Luke Horner's Demetrius are in good form as they battle over confused loves. Lars Fischer is a rather louche, biscuit-munching Oberon, and, after a somewhat lightweight opening as Bottom, George Robarts ends with a flourish in the mechanicals' farcical, wittily-staged Pyramus and Thisbe.
I was particularly impressed by Rhydian Jenkins as Snout, a natural actor with a great voice, as was Titania—although clearly admiring this muscle-bound tenor for different reasons—and Edward Jowle possessed a pleasant depth of tone that belied the name of Starveling.
The excellent Longborough Youth Chorus sang beautifully, moved confidently and brought delight on their every re-entry.
The ever-vibrant music shifted seamlessly between styles, led by composers Burrell on first violin and Sever doubling as conductor and accordionist, and featuring soloist Adrian Woodward on baroque trumpet.
Reviewer: Colin Davison