The Fairytale Revolution: Wendy's Big Adventure
Louise Beresford and Anna Spearpoint
Theatre 503
Theatre 503
–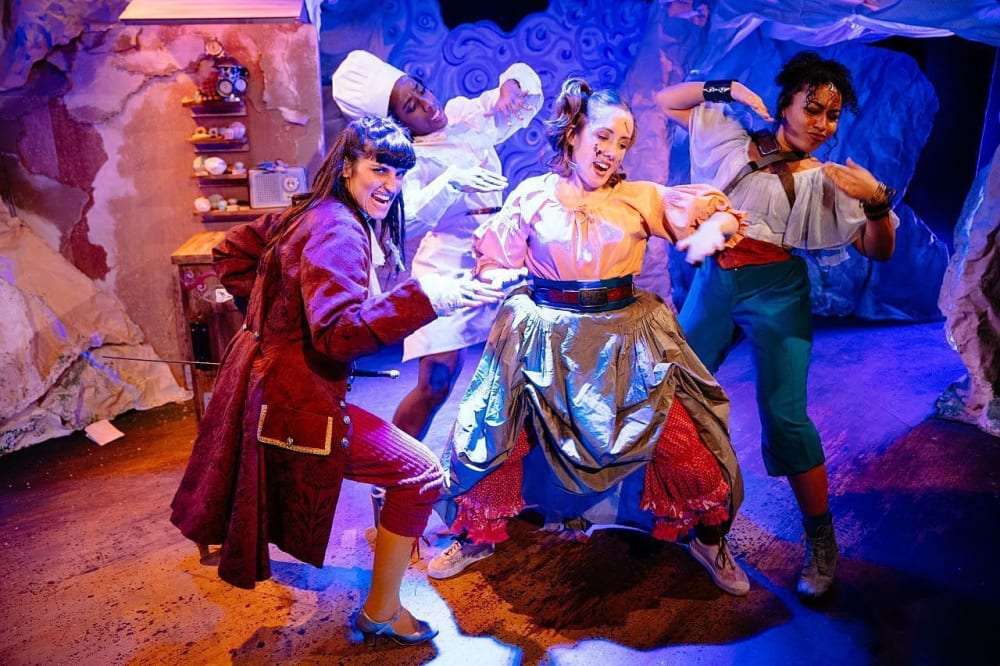 Year after year after year, the same pantomime stories take to the stage whilst show after show after show, the same narrative plays out: good conquers evil and love saves the day. But does it have to be so? Can tradition be broken? Do the characters ever get a say?
Clapham's Theatre 503 has built a reputation for alternative pantomimes with past seasons embracing panto mashups Scrooge and The Seven Dwarfs and Cinderella and the Beanstalk. This year, having performed in the venue's previous festive offering, Louise Beresford and Anna Spearpoint take on writer duties with a panto that speaks volumes to 2019's discussions around gender, representation and empowerment.
Stuck in the never-never world of Neverland, unlikely allies Hook and Wendy both share a secret: they dream for another life. Fed up being vile Villain and passive Principal Girl, they long to break free from their roles.
Utilising stock pantomime genre conventions, The Fairytale Revolution is just that. Rebelling from the form in terms of narrative structure, Beresford and Spearpoint present a tale where the real Villain is the ominous voice of the Narrator, Hook is a misunderstood poet and Wendy dreams of her own adventure rather than being defined as the Lost Boys' mother.
When the Narrator hears of Hook and Wendy's plans to create their own narrative, she sets about to destroy their dreams and keep them locked in her story. If they don't keep playing their parts, her powers will be diminished and who knows what might happen?
Silly, sublime and at times surreal, The Fairytale Revolution blends a healthy dose of French and Saunders with a pinch of Smack the Pony to create a show that lovingly jests at pantomime's penchant for excess and shines a light on the genre's misogyny.
From a baking routine set to the "Cha-Cha Slide" to songsheet singalong and groanworthy puns, all of pantomime's expected ingredients are ticked off as Hook, Wendy and Baker Swife set out to rid Happy Ever After of the Narrator and empower citizens from across the lands to determine their own future.
With the Narrator but a disembodied voice reminiscent of the Oxford Playhouse's CCTV Villain of 2004, the show's focus is very much on its all-female cast of performers who multi-role throughout to provide a plethora of pantomime characters.
In the role of Hook, Beresford is a masterful misunderstood maniac, enrapturing the audience with a mere swish of her coattails and recitation of many a haiku.
Director Carla Kingham wrings every laugh from the script with meticulous detail. Forever counting haiku syllables, laughter erupts during Hook's recitations as he's completely flummoxed by his hook only providing one digit, whilst a spirit-swigging puppet Pinocchio brings a touch of Python to proceedings with his ever-elongating nose.
Absurdity can also be found in Helena Morais's many characters, most impressively Hansel and Gretel who, thanks to some comedic wig-ography, enable roles to be swapped in an instant when Morais isn't doing the Narrator's bidding as appointed henchman Smee.
Anais Lone's bold and brave Wendy keeps the quest narrative firmly on track with Spearpoint's Baker Swife blending Dame and Comic to offer some excellent audience participation and puns aplenty beginning with her lovable oven Ken Wood.
Newly composed songs and fresh lyrics to well-known tunes give the piece a wholesome pantomime feel, with a piratesque "Time Warp" and nod to Hamilton being particular crowdpleasers.
A show full of energy and eccentricity, chaos and cross-dressing, The Fairytale Revolution gives Wendy the awfully big adventure she righty deserves whilst reminding us all, in the words of the show's triumphant conclusion, to "Get out there and be proud!"
Reviewer: Simon Sladen