The Fall
Ameera Conrad, Oarabile Ditsele, Zandile Madiwa, Thando Mangcu, Sizwesandile Mnisi, Sihle Mnqwazana, Cleo Raatus and Kgomotso Khunoane
Baxter Theatre Centre at the University of Cape Town
Assembly Hall
–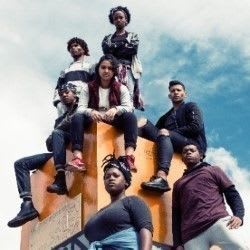 It is worth recalling that Cecil Rhodes once said, "we must find new lands from which we can easily obtain raw materials and at the same time exploit the cheap slave labour that is available from the natives of the colonies."
He certainly grew very rich from taking control of African wealth. No wonder a statue of the man at the University of Cape Town (UCT) became such an irritation to students frustrated at the lack of progress in post-apartheid South Africa.
In 2015, their demands for it to be removed were backed up with marches and the occupation of University offices. Seven of those involved in the struggle at UCT recreate the Rhodes Must Fall campaign and its after effects in The Fall.
It opens with the actors marching and singing onto the stage. Their march is a confident angry dance, and at certain points in the show there are more songs.
We see something of the student's arguments as they talk about the issue of representation not only in terms of visible symbols such as the statue but also questions of curriculum and staffing.
They also discuss the opportunities they have for expressing their own identity as feminist, as black, as trans or as gay.
They are jubilant at the success of the campaign and as Rhodes is pulled down, a student dances on the plinth.
The movement doesn't stop there. It goes on to fighting for better accommodation, ending the insecure work of outsourcing services and the national tuition FeesMustFall campaign.
There are moments when the fear of defeat generates squabbles but the performance is constantly upbeat and engaging.
This is a fine insider's theatrical document of a movement that continues to inspire and bring hope to people.
Reviewer: Keith Mckenna