(the fall of) The Master Builder
Zinnie Harris after Henrik Ibsen
West Yorkshire Playhouse
Courtyard Theatre, West Yorkshire Playhouse
–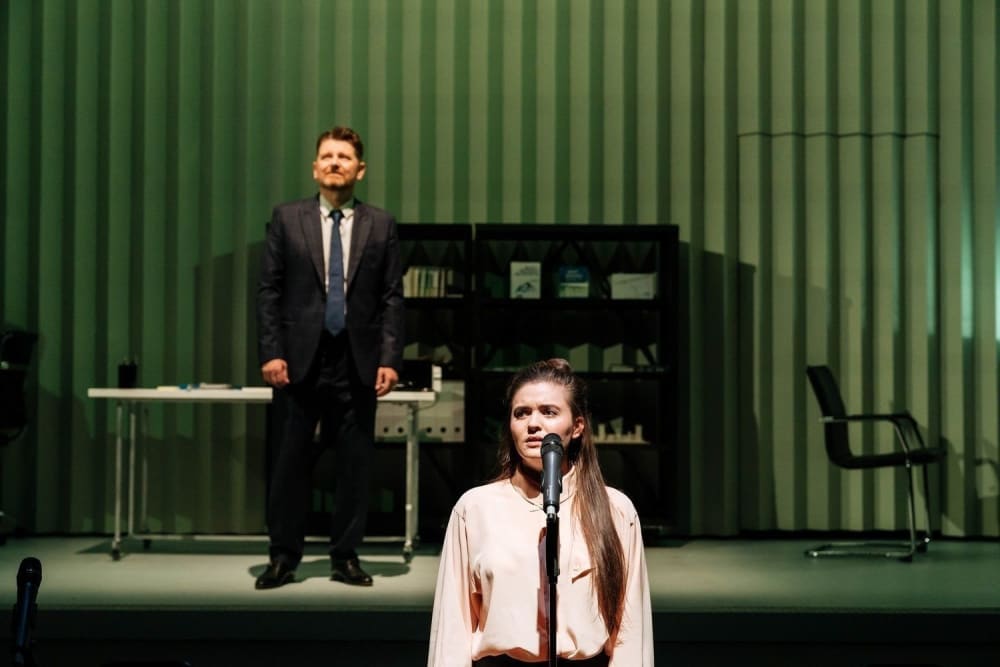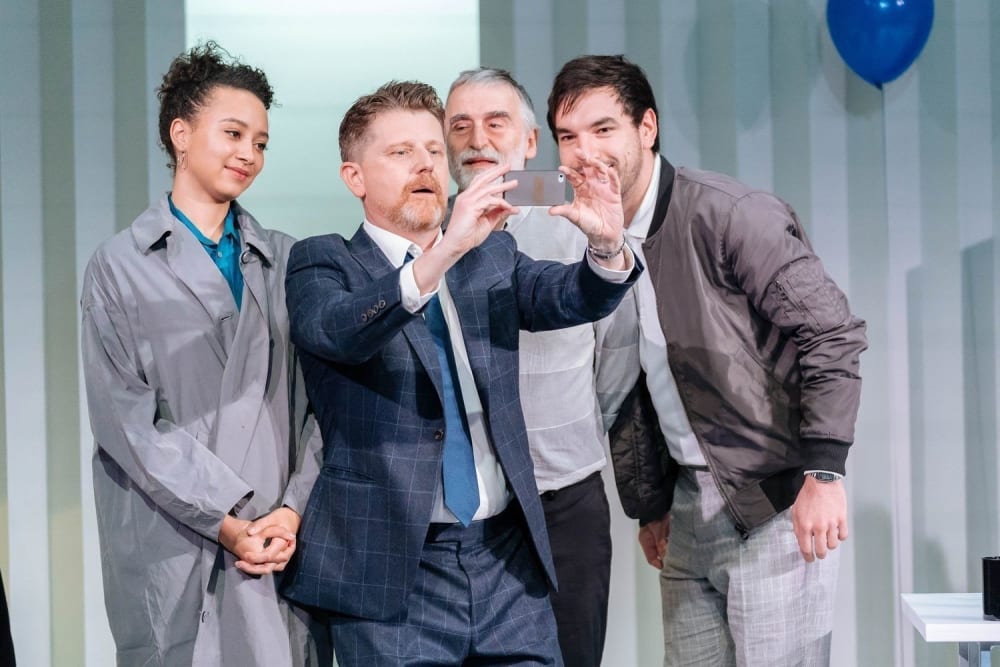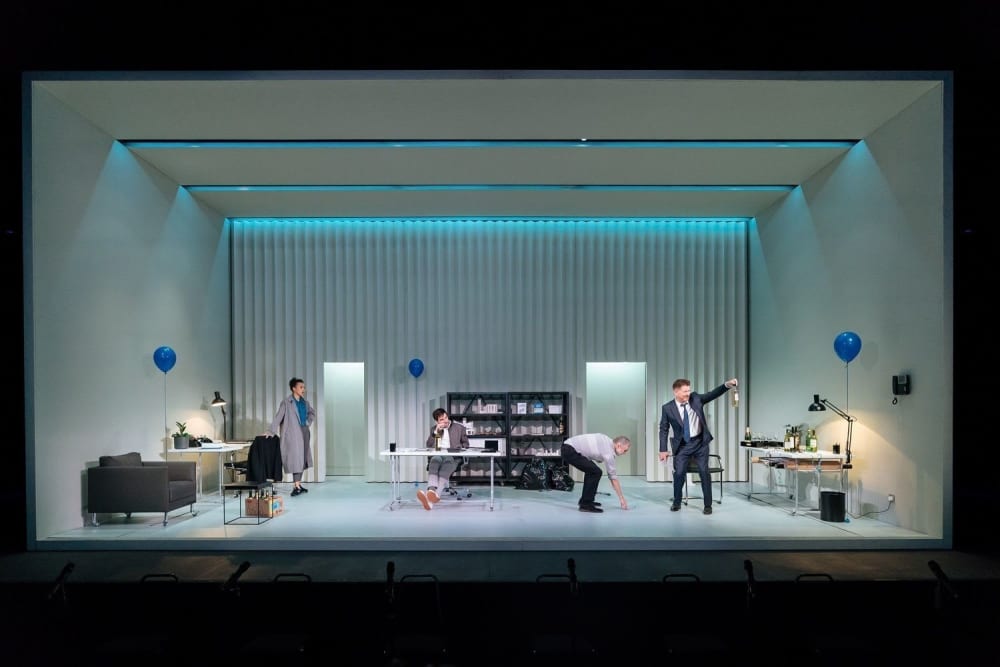 The plays of Ibsen depend, famously, on the slow revelation of excruciating secrets, with information accrued piece by piece to turn the screw on the protagonists up to absolute breaking point. Under Ibsen's piercing gaze, few escape the capricious cruelties of fate and human frailty.
Zinnie Harris's electrifying modern version of The Master Builder stays absolutely true to this central mechanism, while carving fresh and utterly contemporary angles to the piece.
Reece Dinsdale plays the title role, Halvard Solness (Harris preserves the Norwegian names, which in this otherwise Anglicised setting becomes an apt act of alienation). We first meet Solness as he celebrates being awarded the title of 'Master Builder UK 2017'. Clutching a sleek award and shimmying across the stage, he is charming, tipsy and quick-witted.
The world is a clean, white-walled office space, ingeniously designed by Alex Lowde. The back wall, corrugated to evoke office blinds on a grand scale, encloses the depths of the Courtyard Theatre, providing a shallow playing arena in which to witness Solness's gradual fall.
James Brining's intelligent and insightful direction, along with superb playing from the faultless ensemble, activates this single setting energetically and sympathetically to the text. A few scenographic tricks are played later, but none are mere gimmick; all support the telling of a knotty, weighty and gripping story.
To say too much about this tale would be to undermine some of the energies of the piece, but I can mention the remarkably timely exploration of the undercurrents of abuse and the exercise of male power which bubble beneath Ibsen's original. Here they provide the pulse of the narrative. When 25-year-old Hilde Wangel (Katherine Rose Morley) reappears in Solness's life, she brings with her an expectation, a debt, and a series of revelations which threaten to expose the manipulations his fame has permitted.
Harris thus explores Ibsen's positioning of the master craftsman at the summit of his powers (and about to plummet from it) through a modern take on the exercises of power and the aggressions which have brought him here. Hilde and Solness talk of the malign, powerful "trolls" within them both, this shared coded language bonding them to one another and presenting us with a gripping, wince-inducingly plausible portrait of a man unaware of the extent his own thrall, and all the more damaging for it.
Susan Cookson plays Aline Solness, the wife who in this take is less inclined to stand by her husband out of what, in Ibsen, is her crushing sense of "duty". Here, we are in a society in which divorce is far more of a possibility, in which an e-mail or a text might precipitate revelations otherwise easily buried; Harris assembles these reconfigured pieces with confidence and skill.
Dr Herdal (David Hounslow) is a modern-day shaman to Solness, encouraging and abetting him—to a point—in a well-observed portrayal of the old boys' club. The role of Kaja is similarly thoughtfully reworked in Harris's text, and given a superbly nuanced set of shifts by Emma Naomi.
Kaja's fiancé, Ragnar, is played with the necessary warmth as well as venomous ambition by Michael Peavoy. Completing the cast, Robert Pickavance puts in a splendidly varied turn as Ragnar's ailing father, Brovik, the lifelong chum of Solness whose ailments remind the Master Builder uncomfortably of his own inevitable decline.
The battle of authority and youth of the original text, the decline in powers of the master artisan, are teased out here alongside urgent contemporary questions of privilege and gender relations.
It is a coolly intelligent, yet still deeply human production offering a powerful display of theatrical craft. The whole cast is superb, and Dinsdale particularly so in the weighty and unrelenting central role. He is a bundle of neatly differentiated tics, his voice capable of conveying simultaneous authority and querulousness, and his gaze unflinching when need be.
Sinéad McKenna's lighting design and Jon Nicholls's sound combine with Lowde's set to subtle and intense effect; at the opening of the second half I could practically feel Solness's hangover closing in, after the revels of the previous act.
Through a brilliantly observed, sometimes comic and yet deeply painful tragedy, Harris turns a gimlet eye on some insidious and devastating ailments of the current age. Thus Ibsen's spirit is preserved. This masterful production feels deeply, desperately contemporary.
Reviewer: Mark Smith