The Father
Florian Zeller, translated by Christopher Hampton
Oldham Coliseum Theatre
Oldham Coliseum Theatre
–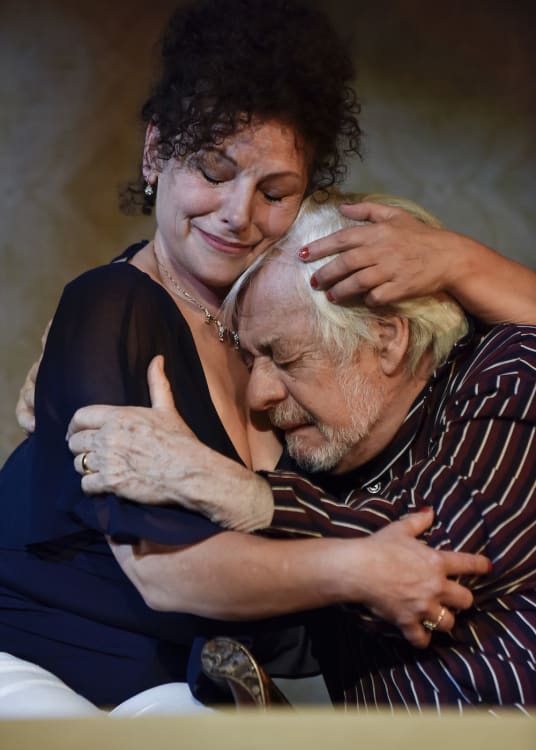 The Coliseum has bravely mounted the regional première of a play which does not just portray dementia on stage but very cleverly puts its audiences through, in a small way, the experience of the confusion of someone with the condition.
We open with André in his flat in Paris, a well-dressed and articulate old man, being told by his daughter, Anne, that they are looking at new care options for him now that he has driven his past carers away, and that she is moving to London to be with the man she loves.
Or do we? In the next scene, André comes across a man in his flat who tells him he is Pierre, Anne's husband of ten years. Doesn't he remember? Anne returns from the shops with chicken for dinner, but he doesn't recognise her—and neither do we, as she is played by a different actress. Going to London? What nonsense! And this is their flat into which André has moved while they find a replacement carer.
And so it goes on, each scene contradicting information that has gone before, or repeating it but said by different actors. André doesn't know what's real and what isn't, and neither do we. He only knows that he misses his younger daughter, his favourite, the artist—but the others change the subject when he mentions her.
It's a brilliant concept, superbly realised by the writer and adaptor so that the plot construction isn't a gimmick but a clever device to take the audience deeper into the confused world of André's mind.
Kenneth Alan Taylor returns to the Coliseum for a portrayal of André that's certainly not subtle—emphasised perhaps by the almost televisual naturalism from most of the other actors—but he gains the audience's sympathy from early on and tears at the heartstrings by the end.
Kerry Peers as Anne brings out very well the torment that those of us who have had to deal with elderly parents with fading memories, home carers and nursing homes know too well. John Elkington is (perhaps) Pierre, who is losing patience with the whole situation and becomes abusive towards André (or does he?). Jo Mousley is great as jolly new carer Laura, not phased by anything. The other two actors, Colin Connor and Helen Kay, are just billed as Man and Woman.
Patrick Connellan's effective set makes the Coliseum's stage look huge with its enormously wide box set and a concealed almost-echo of the visible room behind. Below the room is a carefully deconstructed piano—which looks effective but I've no idea why it is there.
Kevin Shaw's production is paced rather unevenly at present, not helped by interminably long scene changes, which are directed to have some meaning relevant to the story (items of furniture disappear from one scene to the next) but aren't slick enough to really work as effectively as they should. However this will probably improve massively over the next week as the production has chance to bed in.
Despite some reservations about the production, this is still a chance to see a brilliantly clever and perceptive piece of theatre that deserves to be seen much more widely.
Reviewer: David Chadderton