The Father
Florian Zeller in a translation by Christopher Hampton
Theatre Royal Bath Productions and Tricycle Theatre
Duke of Yorks Theatre
–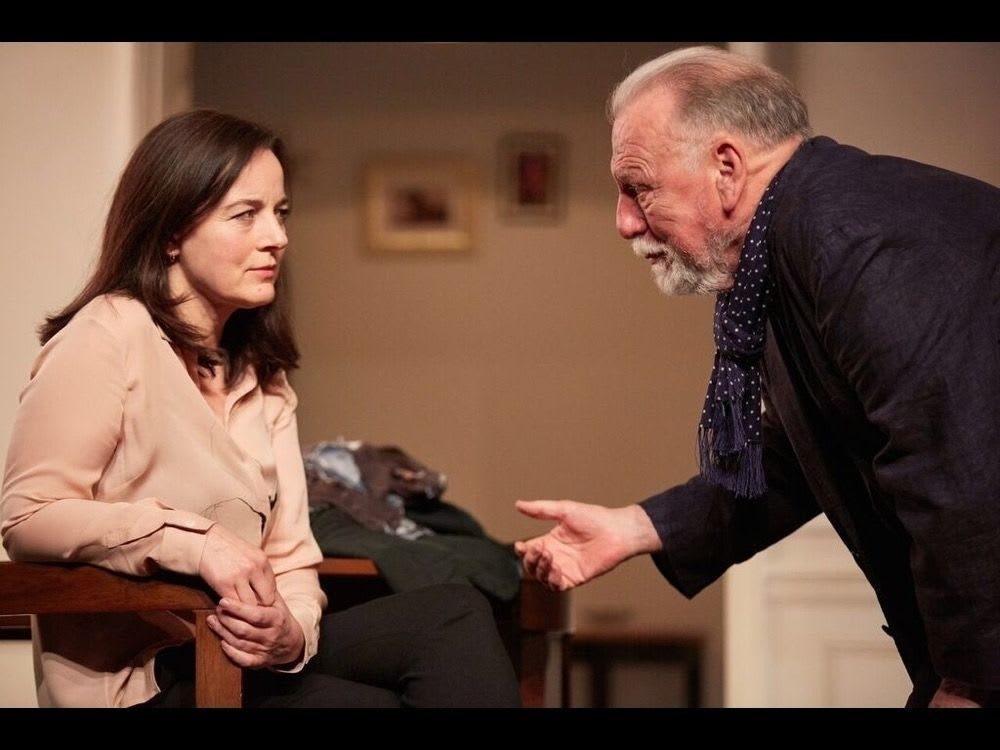 There is a lightness of touch to Florian Zeller's gentle but unsettling play The Father about the strange and disappearing world of its central character Andre (Kenneth Cranham).
This is partly to do with James Macdonald's bright, clear and simple direction. Short, fast scenes are separated by brief moments of stage darkness in which a piano plays jauntily.
The mood is also shaped by a naturalistic sequence of events and quick dialogue which for most of its early sections is funny and engaging.
The programme for the show and much of the media coverage describe this play as depicting the disintegrating effects of Alzheimer's disease. But there is no mention of Alzheimer's in the play and there is much that will make you question whether that is the case.
Initially, the show appears to be the story of the articulate older man Andre asserting his independence against his daughter's insistence that he needs care.
Andre is self confident, witty, and on occasions charming. When a new carer Laura (Jade Williams) arrives to his flat, he puts her at her ease, makes her a drink and dances entertainingly for her. On a later occasion, he offers to amuse her with conjuring tricks. These are not the signs of someone needing care.
There are also things that happen which remind us that elderly people can become victims of abuse.
His daughter's partner Pierre (Daniel Flynn) and another man (Brian Docherty), whose identity is ambiguous, on separate occasions when they get Andre alone become quite menacing. Each uses the same words to threaten him. One of them makes clear how physical that threat is by slapping Andre a number of times.
Anne (Amanda Drew) seems the patient, long-suffering daughter, always focusing on his needs and ready to drop her holiday when his carer resigns. It seems simply cruel when Andre claims in front of a new carer that she wants to ship him into a home so she can get his flat and move to London. She denies ever thinking such things. Yet in an earlier scene we see her telling him she is moving to London and by the end of the play he is in a nursing home and she has moved to London.
However things happen during the play which make us wonder if we are simply sharing the disorientating effects of Andre's illness.
Characters are suddenly played by different actors so that Andre fails to recognise them, and conversations we witnessed are denied as ever having taken place. Furniture disappears and, when Andre asks where it has gone, Anne claims it was never there.
By the final harrowing scene, there is no doubt that Andre's memory and understanding of the world along with his capacity to respond to it have greatly deteriorated. It makes us look back on those earlier scenes and wonder how many might just have been the fragmented consciousness of a failing mind.
This is a fine watchable play which will encourage audiences to talk about Alzheimer's, though it offers no insights on the condition or the social context in which it occurs.
Reviewer: Keith Mckenna