The Fellowship
Roy Williams
Hampstead Theatre
Hampstead Theatre
–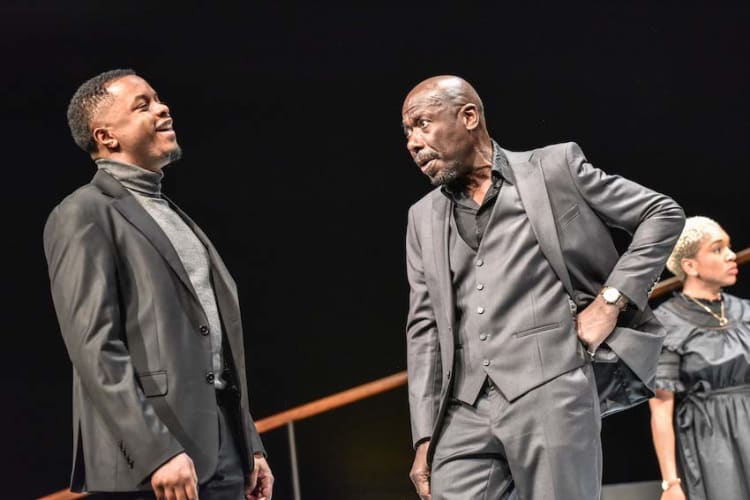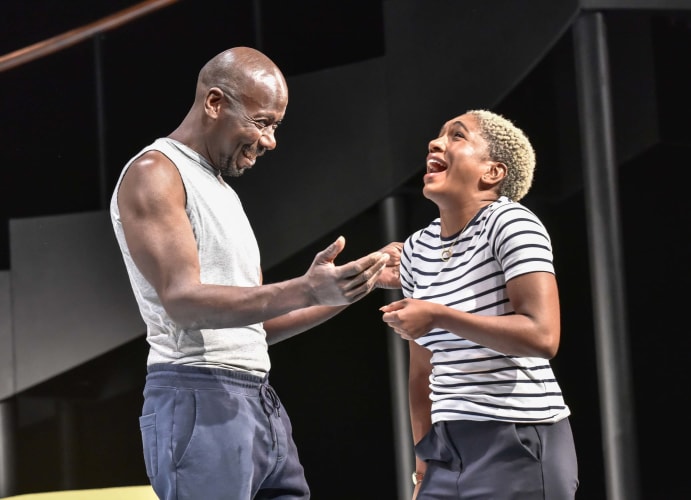 Roy Williams's new play presents three generations of a black family centred on the relationship between two sisters, Marcia and Dawn, and of them with the Windrush generation mother who grew up in Jamaica and with Dawn's son Jermaine. It looks at the way they react to each other and to the world that they live in, remembering what immigrants and their descendants have had to put up with but also taking a look at their own prejudices.
Designer Libby Watson provides a setting of elegant abstraction: a grey stairway sweeps around the back of the stage while a circle patterned like clouds in a blue sky and matched by a circle of coloured light overhead mark out a cockpit-like playing space. It is a space that looks ready for drama, Greek tragedy in modern dress perhaps, and although a bright yellow settee makes it into a comfortable sitting room, this sometimes feels like the Oresteia and sometimes Coronation Street.
Mother Sylvia was in danger of being sent back to Jamaica if they hadn't been able to find the right papers, Now, not well enough to look after herself, she's been moved in upstairs. Dawn has taken on that responsibility. Marcia, the elder, now a successful barrister, was far too busy and anyway living with her white lover, a married politician.
Jermaine's father Tony lives with Dawn, but it seems only on sufferance; it is her place and she seems more in control of her relationship that her sister is of hers, though getting charming but ego-centred saxophonist Tony to pull his weight is almost impossible.
Both sisters have in the past been politically active with references back to the New Cross fire and Broadwater Farm. (Will younger audiences recognise these events from our history? They aren't explained.) Now hard graft has got Marcia a place in the white world, but Dawn questions on what terms. She also tries to stop her son Tony from seeing a white girl called Simone (Rosie Day), though there is a back-story there involving the death of his elder brother.
Play and production use popular music to set each generation in its own time as the sisters oscillate between feuding and affection. "Not everything is about race," Marcia tells Dawn, but she has had her own share of people assuming that she's the defendant, not the barrister. This is Williams reminding us how much has been and still is about race, and from both races.
Director Paulette Randall sees this as a family that argues at full volume and she draws full-blooded performances from the whole cast, but it's often a shouting match and sometimes we could do with less noise and more information, but this energy carries things forward.
Suzette Llewellyn makes a forceful Marcia, though we do get a glimpse beyond her professional confidence, but it is Cherrelle Skeete's Dawn upon whom attention is riveted, the more to her credit because (due to Lucy Vandi's indisposition) she took over the role at a late stage. Though playing sometimes script-in-hand, it's an explosive performance.
Trevor Laird is laid-back as Tony, perhaps not as feckless as he is made out to be and smoothly delivering a very funny sexual allusion with a straight face. Ethan Hazzard creates an honest image of Jermaine, having to fit into both his mother's and his own world, and Rosie Day is Simone, the white girl facing up to Dawn's prejudice, another object of which is PC Spencer, a picture of professional control from Yasmin Mwanza, who very differently doubles as grandma Sylvia.
Williams packs a lot into this play—he seems to be unburdening a load of personal feelings—but, though it holds the attention it takes on more than it can do justice to as it explores the the changing pattern of race relations.
Reviewer: Howard Loxton