The Fever Syndrome
Alexis Zegerman
Hampstead Theatre
Hampstead Theatre
–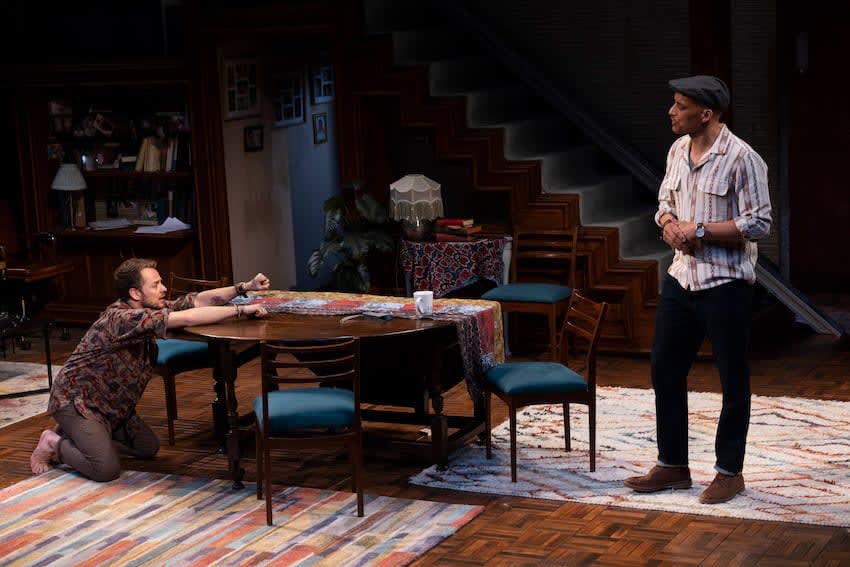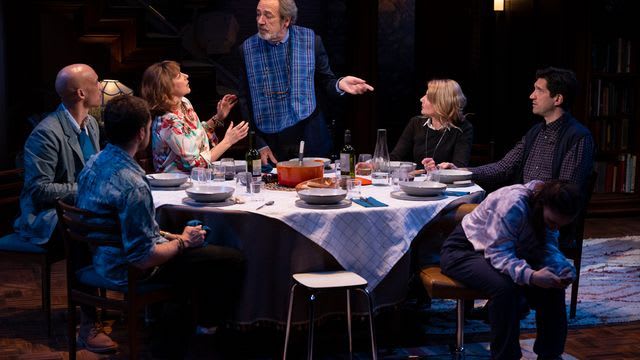 Alexis Zegerman is a British writer and actress but she is married to an American and her new play, originally commissioned by Manhattan Theatre Club, is a family drama set in a New York brownstone to which the children of thrice-married IVF pioneer and geneticist Professor Richard Myer have returned home to celebrate his receiving a prestigious Lifetime Achievement Award.
Lizzie Clachan's setting, like an opened-up doll's house, presents staircase and bedrooms rising like pictures on a wall above the main rooms so the action can move instantly between them. In places, the wallpaper is torn away to underlying layers but although there are some moans that the house, with its garden overgrown with Japanese Knotweed, is not being properly looked after, this seems more symbolic of the step-siblings' past histories than actual bad upkeep.
Richard Myer has helped thousands of would-be parents and has worked to create babies without disease but is himself now stricken by Parkinson's while his eldest child, Dorothy, has a daughter suffering from the Fever Syndrome of the title, a condition that affects the immune system and results in seizures. That daughter Lily opens the play trying out her grandfather's stairlift followed by a confrontation between Dorothy and Richard's wife Megan about Richard's treatment.
Dorothy (Dot), the editor of a scientific journal, has also brought her husband Nathaniel (Nate) who, having been found guilty of plagiarising a student's work, is currently getting by as a supply teacher, and they will be joined by half-brother gay artist Thomas and his partner Philip from Phoenix and Thomas's twin Anthony who seems to be a cryptocurrency entrepreneur based in California.
This is a family in which loving bonds are overlaid by dissent and suspicion. Warm memories share space with medical and ethical issues, partnership issues and money, including the problems of paying for medical care in the US. Dot has her eye on the cash the award will bring; she wants it to finance Lily's paralytically expensive future medication, though that has been promised to a research foundation that Myer has set up. She also wants father's support to make use of embryos frozen twelve years ago to try for another child free of Lily's syndrome.
It is a family who talk at the same time and you have to listen hard to catch everything. Words spill out of Alexandra Gilbreath's Megan who is at the end of her tether trying to cope with Richard's care, especially resenting the way Dot, who hasn't been there to help, puts her oar in. But Lisa Dillon's Dot has her hands full with her daughter and a husband whose actions have treated her own career.
Robert Lindsay as the Professor gives us both the man with the Parkinson tremors and in bursts lets us see the man as he used to be, a man not the easiest of fathers for his children. What unnamed guilt does he carry?
Of his other children, Sam Marks as Anthony may seem to bring a shimmer of Californian sunshine but there seems something dodgy about his dealings and is something going on between him and his stepmother? Alex Waldmann makes Thomas seem a nice guy too (pity about the paintings) but he's taken years with a shrink to get over past family traumas and now has a problem with commitment, which is bad luck for his lover Philip, whom Jake Fairbrother plays as a no-nonsense nice guy. Then there's Lily, glued to her mobile phone, her fits very realistically portrayed by Nancy Allsop.
There is another figure who pops up too. At first, it seems to be Lily having changed clothes and, if you haven't read the cast list carefully, it is well into this play's 2 hours 24 minutes before you realise that only Richard can see her and get a hint that Charlotte Pourret Wythe is actually playing Dot when she was Lily's age.
The Fever Syndrome touches on a whole lot of things without taking time to dig deeply but it gets strong performances and, as it flits from scene to scene, keeps offering some new development to keep you interested.
Reviewer: Howard Loxton