The Fishermen
Chigozie Obioma adapted by Gbolahan Obisesan
New Perspectives in association with HOME
Arcola Theatre (Studio 1)
–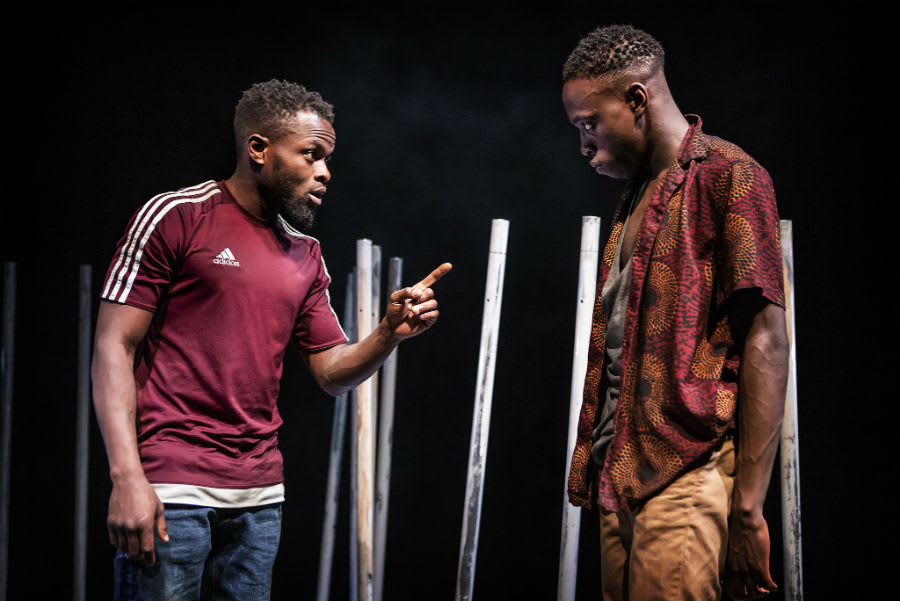 The Fishermen is an intense memory play.
Two brothers meet after many years apart. They stand in a strange landscape on a circular wooden platform that is traversed by an S-shaped series of metal poles.
You might think the poles are prison bars still holding one of the brothers who has not long been released from eight years in prison.
Together the brothers recall their family and the shocking events that were set in motion one day when in defiance of their father's instructions they had gone to fish in the local polluted river.
There they came across a local man. With the casual cruelty of children, they label him as mad and one of them chucks nuts at him.
In response, he shouts after them. They don't quite understand what he says but it generates conflict among the brothers.
The performance is fast and energetic. The actors, Michael Ajao and Valentine Olukoga, are constantly switching into different roles as they show and tell this traumatic coming of age story.
Changes in the lighting along with the sensitive underscoring of the sound design often shift the mood in unsettling and even frightening directions.
But if the performance is a remarkably fine achievement, the adaptation of the novel has weaknesses as a play. It is not always clear which of the characters we are seeing, and the sheer number of them means they are inevitably little more than a sketch of a few characteristics.
There is also something very superficial about the story they tell. It is like a brief description of an uncomplicated action film that shows no insight and raises no interesting issues.
Go see this impressive performance of a highly skilled company but don't expect to be tempted afterwards to read the novel from which it is derived.
Reviewer: Keith Mckenna