The Flop
Hijinx and Spymonkey
Hijinx and Spymonkey
Summerhall
–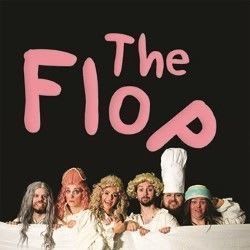 Welsh theatre company Hijinx is back at the Fringe with its latest play The Flop and it most certainly is not. In fact it's a hilarious madcap romp performed with so much vitality that it leaves you breathless.
They have joined up with Brighton-based physical comedy theatre company Spymonkey with a cast of three learning disabled actors and three non-disabled performers and it's good to see such inclusivity. They also have a BSL signer.
The witty script lampoons a French farce set in the 1600s with a set design that is an act in itself with opening doors and moving flats all used to wonderful effect with split second timing.
17th century France has declared that impotency is illegal so when the vain Marquis De Longey, gloriously played by Iain Gibbons, marries the sassy innocent Marie Saint-Simon, a cheeky vivacious performance from Jess Mabel Jones, there is much hope of an heir.
The puns and innuendos come fast and furious with clever wordplay and uproarious visual gags a-plenty. The company break the fourth wall with alacrity, much to the delight of the audience.
But after four years and no baby, although lots of spooning and other activities, Marie's aunt, an outstanding performance from Hannah McPake, begins to have her suspicion that no "rumpity pumpity" has happened.
She persuades Marie to sue her husband for impotence, leading to a Trial by Congress where the Marquis has to prove his sexual competence.
There is excellent comic support from Ted Lishman as Marie's frail grandfather and Jonathan Pugh as the whimsical David, the servant to the Marquis, with Adam C Webb as a euphonium-playing cook and court warden.
The cast all play musical instruments. The songs are irreverent, funny and sung with gusto and the cast seem to be having as much fun as the audience with the funniest ad-libs.
This is a wonderfully silly anarchic hour of total madness. If you are looking for a show that totally captures the spirit of the Fringe then The Flop is the one to see.
Reviewer: Robin Strapp