The Flying Lovers of Vitebsk
Daniel Jamieson
Kneehigh Theatre
Salisbury Playhouse
–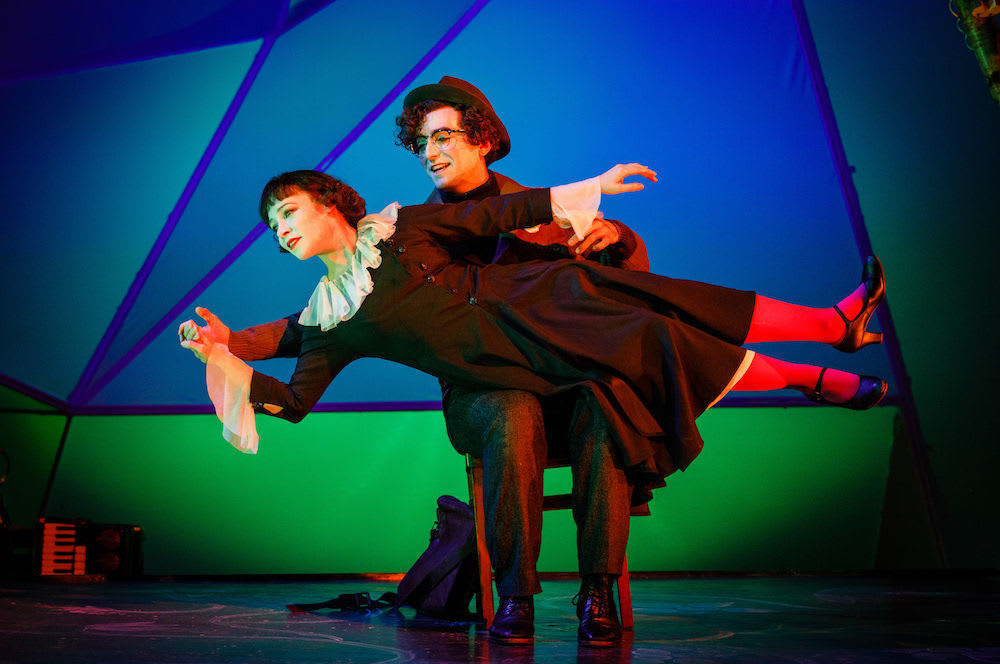 It's not been an easy time in Salisbury lately what with armed police and figures in strange and fearsome protective gear patrolling the town centre. We really could do with something to take our minds off the Russians and the supposed poisonous substances that have been occupying our attention lately.
So we make our way to the theatre. After all, Kneehigh is always entertaining and this particular production has already won widespread critical acclaim. And the Playhouse foyer is filled with enthusiastic and excited teenagers. Always a good sign.
The play is about Marc Chagall, the Russian artist (Russians again), born in 1887, the eldest of nine children, who lived till he was nearly a hundred and of whom Picasso said, "when Matisse dies, Chagall will be the only artist who inderstands what colour really is."
Then there's Bella, his wife, loving and utterly devoted, originally played by Emma Rice, who is now directing the play.
Of course it's a love story, full of danger, passion and inevitable heartbreak. Marc Antolin and Daisy Maywood as the lovers, caught up in a web of political intrigue over which they have no control, will be forced to change their identities and flee for their lives, while we alternately grip the sides of our seats and reach for the tissues, aware of the other appalling things that happened in Russia and Germany during the last century, particularly if your real name just happened to be Moishe, a situation Chagall dealt with by responding "me a Jew? You insult me!"
So we're relieved that the family at least survived the second world war and that Chagall was able to return to his beloved Paris where he continued to work, painting the ceiling of the Paris Opera and seeing his pictures given a special place of honour—the only living painter to be so honoured—in the Louvre.
Of course if you have a play about an artist, especially one famed for his passion for, and innovative use of, colour as Chagall, you've got to be a bit careful about the set. But it's okay. With only two actors to accommodate, a designer who's studied Chagall knows exactly what to do. Athletic cavortings of the lovers allowed for, designer Sophie Clist draws her inspiration from the artist himself. The angles of the skyward projections, the tilted small, elevated floor space and, above all, the huge, painted backdrops of varying colours, red, green, more subtle shades of beige and lilac, all add their own particular contribution to the narrative.
And there was music, of course there was. Wonderful folky original melodies and harmonies, written especially for this production, emerged from the side of the main set, from a double bass, a keyboard and was it a violin playing pizzicato? It was a bit difficult to see. Composer and musical director Ian Ross, along with the other musician James Gow, are responsible for this atmospheric accompaniment to the action. I think we shall all be humming some of those lovely tunes as we leave the theatre.
So the foyer is full of teenagers again. Most are talking animatedly. One is drying her eyes.
They'll be back.
Good.
Reviewer: Anne Hill