The Flying Lovers of Vitebsk
Daniel Jamieson
Kneehigh & Bristol Old Vic
Traverse Theatre
–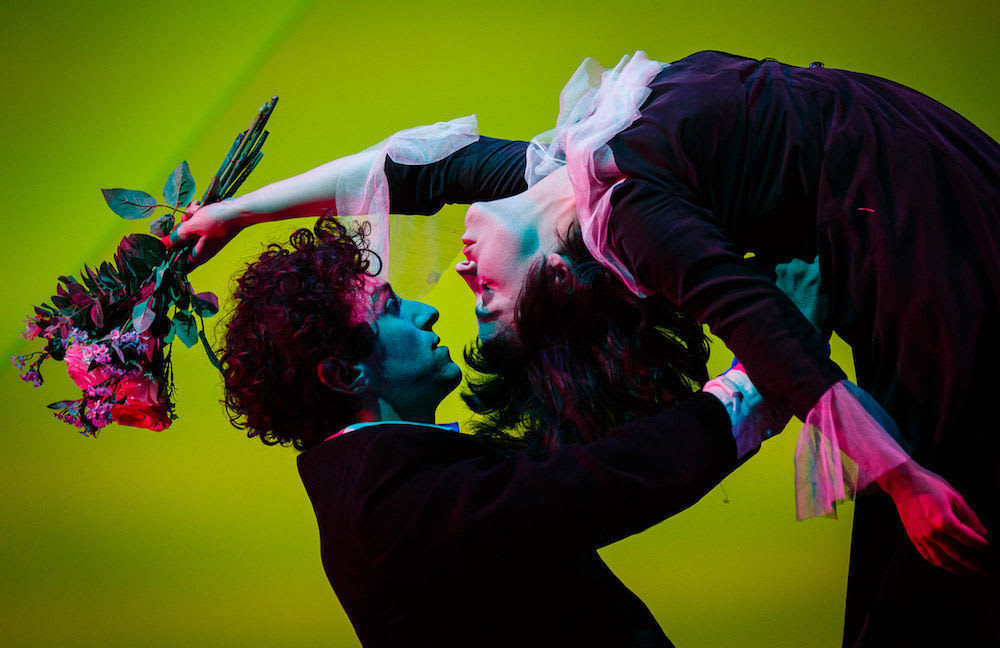 Kneehigh's first Fringe appearance for quite some time is with a brand new show—although one based on a script originally produced in 1992 by Theatre Alibi—from a director who was one of the architects of Kneehigh's distinctive style, Emma Rice.
The play is a love story beginning in Russia the early years of the twentieth century, when a poor Jewish painter from a working class background fell in love with the daughter of a family who owned several jeweller's shops. Although they are only referred to as Marc and Bella until quite late on, he is the now-famous artist Marc Chagall, and she is Bella, who documented their lives in a series of journals that her husband published after her death.
Yes, it's a tragic love story that doesn't exactly have a happy ending, but it isn't a tragedy either. We see her enjoy his success, be frustrated when he chooses art over his family but love him and stay by him always, even after death.
This is a time, of course, of great turnmoil in Russia, with the First World War running into the various revolutions and establishment of the Communist government. Marc is offered an influential role by the revolutionary party, but his wife persuades him to turn it down—perhaps fortunately as one of his fellow appointees would have been Meyerhold, who wasn't exactly treated well by the Party.
Rice's production is a beautiful thing. The irregular wooden set and the various props from designer Sophia Clist are right out of Chagall's paintings, aided by Malcolm Rippeth's lighting. The story is told in Jamieson's poetic language married perfectly with beautiful abstract movement choreographed by Rice and Etta Murfitt with music by Ian Ross.
And that ending, while sad, is rendered with great tenderness and beauty, while the whole thing is framed effectively as an illustrated telephone conversation.
Traverse tickets certainly do not come at Fringe prices, but if you want to splash out on one full-priced show in a real theatre this Fringe, you could certainly do a lot worst than this.
Reviewer: David Chadderton