The Forbidden Zone
Duncan Macmillan using texts by Hannah Arendt, Simone de Beauvoir, Mary Borden, Emma Goldman and Virginia Woolf
Schaubühne Berlin
Barbican Theatre
–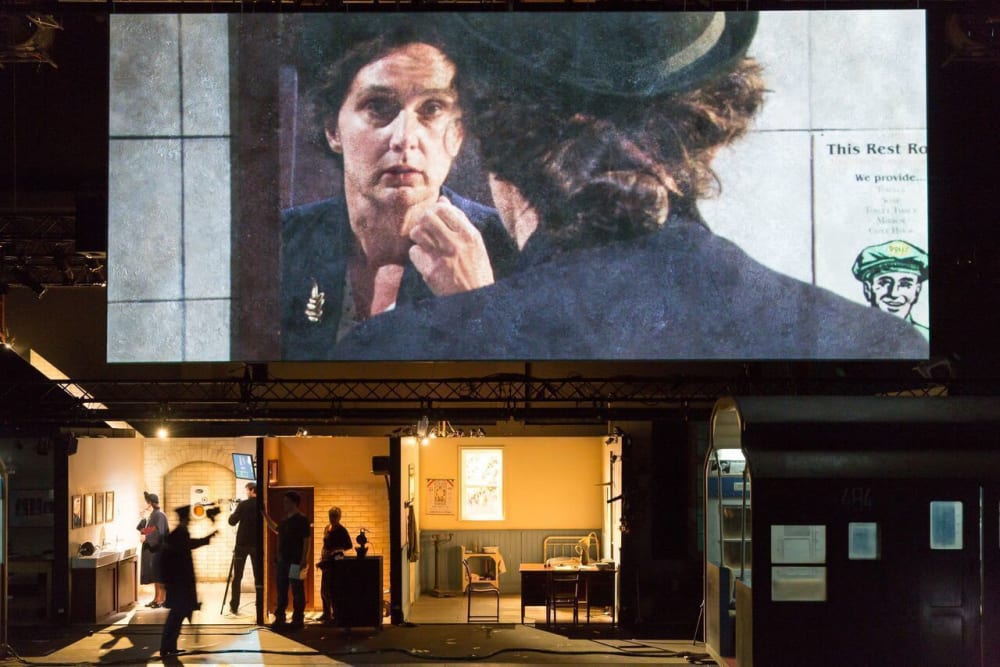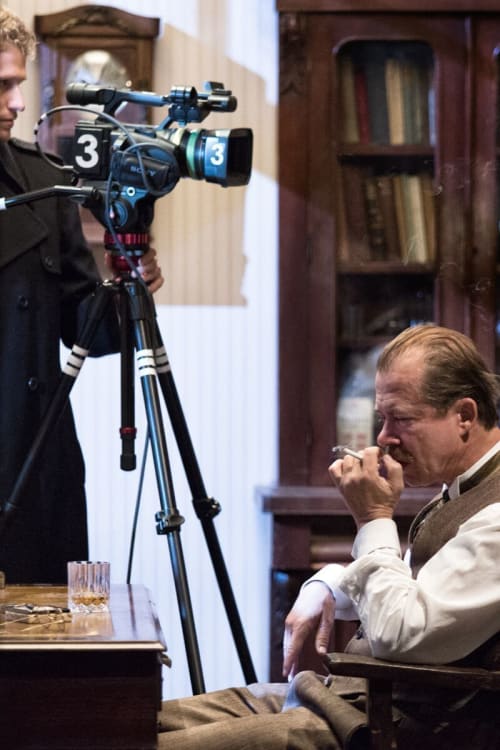 In peacetime, a scientist works for humanity; in wartime, his patriotic duty is to work for his country. That is how, in 1915, German Jewish chemist Fritz Haber (Felix Römer) explains his work developing poison gas weapons to his horrified wife, fellow chemist Clara Immerwahr (Ruth Marie Kröger).
Three decades later, in 1949, their granddaughter Claire (Jenny König) is working in a laboratory at the University of Chicago that grows from his work—but she is working on antidotes to such poisons, research that is halted to concentrate effort on the development of a hydrogen bomb.
This is a play that interweaves those two stories along with another: that of a young WWI nurse at Ypres in April 1915. It is a play about scientific ethics and responsibilities and is told from a feminist viewpoint.
The text draws on leading feminist writers including Mary Borden, a Chicago heiress who financed and worked in her own field hospital. The play's title is drawn from her work. The nurse (Kate Duchêne), who is like her but fictional, tends her own lover, dying after a gas attack, then is seen again working alongside Claire, who has just discovered that in the twenties her Nobel-prize winning grandfather's Institute had developed Zyklon B, the gas used in the Holocaust death camps.
The play begins with an American soldier boarding a Chicago L train, joined in the almost empty carriage by Claire Haber; the action then moves between the two time spans. On the train, at a point when the lights fail, the xenophobic soldier makes a fumbled rape attempt: a metaphor, I presume, for male violence.
There is a slow build through 90 minutes, watching these women, often at very close quarters. Both generation Haber women kill themselves. They leave no suicide notes. Is it in protest, despair or frustration? Whatever the reason, it is intensely moving.
Katie Mitchell doesn't present this as straightforward theatre but using techniques she first demonstrated with Waves at the National Theatre, turning live action into cinema. I found Waves often irritating as actors in a duologue were on camera in two different locations, close-ups of hands done by another actor, foley effects by someone else and actors having to double up as camera operators.
This is simpler, more refined and infinitely more effective. The actors play their scenes together and it gives the intimacy of the camera but the continuity and interaction of the moment.
On stage is the platform and a railway train, the carriages sometimes slitting apart so that we can see behind them. Above is a huge screen on which we see the action, mostly in close-up, some of which will also be visible to some of the audience, along with the camera operators and stage crew when not hidden by shadow. Language is both English and German with subtitles carried on the projected image. This is like being in a 1950s television studio for a major drama production when they went out live, not recorded.
This concentration allows a pace much slower than stage production will usually demand to hold attention. The camera's concentration seems to increase the viewer's while at the same time there is a synchronous awareness of the actors even when they are not clearly visible: a live presence. What previously antagonised me was gone; this held me fascinated and moved.
Lizzie Clachan's set design is carefully researched and technically amazing, Jack Knowles's lighting, sound and video design all contribute and cameramen Andreas Hartmann, Stephan Kessissoglou and Sebastian Pincher do a remarkable job. It may last only 90 minutes but it is a satisfying, in-depth experience.
The Forbidden Zone is part of 14-18 NOW, a major cultural programme across the UK commemorating the centenary of the First World War.
Reviewer: Howard Loxton