The Forest

Frozen Light
Live Theatre, Newcastle
–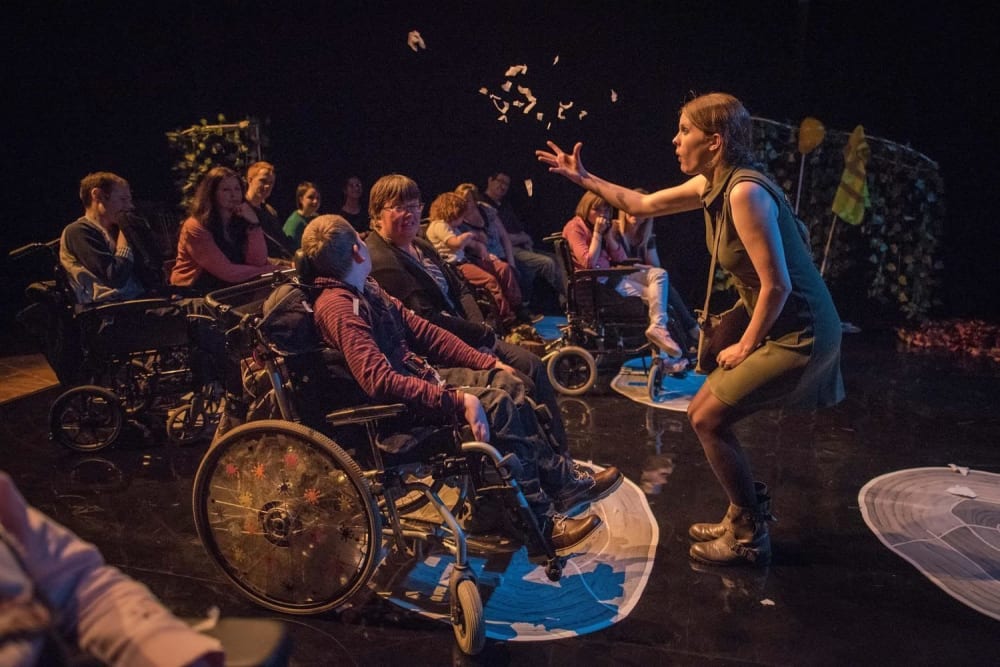 We gnarled old hacks tend to take theatre going for granted. Yet for many people it is a relatively rare occurrence. For some (I suspect for most of the audience for this show) it is the first time.
Theatre's never catered for people with profound and multiple learning difficulties. All those massive hi-tech wheelchairs for one thing. How on earth do you fit them in? And would those targeted be interested anyway? Would they be disruptive?
There were a few errant shouts from the tiny (though capacity) audience of eight (each one with a carer). But not many disruptions. As the carer next to me put it, "I've never known him so quiet. He must be engaged." Almost all this audience were from the Percy Hedley School in Newcastle.
Frozen Light Theatre caters exclusively for PMLD groups and the company is on a 26-date national tour. It's pioneering work, fraught with difficulties. Expense for one thing. Some accountant somewhere will be calculating subsidy per head.
You wouldn't expect this kind of audience to clap at the end, nor did they—carers apart. Many normal theatre expectations don't apply and if this is unusual experience for the audience, only slightly less so for the actors.
The Forest is a multi-sensory tale where Live Theatre's studio box becomes a lush green wooded glade—of which we're in the centre. At one stage, with echoes of Macbeth, the trees get up and walk. We get blown by a high wind, we get rained on, we are given things to eat, to smell—we even get given a delicious mouth spray.
The cast of three often inter-act one-to-one with the audience, singing individualised songs to them. Live music comes from guitar, clarinet and keyboard.
One highlight is the slowly accumulating thunder storm whose animated sights and sounds roll close around us for about seven minutes. There are also clever close-up silhouette moments and balloons, lit from within, hover above the wheelchairs.
I watched the audience closely, unsure of what yardsticks apply as to their reactions. Nor it is easy to judge how they are assimilating this one-hour performance, though it's hard to imagine it leaves them unaffected. Sometimes there were obvious visible signs.
Amber Onat Gregory plays Thea with Al Watts as Robin, two characters whose yearning to escape a dull life is aided by their exposure to the forest, whose guardian spirit is Ivy (Lucy Garland). The director is Kate O'Connor.
Much inventive stuff, though both characterisation and storyline are slightly weak, often the case with a devised as against written piece.
The need to tread carefully and with respect is obvious. But ribald fun could, I suspect, be effective too. In one instance, a noisy, colourful woman enters pushing a supermarket trolley, but is too quickly gone. At another Robin sticks out and pats his bum as he warms it on the fire. Both brief moments help bring theatre alive for any audience.
Frozen Light is brilliantly enterprising to create this unique kind of theatre for a neglected audience. More power to them. But an occasional lapse in good taste could be interesting too.
Reviewer: Peter Mortimer