The Frights / The Ties That Bind / Fresh Start
Louise Taylor / Amy Mitchell / Arabella Arnott
Alphabetti
Alphabetti Theatre, Newcastle
–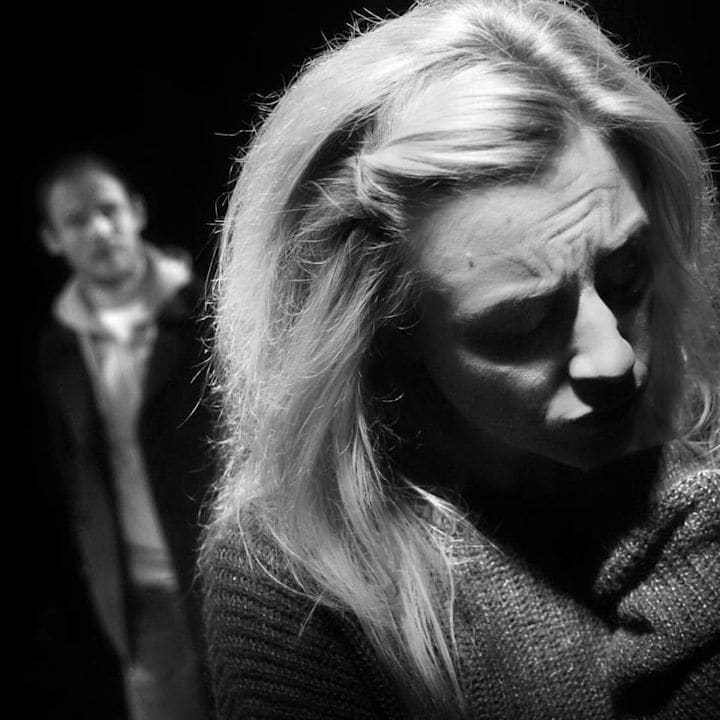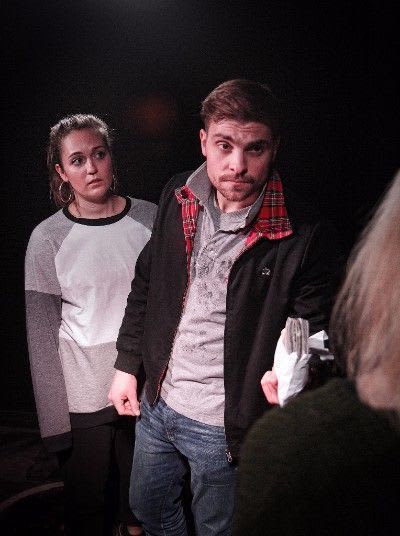 In March last year, Alphabetti presented its first in-house production, The Frights. Now it's been revived.
First it went to Theatre N16 in Balham where it played alongside that venue's production of Your Ever Loving by Martin McNamara. Both plays came to Newcastle last week and then, at the weekend, the Balham offering returned home to be replaced by two new short plays by North East writers.
Alphabetti's Literary Manager Ben Dickenson invited more than twenty writers to attend the dress rehearsal of The Frights and submit a 15-minute play inspired by any aspect of the production—even the colour of the auditorium. Two were chosen and they are now being presented alongside The Frights in what proves to be a very interesting evening.
The Frights has the same cast (Christina Berriman Dawson, James Hedley, Sally Collett, Jacob Anderton) and director (Ali Pritchard) as the 2015 production and, if my admittedly-not-as-good-as-it-used-to-be memory serves me well, has changed very little, if at all—except for the fact that Christina Berriman Dawson, who plays Hanny, has broken her leg and is using two crutches but is still able to move around the stage with remarkable agility.
The play retains its ability to disturb, to cause the audience to question what (and even who) we can trust and whether we ever really know those who are closest to us. The emotional shifts and changing perspectives are deftly and sensitively handled by the fine cast and a sensitive director and we are left with much to think about.
On its own this production of The Frights would be enough—and indeed was enough last year—to give us a satisfying if emotionally uncomfortable evening of theatre but this time, in addition, we have two plays inspired by the production. The two Response Plays, as Alphabetti is calling them, are both directed by Matt Jamie and feature Rosie Stancliffe and Luke Maddison—a real challenge for they are very different plays.
Amy Mitchell's The Ties That Bind is intense and highly emotionally charged. Clearly inspired by the interrogation of Hanny in The Frights, it seems at first to be dealing with the Stockholm Syndrome in which a captive begins to bond with his/her captor, but there is a lot more to it than that, for what we share is the life of the captive woman, her memories and emotions, as they come tumbling through her mind and are reflected in her physicality—love, loss, her mother, motherhood. Interaction with the man, a guard we assume, keeps returning her to her present situation.
At times painful and always deeply moving, it is a powerful short piece of theatre.
Fresh Start by Arabella Arnott is very different. It's a comedy but very much of the dark variety. A couple, Susan and Josh, are meeting on a first date, organised through an Internet dating site, and are stumbling through the minefield of getting to know each other, sometimes treading dangerously and having to decide to "start again." But there must come a point when a line is crossed and a fresh start is no longer an option…
It's very funny and very perceptive.
With a pause of just five minutes separating the two plays, it's a big job for the actors to adjust to their widely differing demands but Stancliffe and Maddison do it, seemingly effortlessly (although I suspect it wasn't effortless at all). And kudos, too, to director Jamie, not just for success in normal directorial duties but for keeping his cast so well focused.
Reviewer: Peter Lathan