The Full Monty
Simon Beaufoy
David Pugh & Dafydd Rogers
Everyman Theatre, Cheltenham
–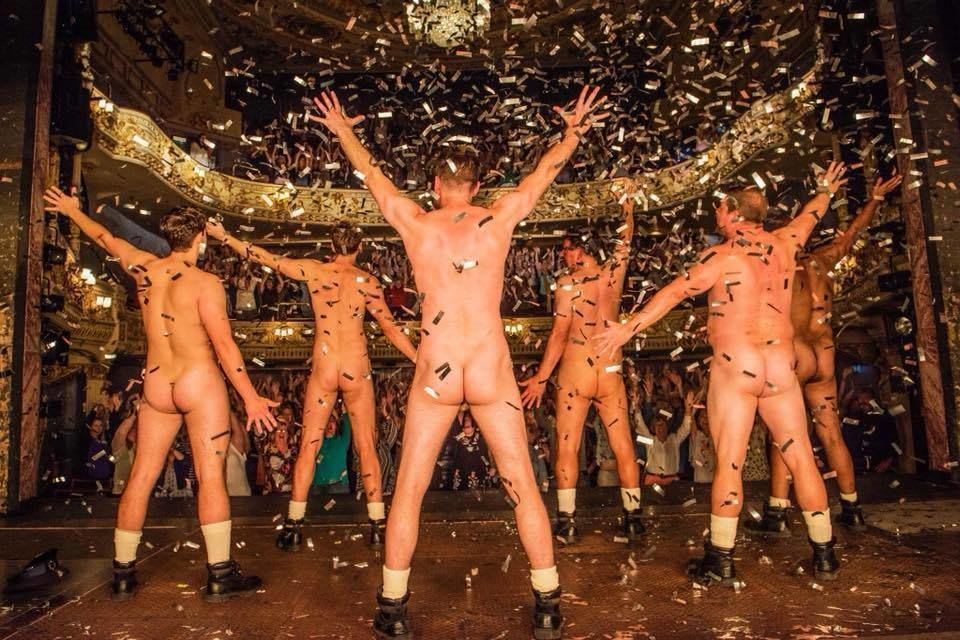 The Sheffield Theatres production of The Full Monty, which won the UK Theatre Award for Best Touring Production in 2013, is a comedy play written by Simon Beaufoy from his original screenplay for the 1997 film which tells the story of six unemployed men from Sheffield, four of them former steel workers.
With nothing to lose, having seen the local working men's club pack in the punters to see The Chippendales, they decide to form a male striptease act, but with an important twist, to get some money together. The twist? They will go 'full monty', no matter their physique.
Well this is what 98% of the females in the very enthusiastic audience seemed to be there for and the actual play could be said to have been slightly immaterial to them. Every time a male cast member appeared on stage, even fully clothed, they were greeted with howls, yells and cat calls and simple dance routines had the audience cheering, whoops and whistling, though you could have heard a pin drop during most of the police station scene as Lee Toomes kept order. But I don't think the phrase "dole queue" will ever have quite the same connotation again.
Gary Lucy, a winner of Dancing on Ice who has appeared in several prime-time TV shows, plays Gaz. He wants to use his share of the money to be able see his son as he's behind with child maintenance payments.
Many of the cast of this final touring production have appeared in TV soaps and give some superb delivery of riotous lines. Andrew Dunn (Dinnerladies and Bremner, Bird and Fortune) plays Gerald, the only one prior to this hopefully money-making venture who can trip the light fantastic; Louis Emerick (Brookside, Last of the Summer Wine and soon to be seen in Coronation Street) is hilarious as Horse, as is Joe Gill as the timid Lomper (Finn Barton in Emmerdale).
Dave, Gaz's best mate, is brilliantly played by Kai Owen (Torchwood and Hollyoaks) and James Redmond (Hollyoaks and Casualty) plays a superb Guy.
The play features music by Tom Jones, Hot Chocolate and James Brown as well as songs from the film by Donna Summer.
For me, however, the star of the production is young Fraser Kelly as Gaz's young son Nathan who uses his savings to book the club for the gig. He was brilliantly cast and is very convincing.
And as for the finale, I missed whatever it was as the majority in the rows in front of me shot to their feet in expectation. So whether there is or whether there is not, you'll just have to go and find out for yourselves.
But it's not all about the guys. The gals, Bryonie Pritchard, Keeley Fitzgerald, Liz Carney and Amy Thompson, are all excellent.
Robert Jones's set is cleverly devised and I loved the sliding factory doors used to great effect to differentiate times of the day or night. Ian West's choreography is slickly followed and the whole shebang is skilfully brought together by director Rupert Hill.
Reviewer: Judith Wordsworth