The Full Monty
Simon Beaufoy, based on the film
David Pugh and Dafydd Rogers
Grand Opera House, York
–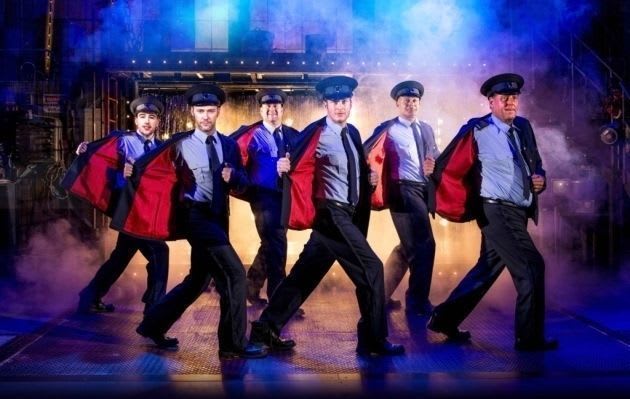 It's been 21 years since The Full Monty (1997) broke box-office records for a British film and went head to head with Titanic at the Oscars. It may not have won the coveted Best Picture prize, but it has earned a place in the hearts of many cinemagoers all over the world.
This stage production of The Full Monty is not to be confused with the 2000 musical written by Terence McNally and David Yazbek, which relocated the action from Sheffield to Buffalo, New York. Simon Beaufoy, who wrote the film, has taken his original screenplay and adapted it into a theatrical crowd-pleaser that cleaves closely to the original.
Set in the late eighties, six out-of-work steel workers have reached the end of their collective tether. Best friends Gaz (Gary Lucy) and Dave (Kai Owen) have been reduced to stealing scrap metal from the disused steel mill in which they used to work. Meanwhile, former big shot Gerald (Andrew Dunn) pretends to go to work every morning so his wife won't discover he's been unemployed for six months.
When Gaz falls behind with his child maintenance, he decides to take matters into his own hands by forming a stripping troupe with Dave, Gerald and three other local men: Lomper (Joe Gill), a suicidal introvert; Horse (Louis Emerick), who manages to boogie despite a dodgy hip, and Guy (James Redmond), whose large penis makes up for a lack of dance experience.
For whatever reason, I didn't think The Full Monty would live up to the memory of the film. Perhaps I was feeling cynical after watching Dirty Dancing: The Musical last week. I thought it would end up being another soulless cash-in, devoid of wit or warmth. How wrong I was!
Beaufoy's script may stick close to his original screenplay, but he has managed to reimagine the film in theatrical terms to create a show that is funny, poignant and heartwarming. All of the iconic scenes have been preserved (the six men dancing to Donna Summer's "Hot Stuff" in the dole queue, for example), but new scenes have been invented as well to flesh out the characters.
I was particularly struck by a tender scene between the show's two gay characters, Lomper and Guy, where they talk about the difficulties of 'coming out' and finding a partner. In the film, the characters' sudden romance is dealt with very briefly, but here it is given far greater attention.
A key reason for the production's success lies in Robert Jones's superb set design, which places the action in a disused steel mill. Although this space can be quickly transformed into various other locations (including a dole office and a working men's club), the dilapidation of the factory serves as a constant reminder of what the men have lost.
The play is brought to vivid life by a talented ensemble, many of whom are familiar faces on TV. As Gaz, the leader of the group, Gary Lucy demonstrates greater depth and comedic chops than he has done in any of his small screen work. His relationship with his son Nathan (Fraser Kelly) is tenderly played without being cloying.
Kai Owen excels as Dave, deftly capturing the character's neuroses (body image, impotence) and mischievous sense of humour. Equally impressive is Andrew Dunn as Gerald, the character who has suffered the greatest downfall in terms of status.
Louis Emerick scores some of the show's biggest cheers with his energetic dancing, and James Redmond provides the biggest laugh (and shock) of the night. Completing the sextet is Joe Gill, who does a terrific job of conveying Lomper's various eccentricities.
Andrew Ashford, Stephen Donald, Alex Frost and Lee Toomes impress in a variety of smaller parts.
For a play that focuses primarily on male inadequacy, there are strong supporting performances from Liz Carney, Keeley Fitzgerald, Bryonie Pritchard and Amy Thompson.
Although The Full Monty touches upon a number of serious issues, it is first and foremost a comedy about working-class men trying to rediscover their self-respect. By the time they perform their famous strip routine to Tom Jones's cover of "You Can Leave Your Hat On", you feel like you know them well, and you wish them the best for whatever lies ahead.
Reviewer: James Ballands