The Funeral Director
Iman Qureshi
Papatango Theatre Company
Southwark Playhouse
–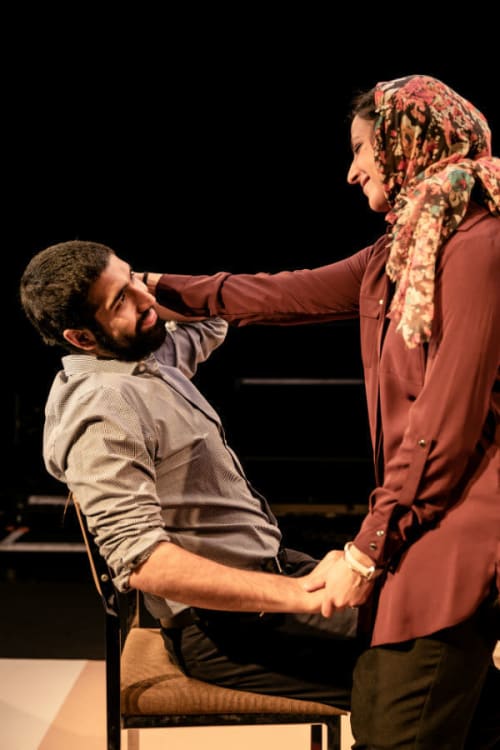 Prejudice can follow you to the grave.
Tom (Tom Morley) finds that out far too quickly when he arrives at the Muslim funeral parlour of Ayesha (Aryana Ramkhalawon) and Zeyd (Maanuv Thiara) in an unnamed Midlands town.
He is shaking and clearly in shock from the sudden death of his flatmate and friend Ashad Ilyas, a Muslim whom he says would have wanted a funeral "done the Muslim way."
But Ayesha senses that Tom and Ashad were more than just friends and, though Tom doesn't in that scene mention they are gay, that is what she suspects and is her private reason for telling Tom they are too busy to handle Ashad's funeral.
As she later explains to Zeyd, they have to think about the way the Muslim community might react to the funeral of a gay man.
Ayesha and Zeyd are not cruel people. Zeyd even takes time to guide the funeral parlour of Frederick and Sons on the way they can give Ashad a Muslim funeral.
However, their act of discrimination against a gay man stirs up conflict in the community with Tom taking civil legal action against them, a petition being collected demanding their closure and stickers starting to be put up in the area saying "homosexuality is a sin".
The Imam provides funds for the defence and Ayesha turns for legal advice to her childhood friend Janey (Jessica Clark) who practices law in London and happens to be an atheist.
The play is sensitively positive in its depiction of all the characters but its point of view is Ayesha in love with her gentle husband and trying to fit in with the world the way it is, even as the events are revealing her own more complicated feelings about the need for change.
A strong cast gives a warm engaging performance that helps shape an optimistic mood and an uplifting story that shows there are many different and changing views within the Muslim community about someone's choice to be gay and a Muslim.
The Funeral Director is the winner of The 10th Annual Papatango New Writing Prize
Reviewer: Keith Mckenna