The Funfair
Simon Stephens, based on Kasimir and Karoline by Ödön von Horváth
Home Manchester
Home Manchester
–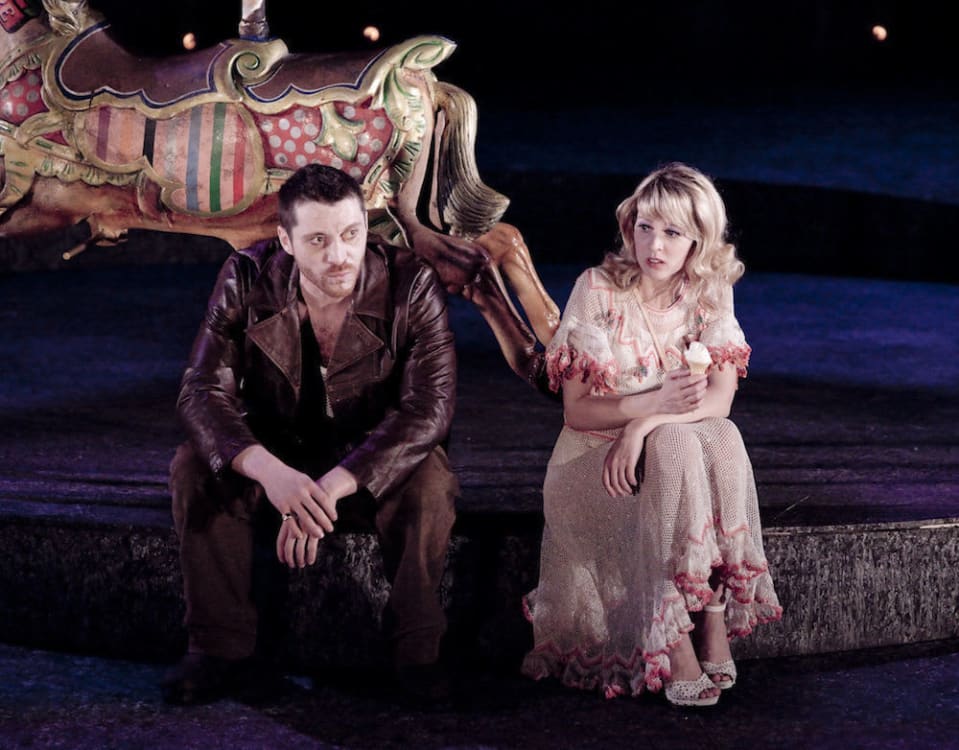 For its first theatre production in its brand new building, Home has persuaded playwright Simon Stephens back to Manchester to create his own adaptation of von Horváth's 1932 play Kasimir und Karoline.
While the original was set at the Munich Beer Festival during the 1920s, Stephens has said he has relocated it to contemporary Manchester, but the place and time are pretty vague in Walter Meierjohann's production. True, most of the main characters' accents are Mancunian and the references seem modern, but the funfair itself is straight out of the nineteenth century with its test-your-strength machines and freak sideshows.
The story is of the breakdown of a relationship between Cash (Ben Batt) and Caroline (Katie Moore). He has just lost his job as a chauffeur in a time of recession and is being quite snappy with her. When she complains about his attitude, he says she is trying to break up with him because he has lost his job.
There follows a series of conversations in which one of them tries to apologise and the other reacts badly to spoil their reunion. Meanwhile, she is advised by new friend John Chase (Rhodri Meilir), "a salesman in the fashion industry", and he by violent criminal Frankie Marr (Michael Ryan) and his abused girlfriend Esther (Victoria Gee). She is also led astray by lascivious businessman Billy Smoke (Ian Bartholomew) and London lawyer David Spear (Christopher Wright).
But really it is just the story of an argument between a couple, amplified through the imagery of the fairground, the politics that Stephens claims being restricted really to the setting amongst people at the bottom of the pile whom the government has little interest in helping.
The production is visually and aurally stunning. Ti Green's design uses a circular back wall with slits for entrances to enclose the stage, with video designer Louis Price's moving slits on a front gauze between scenes completing the effect of viewing through a Victorian zoetrope. The steeply-raked stage contains a large revolve that is used very effectively.
There is also a soundtrack of a range of rock songs from different eras, the most prominent being Iggy Pop's "The Passenger" which is also used as linking music, all played and sung by a superb band of Barbara Hockaday, Max Runham and CiCi Howells.
The characters are close to what you would expect from a Simon Stephens play—it's difficult to sympathise with any for long and the outcome is fairly bleak—and the plot pretty thin, but the production dresses it up enough to keep the interest at least for the first half; after the interval, it does run out of steam a bit.
As a showcase for what the new theatre and production team are capable of producing, it is very impressive. I suspect the responses to the show itself will be more mixed.
Reviewer: David Chadderton