The Gambler
Music and libretto by Sergei Prokofiev, adaptation of Fyodor Dostoevsky's novella
Mariinsky Theatre
Mariinsky Theatre, St Petersburg
From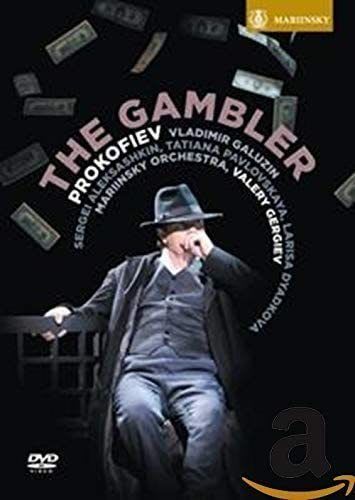 Faites vos jeux. Temur Chkheidze's production, conducted by Valery Gergiev and designed by Zinovy Margolia, was seen at the Mariinsky Theatre in 2010 and is well worth catching online. There is a bravura performance from the orchestra.
Dostoevsky wrote The Gambler, his satirical novella in 1866, bang in the middle of his eight-year gambling addiction when he lost a hell of a lot of money.
Sergei Prokofiev adapted the story himself. The opera was to have opened at the Mariinsky Theatre in St Petersburg in 1917 but rehearsals did not go well. Neither the orchestra nor the singers liked the music. The political situation—the Russian Revolution—didn't help, either. The opera did not première until 1928 and then in Brussels. It was not heard again until after Prokofiev's death in 1953.
Prokofiev wrote a new kind of conversational opera. Those who want arias, chorus and tunes should look elsewhere. The fractured music, in its pulsating rhythms, is notable for its energy and momentum, capturing the excitement, the recklessness and the hysteria of gambling. The turmoil in the entr'acte music, leading up to the roulette betting, is a truly thrilling experience.
The story is set in 1865. Wiseacre Alexei is hopelessly, pathologically in love with Polina, the step-daughter of the general, who employs him as tutor to his children. Alexei tells her he is ready and willing to jump into any chasm should she order him to do so.
The general, in massive debt, thinks the death of his rich stepmother will solve all his financial problems, but she is not on her deathbed, as he thinks she is, but alive and well and he is unable to stop her losing her entire estate (worth 5 million rubles) at the gaming tables.
The characters, financially and morally bankrupt, are not likeable and are caricatured. Sergei Aleksashkin is the buffoon general and Lansa Dryadkova is the monstre scaré in a wheelchair he would like to lock up before she loses any more money. Tatiana Pavlovskaya as the cruel and malicious Polina has her big moment when she throws back the money Alexei has won in his face, feeling he is paying her to prostitute herself.
Vladimir Galuzin is a bit too old to be playing the 25-year-old scapegrace tutor who loves Polina so much he could kill her. His whole life rests on a bet. He needs to win and he does so spectacularly, breaking the bank three times and winning two hundred thousand rubles, dooming him to be a gambler forever. Rein ne va plus.
Reviewer: Robert Tanitch