The Garden of Words
Originally by Makoto Shinkai, adapted by Susan Momoko Hingley and Alexandra Rutter
Whole Hog Theatre in association with Park Theatre
Park Theatre (Park 200)
–

Listing details and ticket info...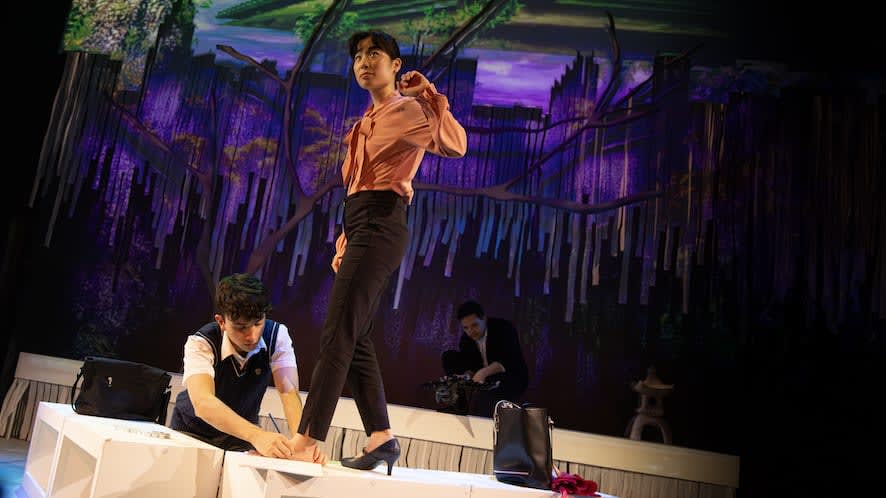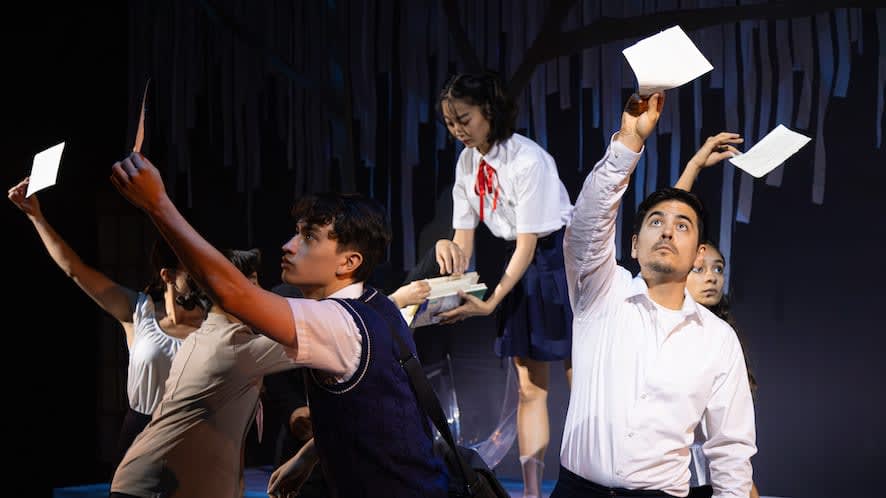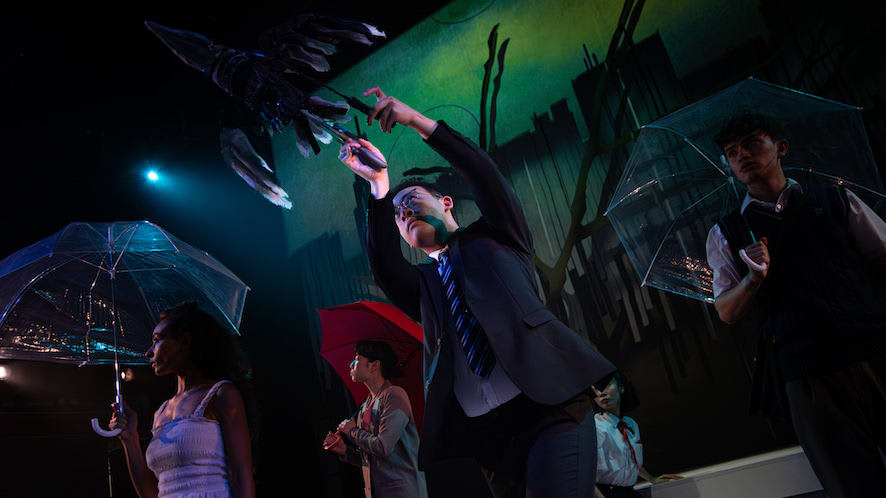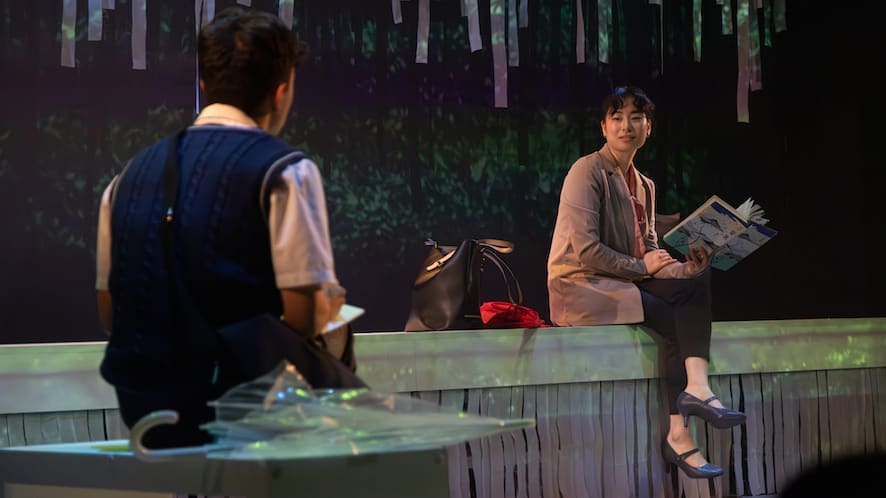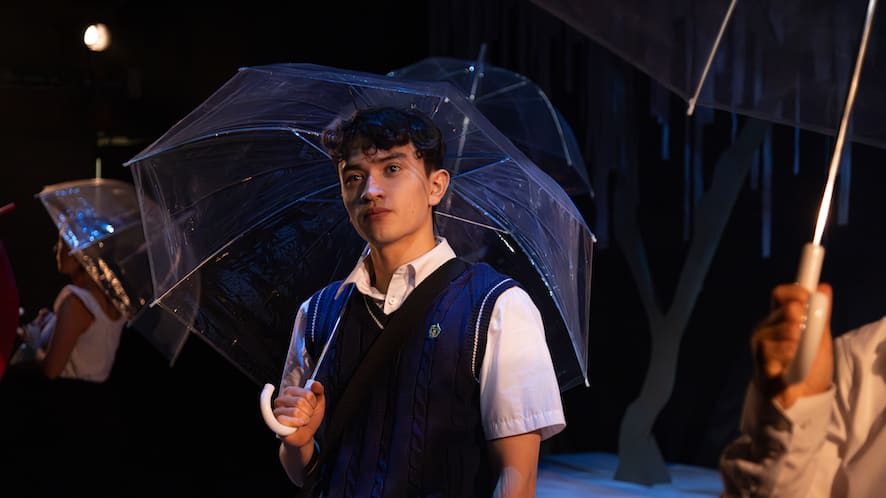 Adapted from an anime movie with additional material from its novelisation, which enlarged on some of the subsidiary stories, this is the world première of a production that was planned for presentation pre-pandemic. I have not seen the film or read the book so I can't tell you how faithful it is, but it has the approval of Makoto Shinkai, the film's creator.
It centres on a young couple who meet by chance sheltering from the rain in a gazebo in Tokyo's Shinjuku Gyoen National Garden, a tranquil retreat from the city hubbub with the world's busiest railway station nearby. Takao is a teenager who dreams of designing shoes and has bunked off morning school. Unbeknown to him, Yukari is a decade older and a teacher at the same school. She is escaping from its pressures to read poetry, sip a beer and eat chocolate. An innocent friendship develops, but it could prove dangerous: there have been earlier rumours of Yukari having too close a relationship with a student.
Hiroki Berrecloth, in his first professional stage role, gives Takao youthful charm and a wistful dream quality. Aki Nakagawa as Yukari is restrained, enigmatic. Their relationship is both distant and close at the same time, their aloneness what draws them together, their innocent intimacy epitomised by his measuring her feet.
At home, Takao's divorced mother Reimi (Susan Momoko Hingley) seems more interested in her love life than her family and is often away. His brother Shota (James Bradwell) is about to move in with his actress girlfriend Rina (Iniki Mariano).
At school, things aren't easy either. Shoko, a provocative but basically innocent girl who has newly discovered boys, is flaunting herself in a short skirt. Shoko Ito nevertheless manages to give her a certain attraction, but after being badly treated by one lad, she, for no obvious reason, starts making real accusations against Yukari, while gym master Ito San (Mark Takeshi Ota) tries to calm things.
Director Alexandra Rutter seems more interested in creating the moment than narrative and character. Her production opens with a nod to the play's anime origin with Takao drawing onto the bed of an overhead projector, his images and texts projected onto the scenery. I could not see what they were from my seat on the side of the thrust stage, nor, more importantly, properly read the briefly projected translations of the ancient poems Yukari was reading which were spoken in Japanese.
Cindy Lin's design, with its projections on a cloth that has its lower part shredded like hanging greenery, sometimes emphasises city high-rises, sometimes the garden, and images are constantly changing. Interiors are suggested by box-like elements, which the cast spend too much time pushing around or hiding under the rear rostrum as the action moves between short scenes. Rajiv Pattani's lighting takes us from heavy rain to shower, and there is continuous support from Mark Choi's music and Nicola T Chang's sound design.
The Garden of Words is full of is bold physical theatre, which the cast perform elegantly, parading with umbrellas in a Tokyo where it always seems to be raining, crushed sardine-tight on a commuter train, clutching at poetry as its pages make a cloud around them, or as puppeteers with a big bird. The problem is that these come across as displays, too conscious attempts to parallel cinematic images rather than part of the story. And what is that bird about as it swoops around the stage/ It looks like a predatory vulture, but seems meant as a symbol of freedom and hope when the two protagonists gain symbolic wings.
Reviewer: Howard Loxton