The Ghost Train
Arnold Ridley
Told by an Idiot
Royal Exchange Theatre, Manchester
–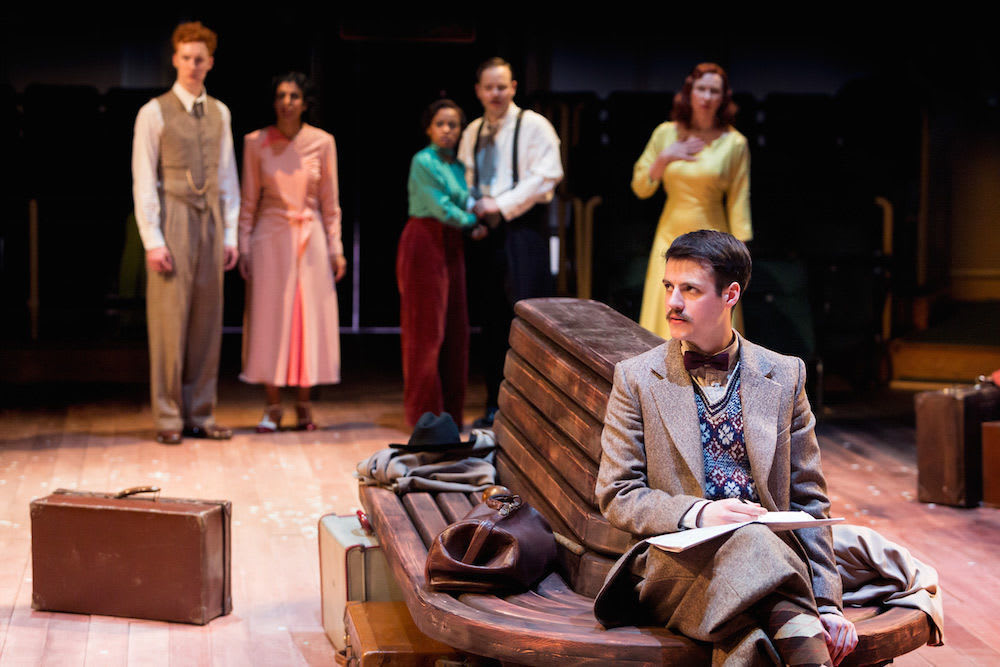 The appearance of the title locomotive in Arnold Ridley's (the one with the weak bladder in TV sitcom Dad's Army) 1923 play originally employed eleven people just to create the sound effect.
The opening of Paul Hunter's production at the Royal Exchange perhaps pays tribute to this with an overture of live banging, scraping and rolling to create the sound of the train containing the main characters stopping at this deserted Cornish station where no more trains will leave until morning. However if you don't know this history then this moment, like so many in this production, will not appear to have much to do with Ridley's play.
The opening scene proper is played with an old radio foley sound effects desk providing the actors' footsteps and other sounds, as well as voicing stage directions and speaking the actors' lines before them. Fortunately this doesn't last for long.
Ridley's ghostly tale sees newlyweds Peggy (Lena Kaur) and Charles Murdock (Will Merrick), quarreling couple Elsie (Ayesha Antoine) and Richard Winthrop (Sam Alexander) and older lady Miss Bourne (Javier Marzan) stranded overnight in the station after annoyingly jolly Teddie Deakin (Calum Finlay) pulled the communication cord to retrieve his hat.
The station master (Amanda Hadingue) tells them a story of a train that crashed and the local superstition that it returns as a ghost train in the night and that all who see it die. After some ghostly encounters, there is a bit of a Scooby Doo finale with lots of explanations and a happy ending.
There's plenty of humour in the script and potential for suspense, but while the former still comes through, there is very little of the latter. Hunter goes for the silly comedy diversion at every opportunity, even if it leads us a long way from the story. Some of these touches do effectively enhance the story, but this doesn't appear to be a major consideration.
When we get to the much shorter second half, it seems rather flat as it is full of explanations with little variety of tone, until a rather clever and effective exit of the whole cast and set right at the end.
There were certainly plenty of people in the press night audience who found all of this showing off hysterically funny, and it has to be said that it is performed with great skill and commitment, but I found a lot of it rather tedious.
But you may be one of those that were laughing all the way through, so perhaps you should give it a try, especially if you enjoyed the previous Told By An Idiot / Royal Exchange collaborations more than I did.
Reviewer: David Chadderton