The Ghost Train
Arnold Ridley
Talking Scarlet
Yvonne Arnaud Theatre, Guildford
–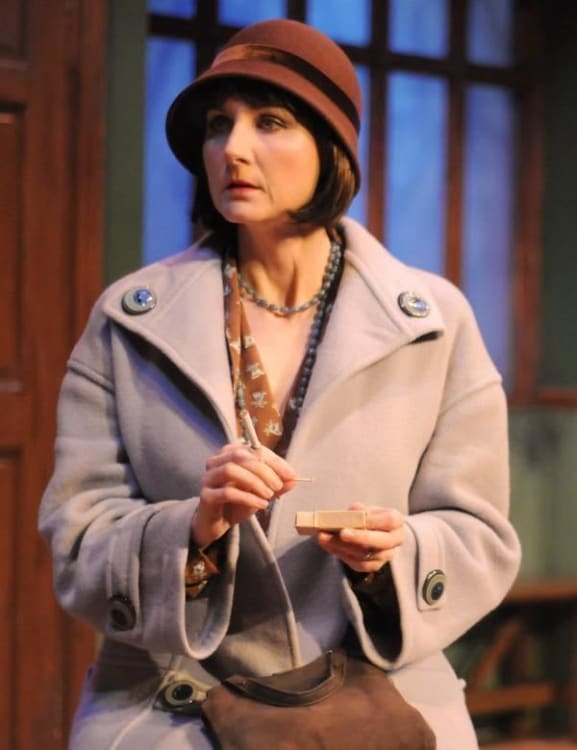 Arnold Ridley's mystery thriller has not so much stood the test of time as adapted itself to meet the expectations of a modern audience.
Having turned to writing when his injuries in the First World War forced him to give up his acting career, Ridley has written many plays but this, despite the opinions of two impresarios at its première in 1925, is his biggest success, still being produced nearly 100 years later although probably in a different style.
From being first considered a mystery thriller, it is now billed as a comedy thriller and manages to keep both aspects going throughout, although the 'thriller' parts often gain more laughter than the comic.
Set in a 1925 gloomy station waiting room in the wilds of Cornwall, six travellers are forced to stay overnight, having missed their connection due to a 'silly ass' pulling the communication cord when his hat was blown off.
As these travellers are from the upper echelons of 1920s society, stiff-upper-lip and decency seem to be the order of the day, except for the silly ass Teddy Deakin who irritates them (and me) by treating the whole thing as a big joke, his antics and inane laugh driving everyone crazy. Tom Butcher plays the idiocy of the character up to the hilt, but all is not as it seems—to be revealed later.
The other travellers consist of two newly weds, an 'about to be divorced' argumentative couple and an old spinster lady complete with caged bird, and I'm afraid I found it very hard to believe in any of them—not the fault of the performers, but the overemphasis on the characters they are playing.
Sophie Powles as bride Peggy Murdock is just too sweet and clingy, trying to make the best of things, while on the other hand Corrinne Wicks's self-assured Elsie keeps constantly repeating smugly that she is so independent and not afraid of anything that I wanted to slap her. Of course she breaks down and then goes to the other extreme, which at least saves her marriage.
The really credible character of Saul Hodgkin, the station master, is played superbly by Jeffrey Holland, his Cornish accent firmly in place as he lugubriously tells the story of the ghost train which is supposed to run through the station every night and those who see it will die, repeating the tragedy which happened many years ago. Nothing could keep him there overnight, not even a bribe, but the travellers have no choice. There they are and there they must stay.
Most of the action in Patric Kearns's production is over-emphasised and to some extent predictable but the first piercing scream from Powles alerts everyone that we are about to be thrilled. Certainly the scream is a shock, so much so that Judy Buxton's Miss Bourne overdoes the brandy "to calm her nerves" and spends the rest of the play in a drunken, but happy, stupor.
Comedy, thriller and mystery are combined with the arrival of a seemingly terrified Jo Castleton as Julia Price who firmly believes in the power of the ghost train and plays the part with as much melodrama as a person can stand, but again nothing is as it seems.
With all its twists and turns, this is still a good play, although with tastes constantly changing one wonders how much longer it can survive.
Reviewer: Sheila Connor