The Gift of Presents

Shesus and the Sisters
Spielman Theatre, Tobacco Factory Theatres, Bristol
–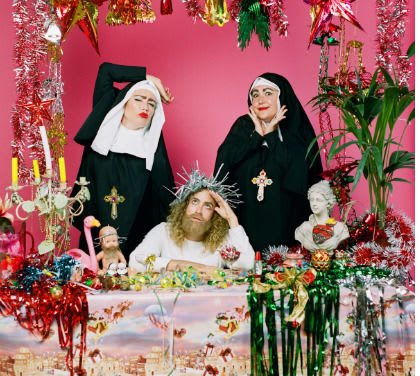 At some time during The Gift of Presents, you might reflect that, near the beginning of the show, you were offered the chance to leave. You'd already surprised Shesus at her birthday party and seen her perform some nifty Christmas-themed lip-synched routines with her two devout followers. Was this not an auspicious time to head for the exit, before things became even more disconcertingly interactive?
Though you may still wonder where it's all heading, it's testament to the talent of London-based trio Shesus and the Sisters that you're glad you stayed. Part Christmas party with festive music, pass the parcel and a budget chocolate yule log, part commentary on the preoccupations and ills of today's society both politically and personally, their energetically bonkers show has real inclusiveness and warmth.
This is the first time performing in Bristol for the company: Loose Baker, visually arresting in white robes with flowing locks as the multi-gendered drag-king Missiah Shesus, and twin sisters Lauren and Danielle Meehan as Mary Berry and Pauline Hollywood. With their red lips and brows on fleek, the two nuns may be wearing more make up than conventionally expected for their calling, but this is a party, after all.
The threesome works deceptively hard at entertaining, with fast-paced cabaret and quick-fire banter backed up by plenty of clowning. They indulge in some gleeful physical comedy, clambering about the intimate Spielman Theatre, distributing food and encouraging an assortment of mad-cap group activities.
There's no shortage of tongue-in-cheek silliness, innuendo and off-the-cuff wit, as the audience sings along and rewrites a favourite Christmas song with more adult themes. It makes the mood-change even more startling when the performance swerves into spoken verse and the sort of fragile, heartfelt confessions that tend to come out when you've overindulged in the eggnog.
At times, their performance is vaguely based on a liturgical church service, though the opportunity to greet your neighbour has the potential to become something more extreme. At others, they veer towards paganism and the spirituality of rebalancing the universe and calling on the cosmos for group therapy and healing.
Perhaps it could do with a little trimming here and there, but, for all the daftness and improvised interaction, the show is underpinned by a solid structure and choreography that allows its performers to push the boundaries. Thought-provoking, entertaining and irreverent all in one, The Gift of Presents is the Mother Superior of Christmas parties and you won't go to another quite like it.
Reviewer: Claire Hayes