The Girl on the Train
Adapted by Rachel Wagstaff & Duncan Abel; based on the novel by Paula Hawkins and the DreamWorks film
West Yorkshire Playhouse in association with Simon Friend
Courtyard Theatre, West Yorkshire Playhouse
–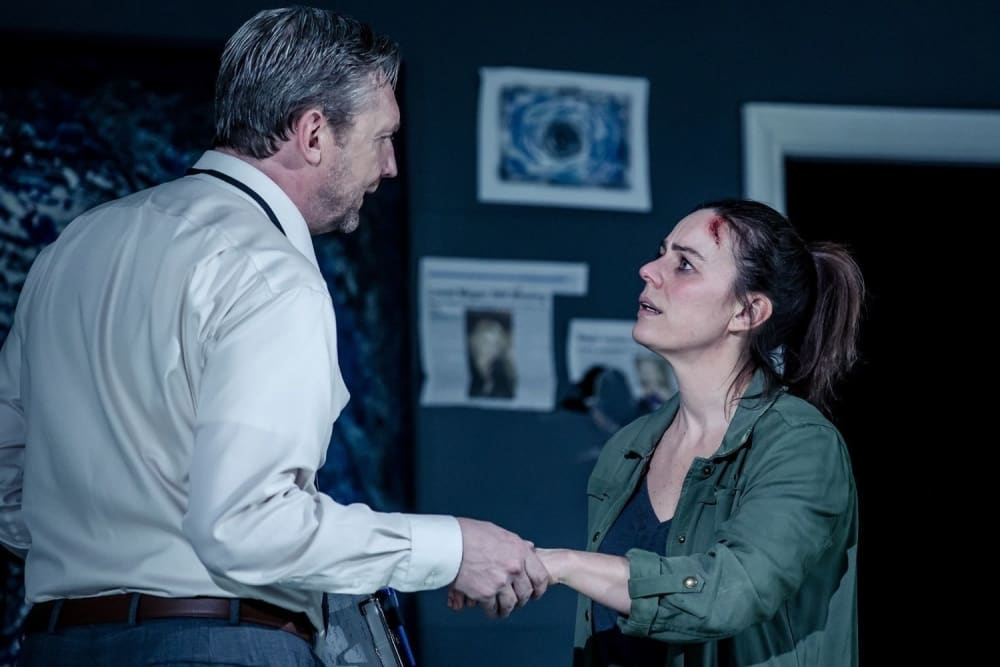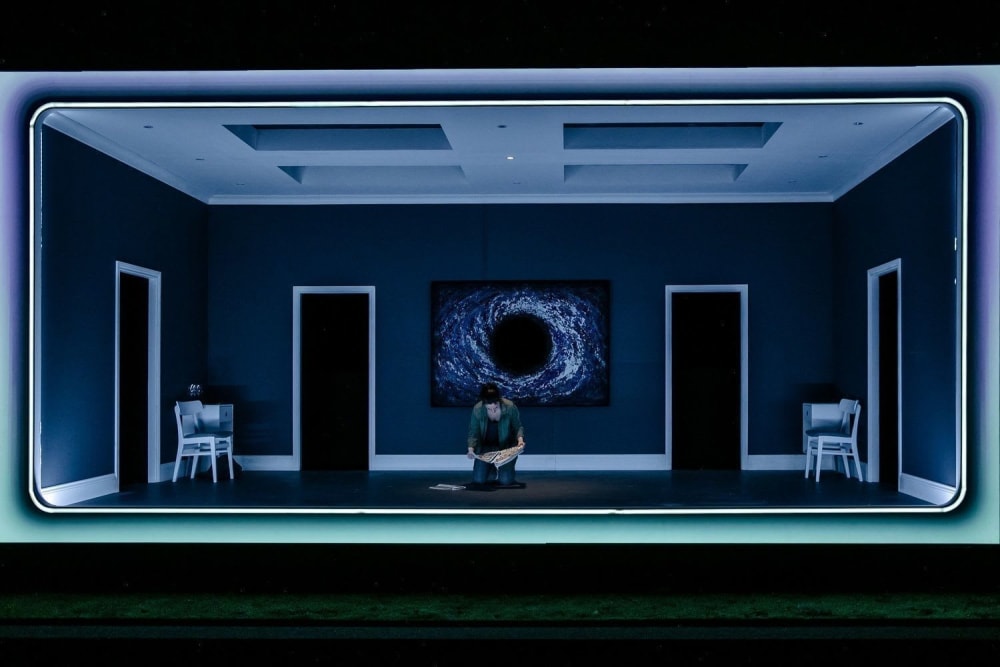 Paula Hawkins's 2015 novel The Girl on the Train has already received a film adaptation and topped international bestseller lists for months. It now receives a speedy, sleek reimagination for the stage, a contemporary thriller set in commuter-belt London.
Thundering train sounds and dizzying motion-blur flood the stage space, cutting out to reveal a minimalist, IKEA-beige flat and a woman lying semi-clothed and comatose by an empty wine bottle. She is woken by an insistent knocking at the door, and thus begins the process of piecing together the blurred events of recent days and weeks, fragmented by booze and a black-hole memory.
This protagonist is Rachel Watson (Jill Halfpenny), a divorcée whose drinking problem has led to her unreliable recall. Where the novel shares narrative duties between three women, here we focus very much on Rachel's efforts to assemble her memories and regain control of her life. The audience is aligned with this experience, and Halfpenny does not leave the stage throughout; instead, the effective lighting and projections half-mask transitions as other characters come and go in a simple but powerful evocation of this frustrating and disempowering state of mind.
Writers Rachel Wagstaff and Duncan Abel, who are already frequent collaborators, have thus created a nimble streamlining of the original material. Director Joe Murphy and designer Lily Arnold strip back the staging to provide a close focus on the story, and the design, like the story's set-up, hints from early on that this is not all there is to the production: what you see is not necessarily what you get.
The arrival of DI Gaskill (Colin Tierney) in Watson's flat leads to a twisty series of discoveries and speculations, and Watson herself sets about exploring the case of the missing young woman whom she has been watching from the train on her daily commute. This turns out to be Megan Hipwell, an enigmatic, impulsive character given a convincing portrayal by Florence Hall.
Rachel's ex-husband, Tom (Adam Best) provides a sympathetic shoulder to cry on, despite his new wife's evident (and mutual) antipathy towards her. As Rachel investigates she gets drawn further into Megan's world, and memories and suppositions are conjured by Arnold's flexible and evocative design. This is wonderfully supported by Isobel Waller-Bridge's driving, energising sound design and score, as well as the aforementioned lighting (Lizzie Powell) and projection (Andrzej Goulding).
As is often the case with such forms, to say too much would be to risk spoiling the many turns of the narrative. I was gripped throughout the first half's laying out of the variables of the case. However, as can again often be the case, the unravelling of the crimes and discovery of the perpetrators involved was less satisfactory, relying often on coincidence, extended suspension of disbelief, and sheer dumb luck.
This, though, is doubtless a flaw of the source material rather than of the production team. Given the way that so much of the narrative plays out in retrospect, through the recounting and reimagining of memory, it is remarkable how well the adaptors have made the story work through vivid characters and theatrical confrontation.
The strong and likeable cast is spearheaded by the remarkable Jill Halfpenny, who gives a powerful performance, energised and even manic where necessary, yet with a strength and stillness which speaks of inner depths. It is a compelling and engaging portrayal of this woman struggling with inner demons as well as external tormentors. She handles the plot's twists, turns and occasional winces with a dynamism which, like the adaptation as a whole, is often gripping and might even win round some sceptics of the modern psychological thriller genre.
Reviewer: Mark Smith