The Girl On The Train
Paula Hawkins's novel adapted by Rachel Wagstaff and Duncan Abel
Simon Friend, Amblin Partners and Josh Andrews
The Lyric, Theatre Royal Plymouth
–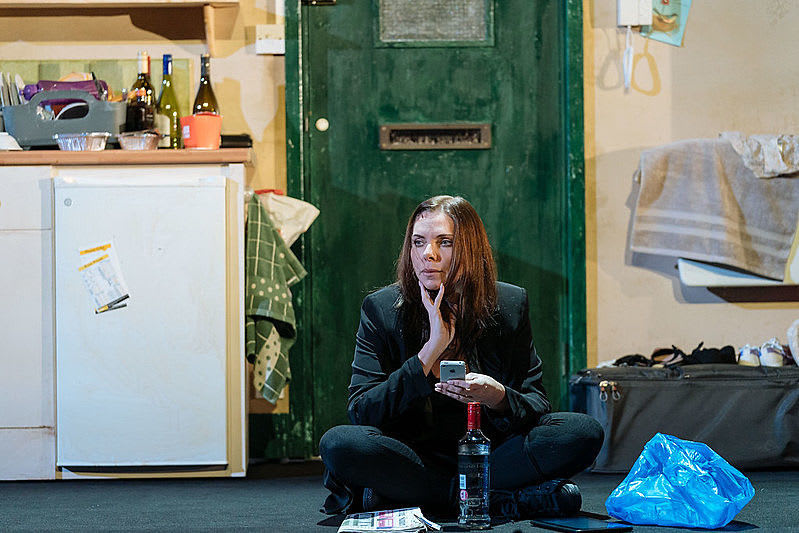 Advertised as a gripping thriller, the stakes are set high but, regardless of the success of Paula Hawkins's novel (20 million copies sold worldwide), Rachel Wagstaff and Duncan Abel's translation to stage is somewhat lacklustre.
There is no doubting the talents of Samantha Womack (EastEnders, Game On) as bitter divorcee Rachel, longing for a different life—one like that of a couple she watches from the commuter train—and whose alcohol-fuelled memory lapses prove life-changing when the woman (Kirsty Oswald) goes missing.
Womack is a believable unkempt drunk whose grasp on reality is, at times, poor. Angry at the betrayal by her slurky ex (Adam Jackson-Smith) and jealous of his new fatherhood, she determines to find out the truth—and unbelievably wangles her way into situations and confidences ahead of the plodding DI Gaskill (the Globe's stalwart John Dougall).
Stumbling from clue to clue, the tension lies in the possibility that anyone could have been involved but the finger seems pointed at Rachel who was there, had blood on her hands and can't remember a thing.
Naeem Hayat is the super-smooth psychologist willing to share strict confidences far too readily, Corrie's Andy Carver is Oliver Farnsworth, the lovelorn randy husband with quite a temper and no understanding of his missing wife's art or ambition, while Lowenna Melrose is the second Mrs Watson—target for Rachel's venom.
Relying heavily on unsatisfactory coincidence and Rachel's ability to gain entry to places and people, long-buried secrets and hidden events, the excellent cast are stymied by the inevitable episodic nature of the piece and a clunky script. There are indeed moments of tension and humour but overall all quite pedestrian save for Andrzej Goulding's tremendous projections and James Cotterill's flexible set.
I suspect the dissatisfaction stems entirely from the genre's incompatibility with the stage, although my companion tells me it was a darn sight better than the book and film.
Reviewer: Karen Bussell