The Girl Who Fell in Love With the Moon
Devised by the Company
The Human Zoo Theatre Company
Pleasance Dome
–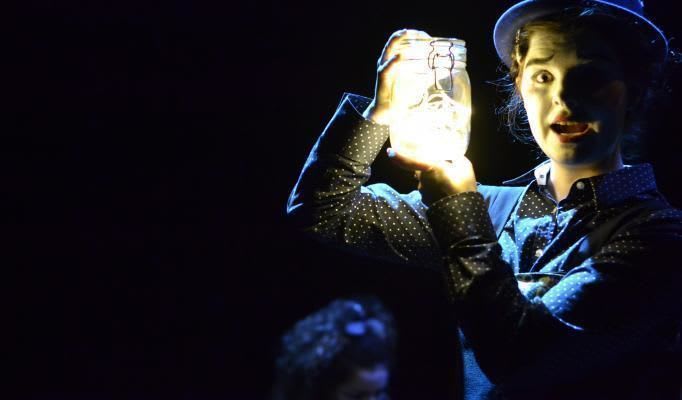 The delightfully charming The Girl Who Fell in Love With the Moon skilfully performed by The Human Zoo Theatre Company is a beautiful, whimsical tale told by five consummate storytellers.
These white-faced clowns enthral the audience using physical theatre, live music and puppetry. It sensitively explores all things celestial and our fascination with the stars.
The premise is this troupe of actors are on the way to perform at the Fringe but they get lost in a forest and their car breaks down. Luna (Florence O'Mahony) persuades them to do the show in front of an imaginary audience.
Each has a story to tell. Scarlet (Fleur Rooth) longs for the stars and ends up in Hollywood trying to find them and is exploited by a quack doctor. They cleverly use shadow play and it's all great fun.
There is a slick dance routine. Clive (Nick Gilbert) visits the library to buy an encyclopaedia and is told to, "just Google it." He reveals myriad useless facts such as, "an unsharpened pencil is pointless."
There is much humour in this show that the audience bought into.
Providing much of the musical accompaniment is Jack (Freddie Crossley) on the accordion but he also has his own story told entirely in song that is particularly poignant.
Selena (Rosalind Hoy) sympathetically tells the story of the Sun and the Moon.
The final story with Luna centre stage is perhaps the saddest of all and may leave you with a tear in your eye.
It is performed with panache as the company weaves its magic on the audience who were totally absorbed and enthralled. This is certainly a must-see show.
Reviewer: Robin Strapp