The Girl Who Fell
Sarah Rutherford
Stage Traffic Productions and Eileen Davidson
Trafalgar Studios (Studio 2)
–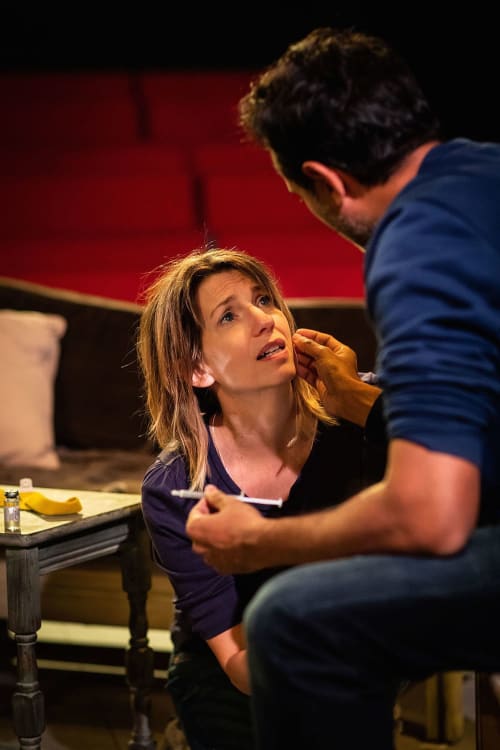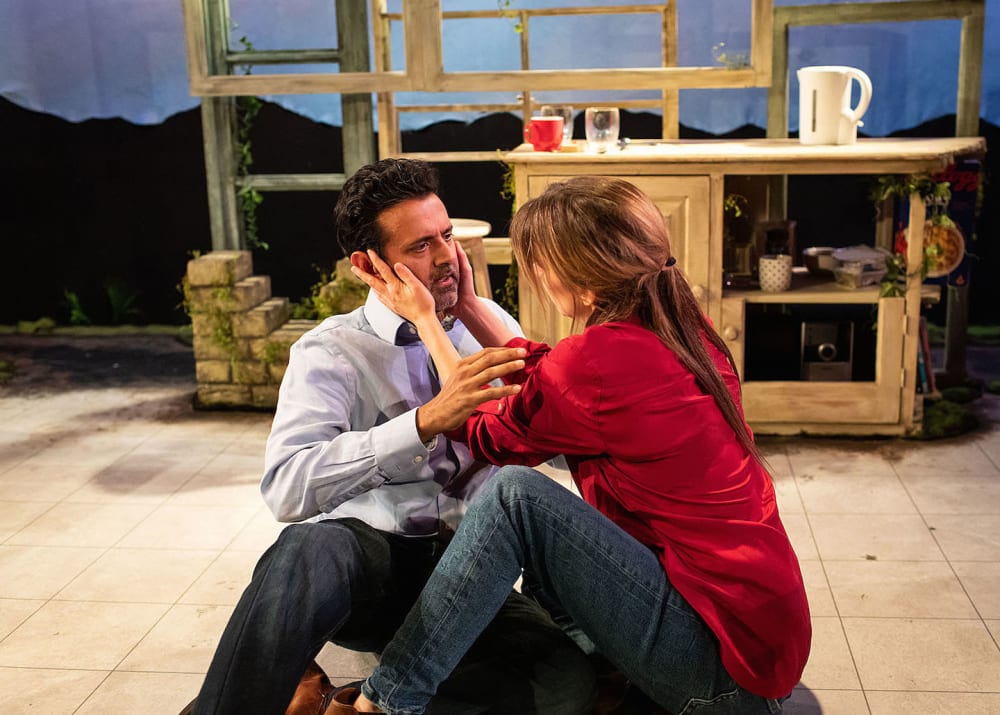 The girl who fell was Sam—and she didn't fall she jumped. But what caused this teenager to commit suicide? There was no note to explain things. Did it begin with an inappropriate posting on social media? Is someone else to blame? Her mother Thea thinks that maybe she is. Sam's boyfriend Lenny and his twin sister Billie, who was her best friend, feel they let her down, but Sam hadn't given any sign she needed help. Then there is Gil, involved quite involuntarily—he just happened to be there when it happened.
They are all coping with grief and a feeling of guilt. The twins seem to be handling things coolly, able to talk about death without getting upset or awkward. Billie in particular seems very high-spirited, scooting around everywhere on a single foot roller and full of chatter that sometimes bubbles out too fast to follow. Rosie Day makes her a girl full of nervous energy while Will Fletcher shows Lenny's sense of loss more openly, especially in a scene blowing out a candle on a birthday cake that she should have been there for. They play the edgy mixture of affection and competition in their sibling relation with a light touch and handle the introduction of humour in a way that means it is very natural to find things funny despite the gravity of what the play is about.
Thea is a priest, a prison Chaplain, but losing her daughter in this way is making her question her faith. She has already turning to whisky to help her through when Navin Chowdhry's Gil tracks her down. At first, his need is to handle his own reaction and seek some clarification but there is an attraction to Thea that sees him trying to help her, however unconventionally.
Claire Goose, as Thea, guiltily grieving, shows us her isolation and a desperation that after an initial suspicion of Gil, accepts his attempts at comfort.
With all four characters, there is a gradual revelation of how deeply Sam's death has affected them and it is that, rather than the why, that this play is about, and Hannah Price's direction serves the script by placing the very real performances she get from the actors in a somewhat surreal surroundings where props are often found in odd places reflecting the dislocation in their lives.
These are also lives that are now interwoven and that is reflected in the way characters are used to move things when the scene changes to a different time or location while the overlapping windows and doors of Georgia de Grey's set are gradually removed as more is revealed of these people and their lives.
Reviewer: Howard Loxton