The Glass Menagerie
Tennessee Williams
Nottingham Playhouse Theatre Company
Nottingham Playhouse
–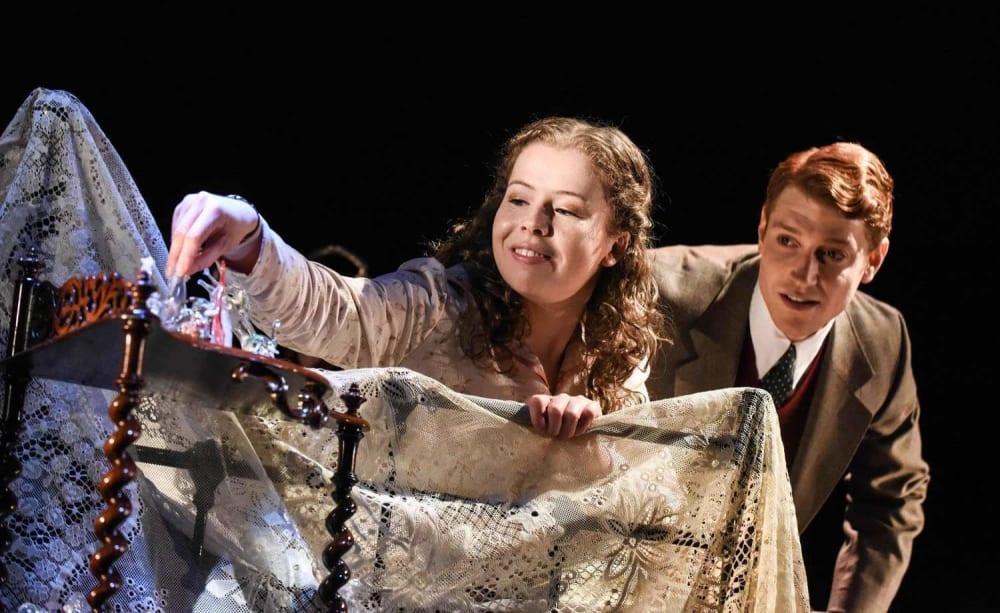 Nottingham Playhouse has taken what some people may view as a bold step in casting wheelchair user Amy Trigg as Laura Wingfield in Tennessee Williams's partly autobiographical play The Glass Menagerie.
The Playhouse and half a dozen regional theatre companies across the UK are putting disabled artists and audiences at the centre of their programming as part of a project called Ramps on the Moon which has Arts Council England funding.
Trigg might not be thought of as the first choice to play Laura, a young woman who is shy and lacking in social skills. But Trigg is little short of superb in the role.
Williams's "four-character memory play" calls for actors who can immerse themselves in each role and Trigg does that admirably. There is a world of difference in her relationships with the three others on the stage. She is caring towards her brother, in fear of her domineering mother and wildly optimistic with a "gentleman caller" only to be heartbroken when the truth comes out.
Williams tells us Laura is crippled, a condition which takes on added significance as Trigg is able to show us a young woman who has become fairly reclusive and is unwilling or unable to forge new relationships.
The Glass Menagerie is told through the memories of Tom Wingfield, a warehouse worker who wants to be a writer but is trapped as he has to provide for his family.
Chris New gives a solid portrayal of a man desperate to break out of the stranglehold which is putting his life on hold, going to the movies every night to experience the kind of adventures he hopes to pursue in his writing.
There is also a terrific performance by Susannah Harker as Amanda, the mother whose life has taken a turn for the worse after moving from the Mississippi Delta to St Louis. Harker excels as the demanding, dictatorial matriarch who does not realise how she is driving a wedge between herself and her children. Her eccentricity, particularly in her dress sense, is staggering yet credible.
Daniel Donskoy is commendable as Jim O'Connor, Tom's workmate who realises he knew Laura in high school. He seems the perfect gentleman; when it is revealed that he has a steady girlfriend, his betrayal is all the more poignant.
Designer Tim Meacock's set is dominated by a huge steel and checker plate fire escape. It is symbolic of Laura's being trapped in her own world while Tom is able to escape from his throttling, claustrophobic existence.
The Glass Menagerie was the first play that made Playhouse artistic director Giles Croft think that he would like to be a director. But he always stepped away from doing it—until now.
I have seen other versions of the play before and far more has been made of Laura's obsession with her glass animals, the menagerie that gives the play its title. But here Amy Trigg has such a compelling presence that the brittle figures are not needed to emphasise her insularity.
It has taken Croft 40 years to direct The Glass Menagerie. The wait is well worth it.
Reviewer: Steve Orme