The Glass Menagerie
Tennessee Williams
Headlong
Richmond Theatre
–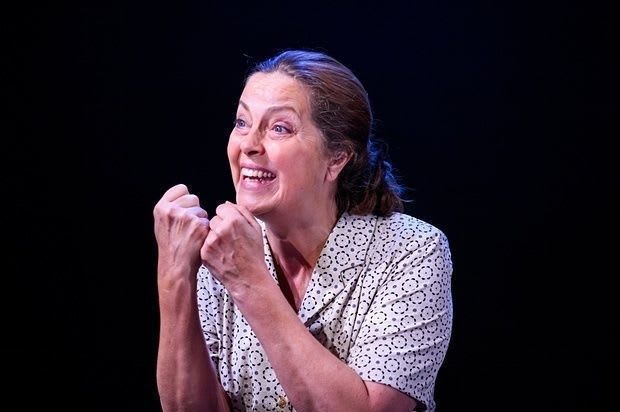 Eight years ago, Rupert Goold directed a superb West End revival of The Glass Menagerie with Jessica Lange, Ed Stoppard, Amanda Hale and Mark Umbers in the cast. Now Headlong, the company that Goold used to run, is staging its own touring production of Tennessee Williams's classic, directed by Ellen McDougall. The results, though, are considerably more mixed.
McDougall's production is marked by a—paradoxically, rather ostentatious—minimalism. Played practically prop-free, without table, chairs or other accoutrements, the staging doubtless takes its cue from Williams's insistence that the piece, as a memory play, is "not realistic".
Fly Davis's set is dominated by fire-escape steps into the Wingfields' meagre apartment, rendered here as a grey, doorless box. The portrait of the absent patriarch is alluded to, but not seen. Addressing the audience, Tom Mothersdale's Tom dangles his feet in a gutter filled with water. Laura's beloved glass menagerie is represented by just one piece: a unicorn trapped inside a glass bowl.
The approach is arresting—until it isn't. The production begins quite powerfully, with good performances from Mothersdale, from Greta Scacchi as Amanda and from Erin Doherty as Laura that succeed in conveying both the family's irritations with, and love for, one another.
Scacchi shows skill in effectively modulating her performance so that her Amanda never seems a mere monster, and the great scene in which she urges Tom to bring home a colleague from the warehouse "for sister to meet—get acquainted" is played to perfection by both actors.
The second half is much less effective, though. Undercooking some elements with its spare approach, the production over-stresses others here, and the staging choices start working against the play rather than serving to illuminate it. Scacchi has been directed to overdo Amanda's swerve into desperate hostess mode, and she's not helped by a ludicrous costuming choice that suggests that pantomime time's arrived a little early.
Doherty's performance turns strangely shrill in her encounter with Jim (a solid Eric Kofi Abrefa) and a fantasised moment in which she imagines the pair of them jiving to the music from the Paradise Dance Hall across the way is the production's embarrassing low point. (For a few moments, we might be watching Strictly Tennessee Williams.)
The loss of lyricism and delicacy is a genuine shame, since, at its strongest, MacDougall's production shows a clear sympathetic affinity with Williams's trapped outsiders. Ultimately, through, this staging sadly serves as nothing so much as a demonstration of what Amanda sagely reminds us: "Things have a way of turning out so badly..."
Reviewer: Alex Ramon