The God Box: A Daughter's Story
Mary Lou Quinlan & Martha Wollner
The God Box Project
Assembly Roxy
–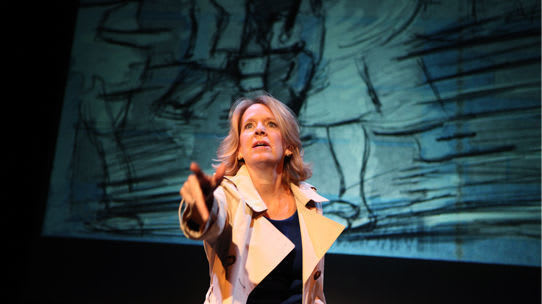 No price can be put on a parent's love, or on the debt of love left to them by their children.
Mary Lou Quinlan's performance in The God Box: A Daughter's Story is a measure of that debt to her parents. A sad, and at times beautiful musing on life, love, growing older, and the comforting embrace of family; the one woman show is a stirring and moving creation.
Based on her own New York Times bestseller, the production is a sweet tale, peppered with vignettes and meanders, which all add to flavour this sense of a life, and the people who touched it.
The titular God Box is a wicker container in which Quinlan's mother would drop scraps of paper with tiny prayers for her friends and family. It acts as a touching and unique focal point to the charity of the woman, and her deep kindness towards the people she knew.
Charting the story of the death of both her parents, Quinlan manages to be comic, tragic and endearing by measure, all portrayed against a seguing projected display of photographs and imagery.
A truly beautiful play, with a heart full of love behind it.
Reviewer: Graeme Strachan