The Golden Cockerel
Nikolai Rimsky-Korsakov, libretto by Vladimir Belsky after Pushkin
Opera de Lyon
Released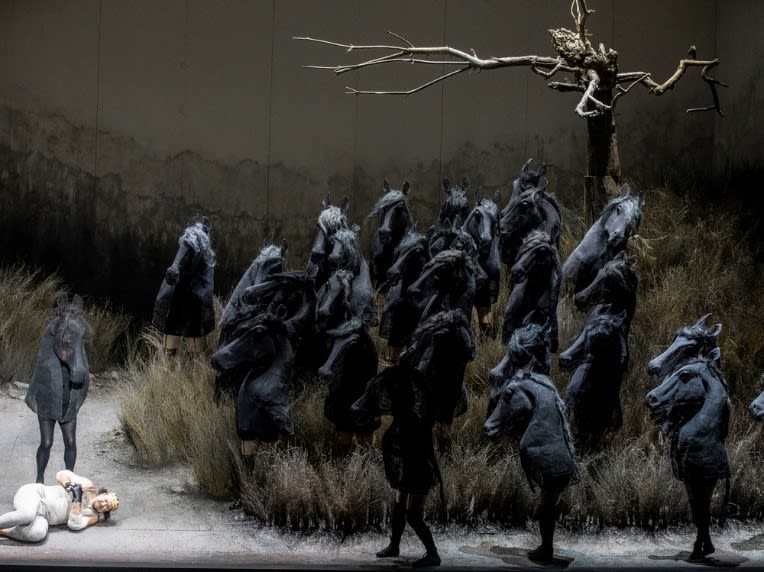 They wouldn't like it much in Moscow. The Golden Cockerel was Rimsky-Korsakov's 19th and last opera, and by then, just after his country's humiliation in the 1905 war with Japan, he could afford to lay aside his usual patriotic whimsy to indulge in satire on the follies of imperialism.
It was Valery Gergiev who pioneered a revival of his works, with the Mariinsky in St Petersburg, matching the sumptuous music with equally colourful costumes and sets that drew upon Russia's mythical past. When it came to The Golden Cockerel in 2017, the final opera in the Gergiev cycle, the approach was no different, with hardly a trace of the political satire that the composer had in mind. And the magic-weaving astrologer even looked remarkably like ex-KGB agent Vladimir Vladimirovich.
Not so when the ever-inventive Barrie Kosky directed the piece for Lyon Opera in 2021. His lampoon version is original, stirring and unsparing in its savage wit. In this scathing critique of power and corruption, his Tsar Dodon, Dmitry Ulyanov, is a geriatric in rusty armour and filthy underwear, riding a clapped-out, skeletal nag, his boyars nodding donkeys (actually horses, but you get the picture).
And in deliberate cock-a-snookery to conservative attitudes, his cockerel is not a brilliantly attired bird of fantasy, but a dull, androgynous figure of miserable demeanour. To cap it all, having killed the tsar, she eats his eyeballs. What fun.
In similar vein, the recent English Touring Opera production sat Dodon astride a rocking horse, and morphed his troops from tsarist to Soviet uniforms. But unlike that vivid James Conway production, and the blaze of primary colours and onion domes of the Mariinsky production, the Lyon version, with sets and costumes by Rufus Didwiszus and Victoria Behr and eerie, atmospheric lighting by Franck Evin, is fifty shades of grey, with a only little brown and blue for excitement. The 'magnificent tent' of the enemy remains unseen, as does the possibly imaginary enemy itself.
Ulyanov brings comic flair to the role of the paranoid dictator, his voice confident, strong, and at times deliberately coarse. The Queen of Shemakha, Nina Minasyan, is lusciously seductive with a rich tone that rises to a shimmering top. Maria Nazarova cocks a dainty doodle off-stage in the title role, while her character is played on-stage by actor Wilfried Gonon.
The excellent Andrei Popov reprises his Mariinsky role as the astrologer, now de-Putinised and half-hidden behind a three-foot beard. I was delighted that, although decapitated with an axe, his foreshortened body was able to return, carrying its head that mimed his final words. Some people will do anything for an encore, albeit well deserved.
Reviewer: Colin Davison