The Good Life
Jeremy Sams
Festival Theatre, Malvern
–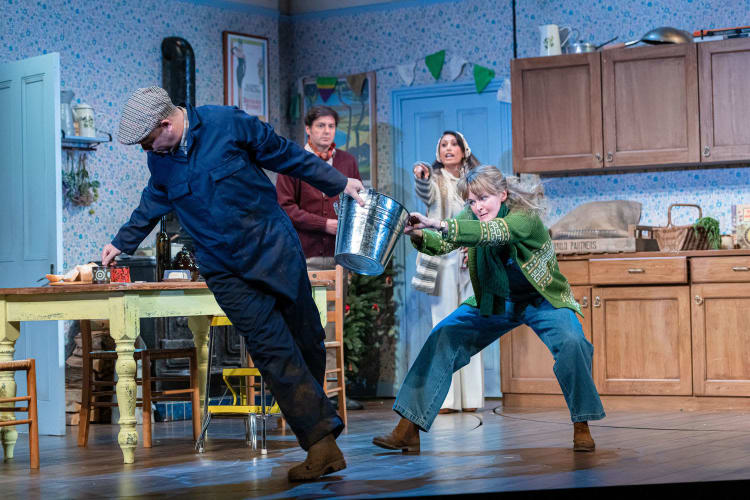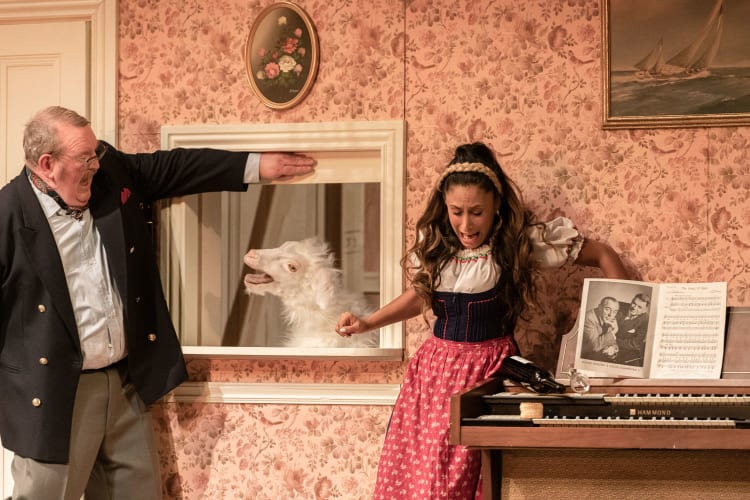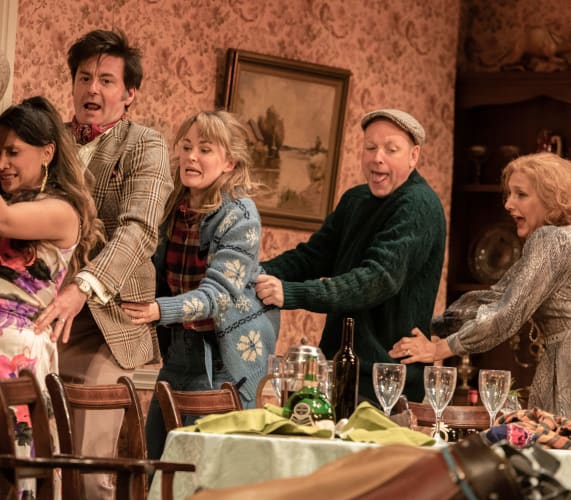 It's nearly 50 years on, but with COP26 fresh in our minds it is as good a time as any to revive the often hilarious attempts of those suburban eco-warriors Tom and Barbara Good to lead The Good Life.
So what in Jeremy Sams's adaptation has changed since then? As before, Tom has quit his job designing plastic toys for cereal packets so he and Barbara can become the self-sufficients of Surbiton. As before, Jerry Leadbetter fancies Barbara and is in fear of the domineering Margo.
As Sams writes of the script, although some of it is his own invention, "there are some things you have to feature—like a snooty Margo." The rich it seems are always with us.
There are lots of period references in the piece—prawn cocktail and chicken Kiev being the apogee of Margorine sophistication, with a glass of Mateus Rose (so help me, I still drink the stuff), but the weed that the Goods grow in their garden is of a distinctly different variety to those of yore.
In fact it is a little bit of pot in the pot that spices up a dinner party scene, that has echoes of an Ayckbourn farce, and which, with the repeat of the pregnant pig episode, provides the highlight of the play.
What is different from the TV series is of course that its condensed humour ran for just 30 minutes, whereas this stage adaptation lasts just under two hours, and rather runs out of puff as a result.
It has its moments, its one-liners, whether by Sams or from the John Esmonde and Bob Larbey original scripts I don't know. "I really can't apologise enough," says Tom after his goat Geraldine has wrought havoc in the Leadbetter home. "I'll be the judge of that," replies Jerry.
Rufus Hound and Sally Tatum rise to the difficult challenge of reinterpreting the roles of Tom and Barbara in their own ways, slightly dotty, determined, but without becoming character impersonators of their TV originators. Dominic Rowan as Jerry has less material to work with, being almost as closely involved with his bullish boss than his domineering wife, but successfully maintains a precarious equilibrium between home, work and the curious, envied next-door neighbours.
Preeya Kalidas is the specified snooty Margo, but I missed that sense of almost defiant hauteur, its absurdity betraying a deeper fragility that made her TV persona an ultimately sympathetic figure, whom the Goods could regard with affection.
Nigel Betts and Tessa Churchard are excellent in a series of roles that change as rapidly as the rotating sets that switch the action between the Good and Leadbetter households.
The Good Life tour continues at Richmond and Chichester.
Reviewer: Colin Davison