The Gospel According to Philip
Richard Melchior and Heidi Svoboda
Arrows and Traps Theatre Company
Theatre N16, Balham
–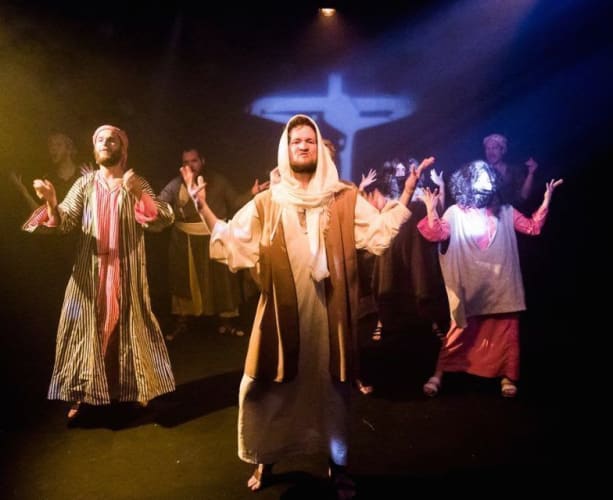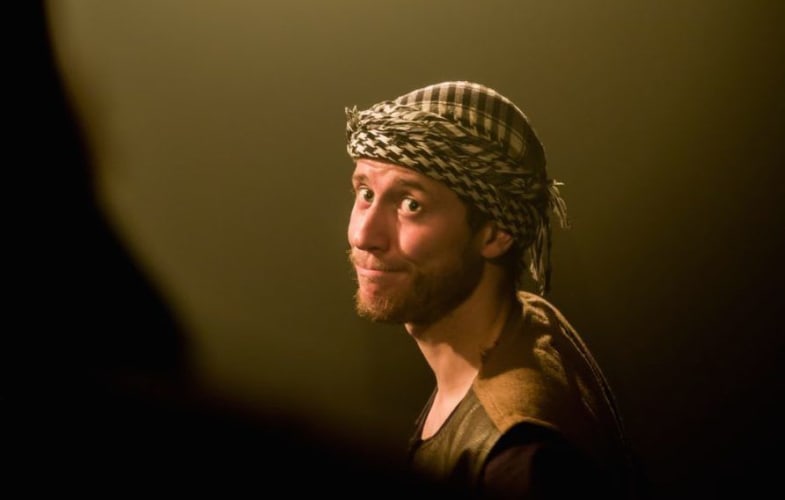 On the west bank of the Nile in Upper Egypt is a settlement called Nag Hammadi. In 1945, in a cave nearby, an Egyptian farmer discovered a sealed jar that contained a cache of Gnostic documents. They included a translation of part of Plato's Republic and some Christian writings. One of them was the so-called Gospel of Philip which scholars date to the 3rd century AD.
That very definitely isn't the ur-text for this play. Its authors have taken some incidents well known from the canonical Gospels and had fun offering their own take on them presented by Philip as recorded in the diary which Jesus instructs all His apostles to keep.
Will Mytum is a naïvely believing, Tintin-quiffed Philip who abandons his fishing boat and starving mother in Galilee telling her "God will provide" and follows his new Messiah. Pearce Sampson's Jesus has his hands full attempting to lead his bickering, argumentative disciples; he lacks the charisma that might have attracted them but determinedly follows what is marked out as his destiny.
This is a Life of Brian style comedy but more student romp than serious satire. I suspect that its jokes work better on paper; they feel over-extended in performance but the energetic enthusiasm of the actors gets the audience laughing and there are good ideas, even if overworked.
A cast of just nine puts disciples in short supply, especially when Paul (canonically converted after the resurrection) is made to be one of them. Traditionally misogynistic, he denounces Elle Banstead-Salim's innocent fig-seller Mary Magdalene as being a prostitute—and the disciples bully her into that hair washing routine.
Alex Stevens's Paul is struggling between desire and Old Testament teaching. He's an outspoken homophobe who has erotic dreams about gladiators; it's a clever camp-edged performance though the script stretches the idea beyond being funny.
As you might guess, Judas (Adam Elliott, who also has a delightful camp cameo as Philip's mum) seems the most sensible disciple; a scene with him being interviewed by Alex Stevens's Caiaphas is especially effective. This Judas clearly sees himself as potential leader, continually putting down Peter (Tom Telford) who, despite his claim to being the Rock on which Jesus can rely, is already destined to be a mere name-checker at Heaven's gate.
James (Matthew Harrison-James) just can't keep up with things and Matthew (Gareth Kearns) is, of course, the one always asking questions. He's a practical fellow who insists on making 160 sandwiches for Jesus to take into the wilderness.
There are moments when seriousness seems to underlie laughter: when Olivia Hanrahan-Barnes's Satan tempts Jesus in the Wilderness or in a pre-crucifixion discussion between Jesus and God the Father (Matthey Harrison-James).
Jesus may mean well with his miracles, he is not just a show-off, but the effects on those involved may not be welcome. Elle Banstead-Salim's tear-stained, mascara-run bride feels he has ruined her wedding at Cana and poor Lazarus has even worse problems when he's raised from the dead, but some of the best laughs are when Jesus leads the whole gang of disciples in lip-synced dances to pre-recorded numbers.
The disciples are all members of a dance troupe led by Jesus, self-styled Lord of the Dance. It's a concept that isn't used as much as it could be: more numbers instead of too long sketches would be welcome.
The lip sync works well elsewhere as in Olivia Hanrahan-Jones's maid reporting her cockcrow conversation with Peter, his mouth matched in movement as she quotes him.
I didn't find this as funny as did many of the audience—perhaps it needs a couple of jars first to increase indulgence—but some trimming, exploring more incidents and more songs would do the job even better.
Reviewer: Howard Loxton