The Gospel According to the Other Mary
John Adams, music; Peter Sellers, libretto
Chicago Philharmonic with the Los Angeles Master Chorale
Ravinia Festival, Highland Park IL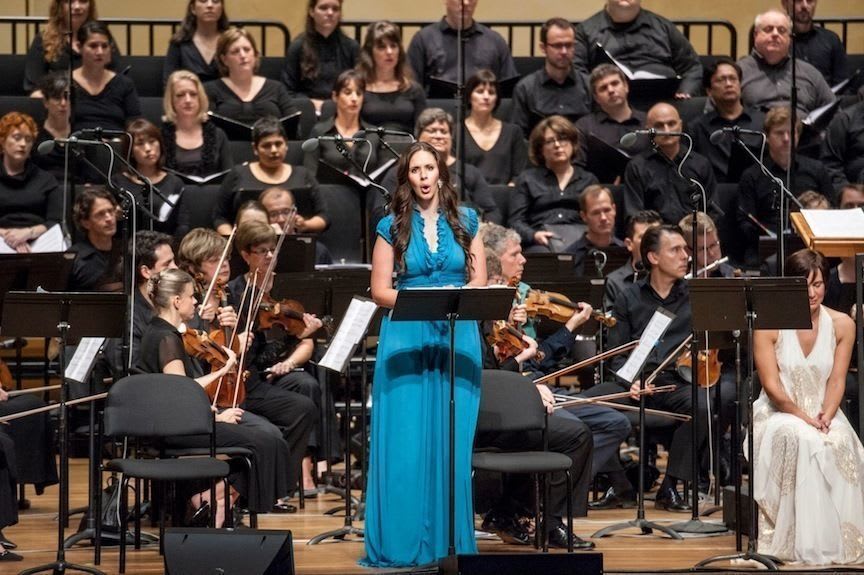 Composer John Adams and librettist Peter Sellars presented the Midwest première of their The Gospel According to the Other Mary at the Ravinia Festival in the Chicago area.
Their work is a strong addition to the musical form of the Passion (the account of Christ's life, death, and resurrection), a genre that has a huge history in Western culture. We are, after all, talking about a form to which many composers have contributed including Tomás Luis de Victoria, Orlando De Lassus, William Byrd and Heinrich Schütz before Bach, who himself produced a number of Passions, including fragments of a St Mark Passion, the intimate St John passion and the massive St Matthew Passion.
It is a form that continues to be written by contemporary classical composers such as Krzysztof Penderecki and Arvo Pärt as well as more popular composers including Lord Lloyd-Webber's Jesus Christ, Superstar and Stephen Schwartz and John-Michael Tebelak's Godspell.
Though Adams is not himself a man of faith, it seems that is important for him to address the issues that the Passion (and indeed, much religious music) confronts: why are we here? What is our relationship with the Divine, if any? Does the Divine forsake us? And perhaps most important of all for this work, who is our neighbour? This Passion is not set in the early days of the Christian era, at least not primarily. Instead, its framework is a halfway house for homeless women struggling with addiction.
That framework (created by librettist Peter Sellars, known to British Theatre Guide readers primarily as a director) allows Sellars to pick texts from a wide variety of traditions including Dorothy Day, the Catholic social activist, labour activist Cesar Chavez, African-American poet June Jordan, Mexican poet Rosario Castellanos, Native American author Louise Erdrich and others.
The music is some of the most thrilling I have ever heard in the concert hall: replacing the tenor narrator of the German Passions is a trio of three countertenors (male altos), sung by Daniel Bubeck, Brian Cummings and Nathan Medley). In their sweet voices, the words of the Biblical account (taken primarily from the Lukan account) came alive in a new age through the tight and often dissonant harmonies of Adam's music.
The tradition of a basso Christ was also overturned: sometimes the three countertenors sung the words attributed to Christ, sometimes Mary (Kelley O'Connor) took them—and once they were even given to the chorus. All of this made for a Christ larger than any one performer could have managed.
Kelley O'Connor and Tamara Mumford between them play sisters Mary and Martha of Bethany (the "Other Mary" of the title is not Mary Magdalene as many reviews and news articles incorrectly noted; instead, this is the Mary who was present at Lazarus' resurrection and was his sister); they also played the women who run the halfway house. Christ noted "the poor shall always be with us," but many activists including Day and Chavez have been fighting for better conditions for the poor—a fight that still goes on both in the UK and in the US and elsewhere.
This Passion focuses on the need to do—appropriate for a piece that features Martha, who served as a symbol for service in medieval thought (Mary, because she sat at Christ's feet, became the symbol for contemplation). Mumford's and O'Connor's mezzo voices soared over the orchestra with ease; both singers also bring an anger concerning social conditions that represents humanity at its best.
Russell Thomas has a rich full bass voice; he sang Lazarus, newly resurrected from the dead, thus helping us think about our own chances of resurrection and renewal (not in the traditional Christian sense, but as part of realizing that we live in this world and therefore can help shape it).
The entire Passion then is a cry of agony and of joy—agony at what we face as humans but joy at our own potential; gloriously played by the Chicago Philharmonic and sung by the Los Angeles Chorale conducted by Grant Gershon, Adams and Sellars filled the summer air of Chicago at Ravinia's outdoor pavilion.
Chicago audiences—especially at an outdoor performance—were totally engaged for the entire length of the piece, which speaks to the power of Adam's music and Sellar's text as well as the wonderful singing of the Los Angeles Master Chorale. The evening was conducted with authority by Grant Gershon, who originally prepared the chorus and now is associated with this work having stepped in for an ailing Gustavo Dudamel at one of the staged Los Angeles performances.
That was my only complaint—we did not get to see the staged version directed by Sellars, only a concert version. I hope some company in Chicago revives the staged version as well.
Reviewer: Keith Dorwick